Flight Centre Holidays Zanzibar
Zanzibar has all the ingredients of a dream holiday destination: an intriguing history, magnificent white, sandy beaches with crystal-clear turquoise waters, delectable food and loads of things to do. The sights, sounds and smells of Zanzibar, which is often referred to as the spice island, will intrigue you and awaken your senses from the moment you arrive.
Flight Centre's expert travel consultants have first-hand experience of travelling to Zanzibar, which means we can provide personal recommendations and knowledgeable advice that will suit your needs. 

Our products have been chosen by our travel experts in order to ensure you have the perfect holiday. As one of the largest global travel retailers we also have access to the best airfares available as well as special offers at a huge selection of hotels and resorts.
You can spend time exploring Stone Town's coral-stone buildings with their wooden carved doors, laze around on beautiful beaches, spend a relaxing day at the spa, go on a dhow cruise, discover life under water on one of the several scuba-dive and snorkelling excursions available, go on a tour to the island's well-known spice plantations and tuck into mouth-watering seafood dishes. 

We love creating perfect holidays to dream destinations such as Zanzibar. In this brochure you'll find a selection of holiday ideas, hotels and experiences – all handpicked by us. If the hotel or activity you're looking for is not featured, however, feel free to talk to your Flight Centre travel expert who will be more than happy to help you find exactly what you're after.
We look forward to organising you an unforgettable holiday.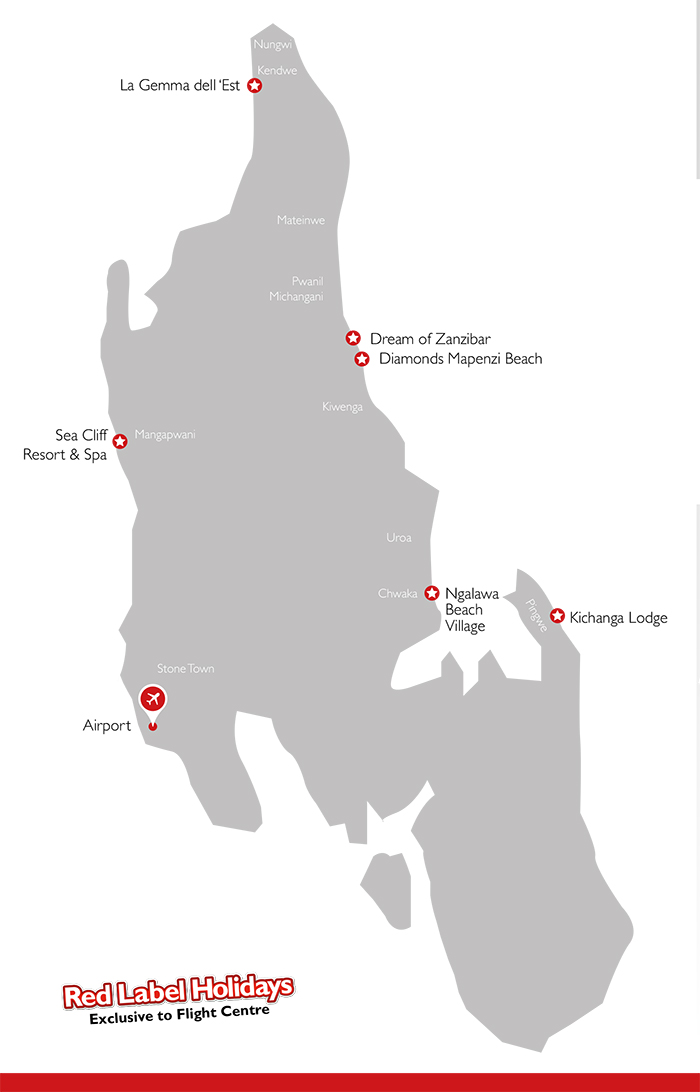 MySchool MyVillage MyPlanet
Present your MySchool card when booking your next Red Label Holiday and we will give back a percentage of the purchase value to your chosen school or charity!
Your next holiday can make a difference! We're excited to announce that we've partnered up with the MySchool MyVillage MyPlanet fundraising programme!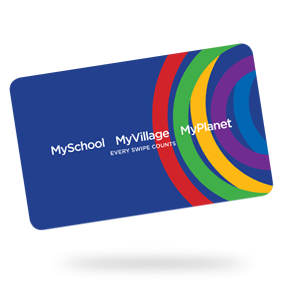 Who is MySchool?
MySchool MyVillage MyPlanet is one of South Africa's biggest fundraising programmes and raises over R4 million every month for schools, charities and animal welfare organisations. The programme allows you to make a difference, just by shopping.
MySchool helps more than 8 000 schools, charities and animal welfare or environmental organisations. Every time you use your card at any of their partner stores (which now includes Flight Centre South Africa) a percentage of your purchase value will be given back, on your behalf, to the school or charity you choose at absolutely no cost to you!  
Why should I get a MySchool Card? 
3 great reasons to become a MySchool MyVillage MyPlanet supporter & cardholder
Raise funds for a cause that is close to your heart, without it costing you an extra cent.

Over 1500 partner stores where you can use your card to raise funds and get instant discounts.

You have the power to choose: select up to three schools and/or charities which you would like to support.
Where can I get my Free MySchool Card?
Get your FREE CARD here!
How it works? 
Book a Red Label Holiday at your nearest Flight Centre store, present your MySchool card and we will give back a percentage of the accommodation value of your holiday package. Excludes visas, travel insurance, port taxes, meal supplements, bed levies, transfers, flights & taxes. Only applies to Red Label Holiday packages)
It's that easy! Learn more about MySchool here.
Disclaimer:
Refunds: Should you for any reason have to cancel your Red Label Holiday, we will reverse the MySchool transaction.

Forgot to present  your MySchool Card on paying? If you forget to present your MySchool  MyVillage MyPlanet card at the time of payment, you will still be able to furnish us with your details and we will add it onto the original transaction. Please contact your booking consultant with proof of payment within two months thereafter.

MySchool MyVillage MyPlanet Terms and Conditions apply, and can be found on www.myschool.co.za.
Talk to a travel expert and personalise your trip