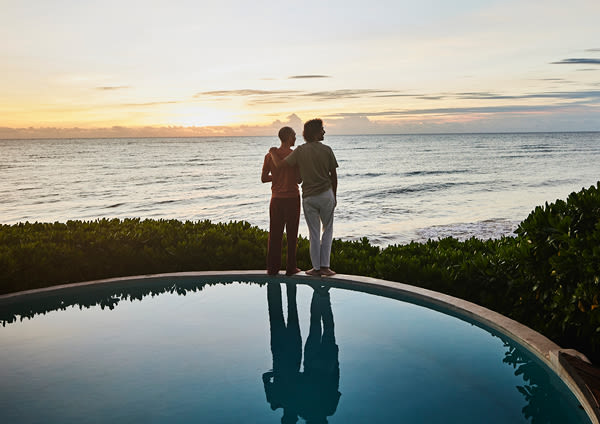 Nothing kills the mood on a relaxing vacation like a kid bomb diving into the pool next to you. Sure, it was an epic splash, but probably not the peaceful vibes you are after on your holiday. Save the splash for another time by booking yourself one of our adults only holiday packages. Whether you're planning a trip with your pals, a romantic getaway with your lover or are keen to leave the kids with nan and pop for a bit of well-deserved RnR; we've got adults only hotels and holidays to suit every need. Choose from a wide variety of adults only resorts, inclusive holiday experiences, top-shelf drinks, massages with ocean views and scenic beach areas that offer nothing but kid-free peace and quiet. With no little ears, eyes and screams in sight, you're free to relax and soak up the serenity (or practice your own bomb-diving skills in a kid-free zone - we're not going to judge). 
Deals with your name on them...
Explore holidays by interest
Frequently asked questions
What does adults only vacation mean?
It means you (and all the other guests) leave the kids with the grandparents (or any other responsible adult), and you enjoy a relaxing getaway. Some adults-only resorts differ in their definition of adult, but generally it's ages 18 and above. 
---
What to expect in an adult only vacation
Sleep-ins, tranquility, calm, a spa that isn't crammed with children, to name a few. While regular resorts tend to cater to guests of all ages, adult-only resorts can tailor experiences and facilities to suit their demographic – think couples' massages and late check-outs.  
---
Why choose adult only resort vacation packages?
Because sometimes it's nice to lay by the pool without getting splashed by enthusiastic cannonballs. Whether it's rest and relaxation, romance (or all the above) adults-only resorts are perfect for those who could do with a little break from the (wonderful) chaos of children. 
---
...loading
Popular local & international holiday deals
Popular holiday destinations