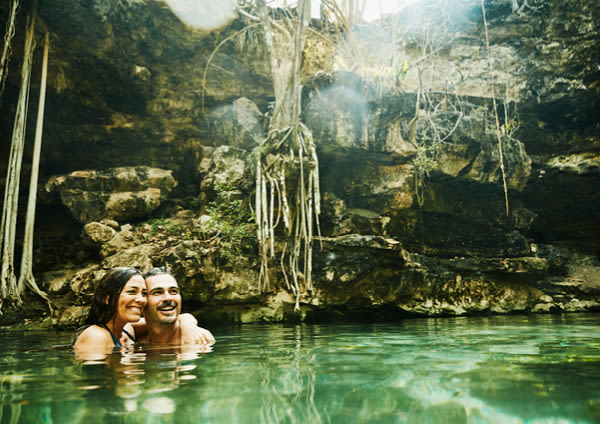 Is your heart calling for a romantic holiday away with your love? At Flight Centre, we consider ourselves the match-makers of the travel world. Together, we can help you and your plus one swipe right on the perfect honeymoon destinations, couples weekends and romantic escapes. You should never have to settle for anything less than perfect, which is why we've lined up the ultimate adults-only luxury hotels, all-inclusive resorts and boutique lodgings. When it comes to activities, will it be a day spent lazing by the beach, a candlelight dinner under the stars, a couples massage, or perhaps just a day spent in bed making the most of room service? Whatever your heart desires, the Flight Centre Travel Experts are here to take the hassle out of organising your next romantic getaway.
Deals with your name on them...
Explore holidays by interest
Frequently asked questions
What is a romantic holiday?
A romantic holiday is one that is designed to ignite a spark, or perhaps rekindle an old flame. Adults-only resorts, private beaches, candlelit dinners under the stars, couples' massages and room service are just the beginning.
---
How to gift honeymoon packages
The easiest way to give someone the honeymoon of their dreams is with our Flight Centre Gift Cards. You choose the amount and can have a physical gift card sent to them to use in any of our Flight Centre stores, or choose an e-gift card, which can be delivered in seconds.
---
Where to go on romantic holiday?
Wherever your heart desires! The destinations and opportunities are endless, and each location will come with its own beautiful scenery, exciting activities and memorable moments. Paris is a popular destination for lovers, but beach destinations are equally as dreamy. There are also plenty of options closer to home, including romantic weekends away. Talk to our Travel Experts to swipe right on the romantic holiday of your dreams.
---
Which honeymoon package is best?
Romance is in the eye of the beholder and looks different for everyone, for some, the dream honeymoon package involves sailing in Croatia, for others it's sinking into a delightfully warm natural spa in Rotorua or sipping late-night champagne and getting lost in the chaos of Las Vegas. When it comes to romance and honeymoons, there's no one-size-fits-all – talk to our Travel Experts today to tailor something special for you and your person.
---
...loading
Popular local & international holiday deals
Popular holiday destinations