Flight Centre Holidays Mauritius
Choose from a variety of great deals at the best resorts on the island. Shed those daily 
routines and discover the idyllic island lifestyle, lazing under swaying palms on the beach or 
basking in the warm Indian Ocean. Mauritius has something for everyone, whether it be a 
fun-filled family getaway or a romantic retreat for two, one can expect French-Creole flair 
coupled with the vibrant colours, cultures and tastes of this tropical paradise. 
Receive resort credits at selected properties to use towards items such as; spa treatments, 
meals and drinks, allowing you to get more holiday for your money at no additional cost. 
Mauritius promises sun soaked days on fabulous beaches where you can reconnect and 
make memories that will last a lifetime. 
Packages
Resorts
Discover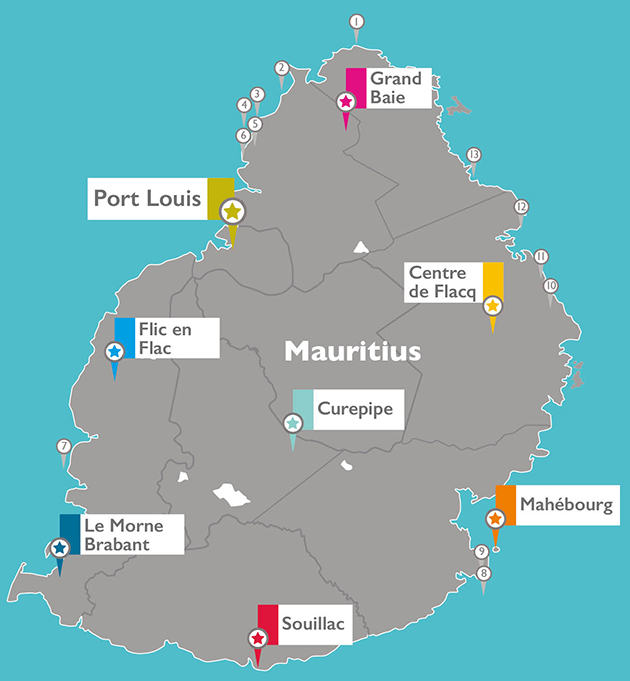 Port Louis
Situated on the north-west coast, Port Louis is the business and administrative capital of Mauritius. It quickly quiets down after office hours, allowing visitors to enjoy a night out along the famous Le Caudan Waterfront. Head for the bustling Central Market or Champ de Mars, the oldest racecourse in the Indian Ocean region. Other attractions worth a visit include the Mauritius Photography Museum, the Blue Penny Museum, the Aapravasi Ghat World Heritage Site and the Citadel of Port Louis.
The North Coast
If you like to party to the sound of good music, Grand Baie is the best place to be. Although it has a variety of restaurants and discos, the north isn't only about nightlife. The area boasts some of island's best-loved sights, including the charming red-roofed church that overlooks the lagoon at Cap Malheureux. Also visit Goodlands Village, Chez Tante Athalie restaurant and Château de Labourdonnais.
The West and South West Coast
Off Tamarin Bay or Flic en Flac, heading in the direction of Île aux Benitiers, you can see dolphins that come to these waters to rest and breed. The Le Morne Mountain, is also in this region, as well as some luxurious hotels known for offering a variety of watersports. Slightly inland, in the hills around Chamarel, you can learn about rum production at the distillery that bears the name of the village.
The South and South East Coast
The south reveals an entirely different landscape from the rest of the island, one typified by high cliffs. These are created where the protective barrier of coral reef that surrounds Mauritius falls away on the seabed, leaving the coastline exposed to the Indian Ocean. Further round the coastline, heading westwards, are an array of beautiful beaches and top-rated hotels and resorts in up-andcoming areas such as Bel Ombre.
The East Coast
A coastline comprised of exquisite coves and emerald lagoons, permanently enhanced by a cool sea breeze, life goes by at a slow pace in the east – whether you're a member of the fishing community or a holidaymaker. Situated between the mountains and the sea, the east is characterised by charming little villages with poetic names like Petite Julie, Mare d'Australia and Queen Victoria. It's also home to some of the country's best beaches, including Belle Mare, where you will want to spend hours basking in the sun. Make sure to visit the picturesque La Vallée de Ferney Forest and Wildlife Reserve.
Inland and Central Plateau
In Quatre Bornes, head for the local market if you want to do some bargain hunting. In Curepipe, where it's generally cooler than elsewhere, try visiting the botanical gardens. In the early evening the gardens of the Plaza – the municipal theatre of the town of Rose Hill – fill up with families who come to relax and enjoy an ice cream. This is a heart-warming sight definitely worth beholding! Vacoas is most renowned for its Gymkhana Golf Club, the oldest in the southern hemisphere. Make sure to visit the Trou aux Cerfs, a dormant volcano crater. From the crater, you have a 360-degree view of the town of Curepipe and the coastal plains.
When to go
Mauritius has only two seasons, with minimal differences between them, making it a perfect year-round destination. The most pleasant times to visit the island are from April to June and September to December.
November - April (summer)
The weather is hot and humid during these months, with peaks In temperatures occurring from December to February. Rainfall is abundant, especially on the central plateau. This is the best time for scuba diving and deep-sea fishing especially December through to March.The cyclone season extends right through from November to April. The highest rainfall usually occurs in February and March.
May - October (winter)
Temperatures are cooler during this season and prevailing winds tend to blow over the island from the east and south-east directions. This is the best season for surfing – especially June to August.
Experience

The South and its Secrets
The town of Curepipe is a shopping DAILY lover's heaven. Shop in the factory and duty-free shops of Floreal, where the cashmere, carpets, jewellery and ready-made clothes are very good value for money. Stop at Trou aux Cerfs, a dormant volcano situated at 650 meters above sea level. It offers beautiful views over the Moka mountain range and the sea. Proceed to Grand Bassin, also known as Ganga Talao, a sacred place of worship to the Hindu community. Drive along Black River Gorges National Park with its endemic forests and protected fauna and flora species. The final stops are the waterfalls of Chamarel (Cascade Chamarel) and the Chamarel Coloured Earth.
INCLUDES
• Hotel pick-up and drop-off
• Lunch
• Guide
DURATION 7.5 hours


Undersea Walk in Grand Baie
In Mauritius, anything can happen, even walking under the sea! With the unique aqua and scuba equipment, undersea walking can be done by almost everyone – adults and children from 7 years old. The equipment consists of a clear plastic bubble allowing a unique panoramic view and the outing offers direct contact with the undersea flora and fauna. During the walk, which is done in groups of six in calm and shallow water, you'll have the opportunity to feed fish – an extremely memorable experience.
INCLUDES
• Hotel pick-up and drop-off
• Aqua and scuba equipment
DURATION 1.5 hours


A Taste of Mauritius
Get a glimpse into the way of life of the DAY rainbow nation of Mauritius in Port Louis, the capital, with its buzzing business centre, its crowded, colourful local market, its monuments, different places of worship as well as its modern shopping centre of the Le Caudan Waterfront. After the busy visit to the city, take a breath of fresh air at the Royal Botanical Garden of Pamplemousses, one of the most famous gardens in the world. Lunch is served in one of the most relaxing restaurants on the island.
INCLUDES
• Hotel pick-up and drop-off
• Lunch
• Guide
DURATION 5 hours


Blue Escape
A marvellous catamaran experience, leaving the main lagoon that surrounds the island to meet the crystal-clear turquoise waters of Île Plate and Ilôt Gabriel, about 14km away, north of Grand Baie village. Go on a two-hour sail towards the northern islands, passing near Gunner's Quoin. Reaching the islands, you'll get the opportunity to snorkel with equipment available free of charge. Alternatively you will be transferred to the beach by boat. BBQ lunch on the island is included.
INCLUDES
• Hotel pick-up and drop-off
• BBQ lunch
• Selected drinks
• Guide
DURATION 7 hours


Otentik Attitude
Otentik Attitude, a new and unique concept. Attitude, true to it's promise, invites you all to discover Mauritius and its numerous facets. Goodies to enjoy, sweet and savoury, memorable things to do, unexpected 100% Mauritian experiences…
 
OTENTIK DINNER
Experience Mauritian hospitality at its best with a genuine home cooked dinner in a local home (once a week upon reservation, at a supplement)
 
OTENTIK CUISINE
Cooking classes around a local speciality; at the buffet in the main restaurant, Mauritian specialties to enjoy
 
OTENTIK MUSIC
A holiday to the beat of local music: discovering traditional instruments and Mauritian artists, séga show
 
OTENTIK DISCOVERY
Discovering the natural, cultural and historical heritage; encounter with the local people... f ll the pages of your otentik "notebook" kindly offered by the hotel, with souvenirs collected during your stay
 
OTENTIK BAZAR
Special market day: displaying and tasting of local products (once a week)
 
OFFERED AT:
Coin de Mire Attitude
Récif Attitude
MySchool

MySchool MyVillage MyPlanet
Present your MySchool card when booking your next Flight Centre Exclusive Holiday and we will give back a percentage of the purchase value to your chosen school or charity!
Your next holiday can make a difference! We're excited to announce that we've partnered up with the MySchool MyVillage MyPlanet fundraising programme!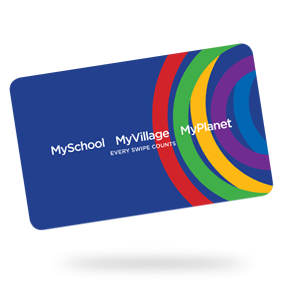 Who is MySchool?
MySchool MyVillage MyPlanet is one of South Africa's biggest fundraising programmes and raises over R4 million every month for schools, charities and animal welfare organisations. The programme allows you to make a difference, just by shopping.
MySchool helps more than 8 000 schools, charities and animal welfare or environmental organisations. Every time you use your card at any of their partner stores (which now includes Flight Centre South Africa) a percentage of your purchase value will be given back, on your behalf, to the school or charity you choose at absolutely no cost to you!  
Why should I get a MySchool Card? 
3 great reasons to become a MySchool MyVillage MyPlanet supporter & cardholder
Raise funds for a cause that is close to your heart, without it costing you an extra cent.

Over 1500 partner stores where you can use your card to raise funds and get instant discounts.

You have the power to choose: select up to three schools and/or charities which you would like to support.
Where can I get my Free MySchool Card?
Get your FREE CARD here!
How it works? 
Book a Red Label Holiday at your nearest Flight Centre store, present your MySchool card and we will give back a percentage of the accommodation value of your holiday package. Excludes visas, travel insurance, port taxes, meal supplements, bed levies, transfers, flights & taxes. Only applies to Red Label Holiday packages)
It's that easy! Learn more about MySchool here.
Disclaimer:
Refunds: Should you for any reason have to cancel your Red Label Holiday, we will reverse the MySchool transaction.

Forgot to present  your MySchool Card on paying? If you forget to present your MySchool  MyVillage MyPlanet card at the time of payment, you will still be able to furnish us with your details and we will add it onto the original transaction. Please contact your booking consultant with proof of payment within two months thereafter.

MySchool MyVillage MyPlanet Terms and Conditions apply, and can be found on www.myschool.co.za.