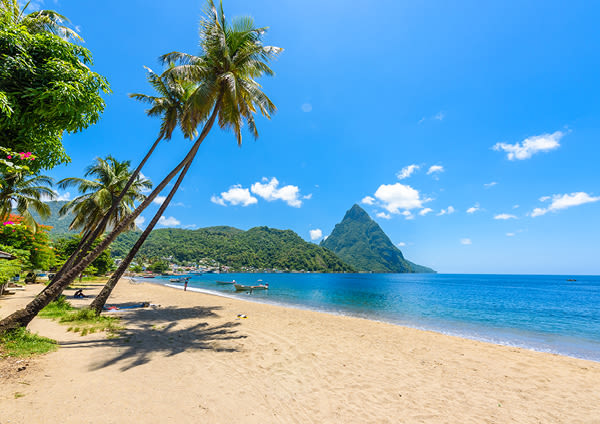 Dominican
Republic
Holiday
Deals
White sand beaches framed by palm trees, lively nightlife and Caribbean culture are just a few of the reasons intrepid travellers are drawn to the Dominican Republic like moths to a flame. Whether you're looking for a wholesome family holiday or a luxury adults-only getaway, the Dominican Republic offers a range of hotels and holiday packages to suit. For those who prefer the convenience of all-inclusive resorts, head to Punta Cana in the south and Puerto Plata in the north and claim a sunlounger with your name on it. Those with a thirst for adventure can enjoy a little white-knuckled adrenalin-spiking white water rafting at Rio Yaque del Norte, galloping through the rainforest on horseback, exploring national park or zipping over treetops at the Samana Treetop Zipline course. Golf enthusiasts will be in seventh heaven with nearly 30 challenging and captivating courses to test your skills while those who prefer underwater adventures can enjoy snorkelling shipwrecks off the coast of La Romana and Catalina Island. Culture seekers can't miss the chance to explore the sultry capital Santo Domingo. With cobbled streets, humidors slinging cigars on street corners, stately buildings and a seriously mouth-watering foodie scene, Santo Domingo is a must. If you're on the hunt for a holiday that is anything but ordinary, speak to our team about our Dominican Republic holiday packages. Your hammock awaits.
Deals with your name on them...
Explore holidays by interest
Frequently asked questions
What is the most beautiful part of the Dominican Republic?
The Dominican Republic is world famous for its pristine coastline. A tropical paradise in the middle of the Caribbean, a holiday to Dominica is all about relaxing by the sea. There are a few different resort towns which offer a wide range of accommodation and all-inclusive holiday packages – Punta Cana and La Romana being the top picks for holiday-makers and celebrities alike. But you will also find some quieter spots that offer up an authentic Dominican experience. With its vast beaches, beautiful rainforests, and charming hospitality, you'll soon discover the most beautiful part of the Dominican Republic is wherever you find yourself.
---
What part of the Dominican Republic is the best for a holiday?
Being a small island, you are never really far from the Caribbean coastline, and with tourism being one of the biggest contributors to the Dominican economy, most villages are well set up for visitors. What part of this beautiful country is best for a holiday depends on what you seek. If you're hunting surf breaks, you're going to want to stick to the northern coastline. If luxury resorts and spas are more your scene, then you'll want to make a beeline for the southeast to Punta Cana or La Romana. Whether you're seeking ecotourism and adventure holidays, wildlife experiences, or a golfing trip, there's something for everyone to enjoy in the Dominican Republic.
---
When is the best time to visit the Dominican Republic?
This tropical beach holiday destination is a great place to visit all year round. December through April is generally the best time to visit due to there being very little rainfall and more mild temperatures. Rainy season begins in June, but showers tend not to last long. The Caribbean can be prone to hurricanes – if you're going to get one it's usually around August to October.
---
What is there to do in the Dominican Republic?
A holiday in Dominica is all about 'vitamin sea' – swimming, sunbathing and snorkelling! Whether you dip your toes in the ocean or enjoy it from atop a boat spotting whales and dolphins, you will be mesmerised by the clear turquoise waters and white sandy beaches. But step off the sand and you will discover another side to the Dominican Republic. With stone carved Mediterranean villages, world class golf courses, lush rainforests and a bustling arts and cultural scene, you will certainly find your days fill up pretty quickly.
---
How to find the best holiday package to the Dominican Republic?
Sign up to get the hottest deals sent straight to your phone & emails here. You can also check out our deals online, or speak to one of our Travel Experts.
---
Which side of the Dominican Republic has the best beaches?
If you're hitting the beach to surf, the northern coastline disappears into the Atlantic Ocean, which presents some awesome surf breaks. The eastern and southern parts of the Dominican Republic where the Atlantic meets the Caribbean sea are calmer waters. Regardless of where you land, you will find excellent beaches dotted with palm trees all around the Dominican Republic. This Caribbean nation is world famous for its pristine beaches, and with 1,200 kilometres of coastline, you're bound to find paradise.
---
What to take on holiday to the Dominican Republic?
Everything you need for a relaxing holiday by the sea! Swimwear, sunglasses, sunscreen, hats and reef shoes are essential items to enjoy your time here.
---
Where to go on holiday in the Dominican Republic?
It really depends on what you want out of your Dominican holiday. If luxury resorts and spas are high on your agenda, then Punta Cana or La Romana have plenty to offer by way of high-end accommodation and experiences. If you're seeking a more authentic Dominican experience, somewhere like Santo Domingo, Playa Dorado or Bayahibe Beach might be more suited to you. Wherever you land, rest assured you are in for a real treat.
---
How do I go about cancelling my Dominican Republic holiday package?
---
...loading
Popular local & international holiday deals
Popular holiday destinations