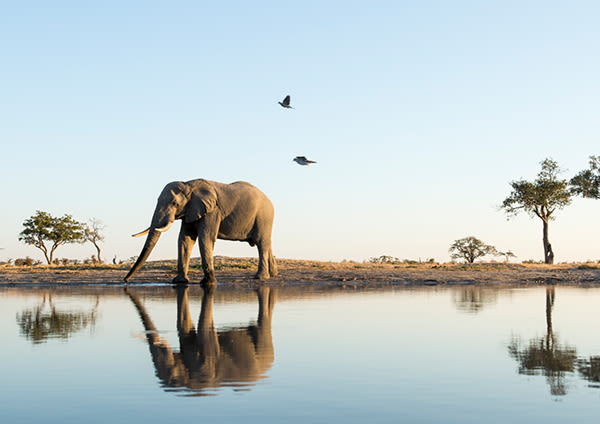 There are some places that you simply must experience at least once in your lifetime, Botswana in southern Africa is undoubtedly one of them.
The massive Kalahari Desert stretches more than 70-percent of the landlocked country, offering some of the most diverse landscapes in the world including the Makgadikgadi salt pans, which is one of the largest salt flats in the world, to Victoria Falls, on the border between Zambia and Zimbabwe. Intrepid adventurers come from all over the globe for one reason – wildlife safaris! Pile into an open-sided 4x4 for a game drive and encounter some of the world's most incredible animals in their natural habitat. Botswana offers plenty of game reserves including Chobe National Park, which is known for its vast elephant population, and the UNESCO World Heritage-listed Okavango Delta. Botswana safaris are widely regarded as some of the best in the world, with plenty of options to suit – whether you're a luxury safari kind of person or you'd prefer the camping type, there's a safari tour to suit.
Our travel guides are a wealth of information and we want to make this trip one for the history books.
Deals with your name on them...
Explore holidays by interest
Explore Botswana
Where to stay in Botswana
Where to stay in Botswana
Unsure about where to stay in Botswana? From luxury lodges to tented camps and everything in between, here are a few of our favourites worth considering:
Read travel guide
Elephant Sands Lodge
Elephant Sands is a mecca for elephant lovers. Witness them in their dozens enjoying a refreshing drink at the natural waterhole in front of the lodge. Occasionally they might even have a preference for the pool! Aside from the ellies, this relaxed accommodation also boasts a prime location at the centre of Botswana's highlights: the Makgadikgadi Pan, Okavango Delta and Chobe National Park.
Tau Pan Camp
Should you have a bit more room in your budget for your Botswana safari, snap up a few nights at Tau Pan. Located on the ridge of a sand dune in Central Kalahari Game Reserve, this comfortable eco-camp offers a front-row seat to the limitless plains of the 'Great Thirstland'. A top-notch spot to stargaze, and engage with the San people.
Bushman Plains Camp
Consisting of Meru-style canvas tents, Bushman Plains may seem a little simple, but there's no better place to unlock the magic of the Delta. Take your pick from guided game drives and soul-stirring bush walks where you can move with the pace of nature alongside an expert San tracker. As a mobile tented camp, Bushman Plains also shifts location according to the time of year.
Frequently asked questions
What to take on holiday to Botswana?
We recommend packing a little bit of everything to withstand the African sun but don't forget sunscreen, wide brim hat, your best sunglasses & durable clothing!
---
Where to go on holiday in Botswana?
For first-time travellers wanting to see it all, we recommend: Okavango Delta for wildlife safaris, Kasane for visiting Victoria Falls & Savuti for the luxury lovers!
---
How do I go about cancelling my Botswana holiday package?
Life happens - we get it! Contact your Flight Centre Travel Expert here to reorganise your travel plans.
---
When is the best time to visit Botswana?
Take advantage of less rainfall when you travel in the dry season: April to October. Less crowds and more chances to get a better seat on your game drive safaris.
---
What is there to do in Botswana?
From campers to luxury lovers, explore the best of Botswana your own way! Encounter incredible wildlife on your game drives, relax by the famed Victoria Falls or chill out in Chobe National park.
---
...loading
Popular local & international holiday deals
Popular holiday destinations