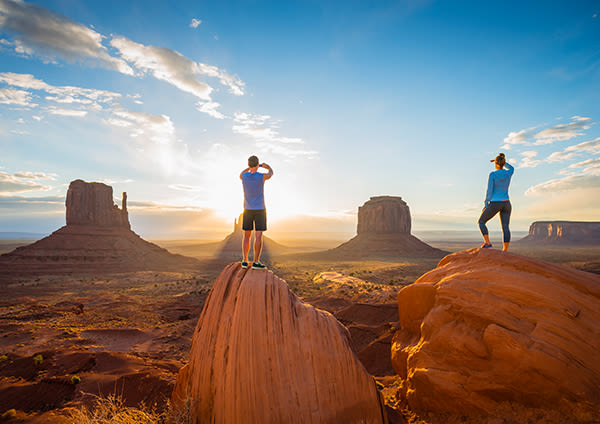 Get front-row tickets to mother nature's finest work and book a Utah holiday package today. Considered the epicentre for climbing, hiking and skiing, Utah is home to scenic alpine forests and sprawling desert landscapes. Experience the magnificence of Zion National Park's emerald river and red sandstone cliffs, or take a dip and cool off in the Great Salt Lake. With parks and wildlife galore, your social media feed will quickly fill with snaps of you in front of rock formations like the Delicate Arch or spending days hiking through ancient caverns in The Narrows. Not sure where to start? Head to Salt Lake City, which serves as the gateway to five of the USA's most popular natural parks and experiences. First things first, you'll need to book a Utah holiday package with the Travel Experts at Flight Centre.
Deals with your name on them...
Explore holidays by interest
Frequently asked questions
What is the prettiest place in Utah?
It would be an impossible task to definitively name the prettiest place in Utah. Some of the top contenders include Monument Valley, which is undoubtedly one of America's most iconic landmarks and is the backdrop to some hair-raising desert adventures including horse riding, 'jeeping' and hiking, while Bryce Canyon boasts the largest collection of hoodoos in the world (for the uninitiated, hoodoos are rock formations created by uneven erosion). Arches National Park features over 2,000 natural stone arches that lure budding and established photographers from all around the world. The list really does go on and on!
---
What to take on holiday to Utah?
If you're planning to hit the canyons, at a bare minimum you'll need sun protective clothing, a hat, hiking gear, a rain jacket and light layers as the desert temperatures can fluctuate pretty dramatically in one day. If you're planning on a spot of river rafting or kayaking, a pair of water shoes that aren't thongs or flip-flops are advisable. Oh, and water, lots and lots of water.
---
Where to go on holiday in Utah?
Unfortunately, there is no one-size-fits-all approach to Utah as it depends on how long you have and how active you plan to be. If you only have time for one of the national parks, good luck deciding which one! Our pick would be Zion National Park or Bryce Canyon National Park.
---
How do I go about cancelling my Utah Holiday package?
---
What part of Utah should I visit?
We hope you packed your protein bars and hiking boots, because Utah is home to Zion National Park, Arches National Park, Bryce Canyon National Park, Canyonlands National Park, the Bonneville Salt Flats, to name just a few! While it would be nearly impossible to see it all, head down State Route 12, this 124-mile stretch winds between Capitol Reef and Bryce Canyon National Park takes in a few charming little pit-stops on the way. If there's one thing you simply cannot miss, it's Monument Valley on the border of Utah and Arizona.
---
When is the best time to visit Utah?
The great thing about Utah is that it's gorgeous all year-round, although summer can be pretty scorching in the desert. If you're planning a visit, aim for the shoulder seasons from April to May and September to October. If you're interested in skiing, December and January can be expensive, but given the US Olympic Team train here, you can rest assured it's pretty impressive!
---
What is there to do in Utah?
Hike, hike, have a nap and then hike some more. You've likely deducted by now that Utah is a fairly active holiday if you hope to take in some of the awe-inspiring scenery. When you aren't hiking, you can be river rafting, canoeing, skiing, marvelling at the grandeur of the desert, horse riding, 'jeeping', and more hiking.
---
...loading
Popular local & international holiday deals
Popular holiday destinations