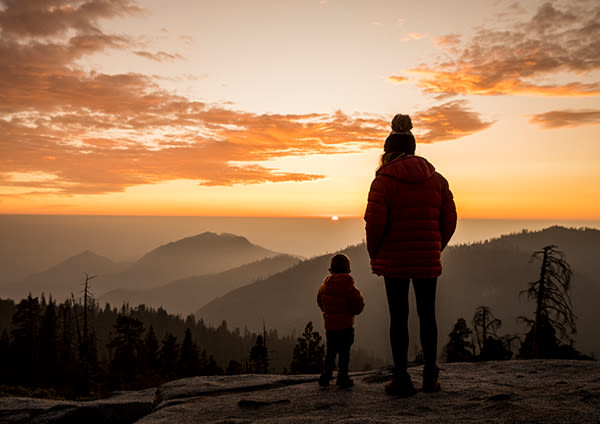 Soak up some sun and keep your eyes peeled for stars - it's time to book your trip to the USA's Golden State! Home to Los Angeles, San Francisco, San Diego, Santa Monica and Death Valley, California is not shy about showing off its best features. Those blinded by the lights of tinsel town can strut their stuff along the Walk of Fame, dose up on adrenaline at Universal Studios and take selfies with the Hollywood Sign, while nature lovers leave the crowds behind to embrace the stunning beauty of California's natural parks. From the redwood tree-lined coastlines and Silicon Valley in Northern California to the glitz, glam and Mexican influence in the south, Flight Centre has a California holiday package that is sure to tick off a few things on your bucket list.
Deals with your name on them...
Explore holidays by interest
Frequently asked questions
What is the most popular beach in California?
With more than 100 named beaches along the Central Coast, sun-seekers are spoilt for choice when it comes to the decision of where to roll out a towel in California. Surfers flock to Huntington Beach while Thousand Steps in Laguna Beach promises that perfect 'gram-worthy shot. Did you even visit California if you didn't head to Santa Monica State Beach for a stroll along the pier?
---
What to take on holiday to California?
What to take depends on what your dream itinerary looks like and the time of year you are travelling. California is unique in that you could be surfing in the morning and skiing by nightfall. We recommend packing light, because anything you forget can be picked up along the way. Just be sure to pack your sense of adventure.
---
Where to go on holiday in California?
Yosemite National Park in the Sierra Nevada Mountains is something that every intrepid traveller should see at least once in their lifetime. Meanwhile, Southern California – or SoCal – is a dream for sun-soaked beach days and exploring Santa Barbara, Santa Monica, Malibu and Palm Springs, to name just a few. Whether you're looking for a family-friendly holiday with Disneyland adventures, a foodie feast or a vacay that's jam-packed with breathtaking sights, there's a side of California to suit.
---
How do I go about cancelling my California holiday package?
---
What is the best part of California to visit?
This all depends on how much you hope to cram into your holiday! You could easily spend weeks (months) exploring San Francisco and all it has to offer including Yosemite, Alcatraz as well its world-renowned food scene. San Diego is ideal for beach dwellers, while Lake Tahoe is the perfect place to reconnect with nature. Big Sur is great for road trippers and adventurers, Napa Valley is like Disneyland for wine lovers and Santa Monica is a must for those token tourist activities.
---
When is the best time to visit California?
The peak tourism season kicks off around June and stretches through until August. Summer in California is a vibe, however those who prefer smaller crowds could consider the shoulder seasons from March to May. The good news is there's never really a bad time to visit as you will always find something to see and do, even on rainy days.
---
What is there to do in California?
Here goes – explore National Parks, hike, surf (or learn to surf), road trip to Big Sur, see the Hollywood sign, take a stroll along Venice Beach Boardwalk, get locked up at Alcatraz, stargaze in Death Valley, sip wine in Napa, take a self-guided tour of San Francisco's Michelin-star restaurants and, of course, visit the happiest place on Earth, Disneyland.
---
...loading
Popular local & international holiday deals
Popular holiday destinations