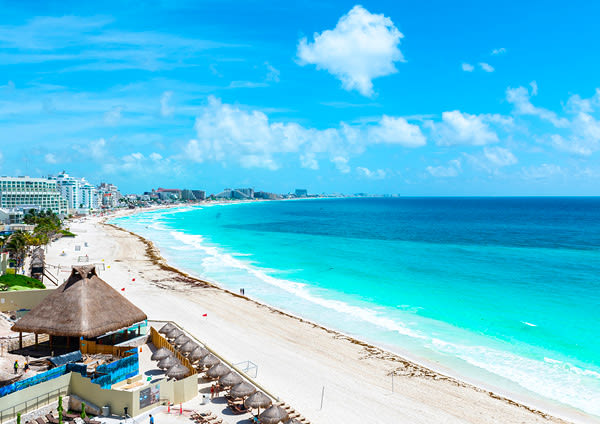 Turks
and
Caicos
Islands
Holiday
Deals
Picture this, you and yours walking hand-in-hand along an endless stretch of glorious white-sand beach with the most incredible turquoise water lapping at the edge. Sounds pretty dreamy, right? Make this your reality with a Turks and Caicos holiday. A Caribbean paradise, known for its impossibly clear water and breathtaking scenery, Turks and Caicos is a serious contender for the title of paradise on Earth. If you can't resist checking out life under the sea, head to Bight Reef, off the coast of Providenciales, for a spot of scuba diving. Be greeted by colorful fish, sea turtles and exquisite coral formations.
For those who prefer land-based adventures, you won't be able to resist having a swing at the Provo Golf Club, a world-class course that offers stunning ocean views and challenging holes. For a glimpse of the island's stunning natural beauty, head to Middle Caicos and visit the Boiling Hole to marvel at the incredible phenomenon where seawater boils up from beneath the ground creating a natural hot spring. Got cash to splash? You're in luck – when it comes to luxury resorts and all-inclusive holiday packages, Turks and Caicos definitely does not disappoint. From stunning beachfront properties to private villas, there's no shortage of accommodation options. If you need a break from the daily grind, a Turks and Caicos holiday is just what the doctor ordered. Speak to our Travel Experts today about our Turks and Caicos holiday packages
Deals with your name on them...
Explore holidays by interest
Explore Turks and Caicos Islands
Where to stay in Turks and Caicos Islands
Where to stay in Turks and Caicos Islands
From busy tourist resorts to more quiet historical corners, luxury stays to budget bed-downs, you'll easily find accommodation that suits your needs (and pocket) in Turks & Caicos.
Read travel guide
Providenciales
Providenciales, the archipelago's most densely inhabited island has the most lavish resorts, breathtaking beaches and exciting shopping opportunities, making it a tourist hotspot. At the award-winning Grace Bay Beach, named one of the best in the world, The Tides boutique hotel offers 20 stylish suites a few steps away from the ocean. The four-star Blue Haven Resort is another great option, with a 24/7 gym, vast sea views and an infinity pool.
Grand Turk
The historical core of Turks & Caicos, Grand Turk is where you'll find Cockburn Town, with access to plenty of entertainment and fine-dining options. Breiji Hills is a budget-friendly villa if you want to be in the centre of the action in Cockburn Town. It's within walking distance of both East Side Beach and the Turks & Caicos National Museum. Then there's La Grande Pettite Villa, with its ocean and garden views, right next to the Grand Turk Lighthouse.
Middle Caicos
True to its name, Middle Caicos is an island at the heart of Turks and Caicos and one of its biggest. It's also linked to North Caicos by a causeway road if you're hiring a rental car. Middle Caicos is popular with adventurers and nature lovers as it borders forest nature reserves. On a budget? Shangri-La is a three-star beach apartment in Bambarra, close to the Conch Bar Caves. Dragon Cay Resort offers both cottages and villas and a variety of complimentary equipment, including bicycles, paddleboards and kayaks for making the most of the outdoors.
Pine Cay
If crowds just aren't your thing, Pine Cay is a fantastic option. Privately owned, and right on the edge of the world's third-largest barrier reef, Pine Cay is renowned for its secluded beaches and upmarket hotels. Pine Cay Resort is the only accommodation option for this cay, providing 12 rooms and suites on the beachfront, a clubhouse, a freshwater swimming pool and a tiki beach bar (this is a themed bar serving cocktails and rum-based drinks).
Frequently asked questions
Which part of Turks and Caicos is best?
It all depends on what kind of a traveller you are. Do you love a little luxury? Grace Bay is packed with luxury resorts, spas, and fine dining restaurants. Do you want to be spoiled for choice with restaurants and amenities? If that sounds like you, the capital city, Cockburn, is your best bet for bustling bars, restaurants and nightlife. If you're seeking something a little more laidback, the Bight Settlement or Leeward Settlement might be for you. You really can't go wrong in Turks and Caicos, but if you have a specific holiday in mind, talk to us today and we can help make it happen.
---
What to take on holiday to Turks and Caicos?
Think beach holiday when stacking out your suitcase – swimwear, sunscreen, sunnies and sandals is just about everything you'll need to enjoy your time in Turks and Caicos.
---
Where to go on holiday in Turks and Caicos?
If you are seeking a beach holiday with a little bit of luxury, Grace Bay Beach on Providenciales island is a dream come true! Soft, white sandy beaches, turquoise water, high-end hotels and great restaurants await you in this little slice of paradise. If you're seeking something a bit off the beaten track and adventurous, you could try North Caicos and Middle Caicos, where you'll be spoiled with untouched beaches and an array of water activities to keep you entertained.
---
How do I go about cancelling my Turks and Caicos holiday package?
---
What are the nicest beaches in Turks and Caicos?
Grace Bay and Leeward Beach consistently rate as the best beaches in Turks and Caicos, but there are so many gorgeous beaches on this little archipelago that choosing a favourite is a very hard task indeed. Why not go beach hopping and make up your own mind!
---
When is the best time to visit Turks and Caicos?
Turks and Caicos is a destination you can enjoy all year round, thanks to its balmy tropical weather. The dry season tends to run from December to June. August to November is considered the rainy season, but even then the rain doesn't last long. As with all Caribbean destinations, Turks and Caicos is susceptible to hurricanes, which would usually hit around August/September (if at all).
---
What is there to do in Turks and Caicos?
Your mission in Turks and Caicos is relaxation! Your Turks and Caicos holiday will involve a lot of 'vitamin sea' – enjoy swimming in the crystal-clear waters of the Caribbean, discover a colourful underwater world by snorkelling and diving, jump on board a boat or kayak and enjoy the salty sea air. When you step off the beach, enjoy fine dining, bustling bars and a spot of shopping.
---
How to find the best holiday package to Turks and Caicos?
Sign up to get the hottest deals sent straight to your phone & emails here. You can also check out our deals online, or speak to one of our Travel Experts.
---
...loading
Popular local & international holiday deals
Popular holiday destinations