Seychelles
Travel to the untouched beauty of the Seychelles for a holiday escape unlike any other, where you'll find pristine beaches, warm turquoise water and lush landscapes.
Take a scenic hike along the coastline from Beau Vallon to Anse Major where a breath-taking hidden beach is just waiting to be discovered. Explore the Vallee de Mai Nature Reserve that's alive with a colourful array of birds and wildlife.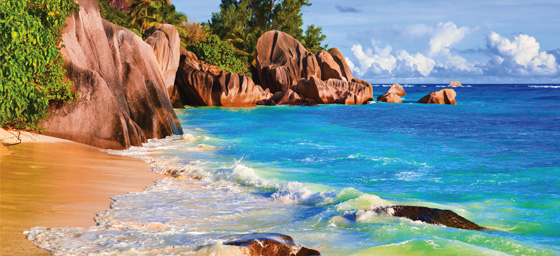 Sun-kissed shores and temperate weather make the Seychelles an ideal destination for beach lovers. Get your adrenaline pumping with some high-energy water sports such as wind surfing, kayaking and surf skiing. Then set sail on a yacht at sunset and enjoy stunning views of the island from off shore. Divers and snorkelers will have no end of underwater wonders to explore, with beautiful creatures including tiger sharks, manta rays, giant tortoises and a myriad of vibrant fish species swimming just below the surface. More adventurous travellers can charter a flight to the remote Bird Island where secluded beaches abound and the only footprints will be your own.
Land lovers will also not be disappointed with the Seychelles. Trek through lush jungle trails and enjoy panoramic views of the island atop rolling green hills. Take a tour through the many art galleries, museums, botanical gardens and national monuments located on the various islands. Grab a bike and cycle through verdant plantations filled with the tempting scents of coconut, cinnamon and vanilla.
Wander through the artisanal markets where you can find artistic curios and experience the laid-back culture of the locals. Then head to one of the many fine dining restaurants for freshly caught fish dishes and Creole cuisine seasoned with a delicious blend of ginger, coconut, coriander and tamarind.
If you're looking for the ultimate escape, free from the hustle and bustle of modern living, contact our expert Flight Centre crew and book your moment in the Seychelles today.