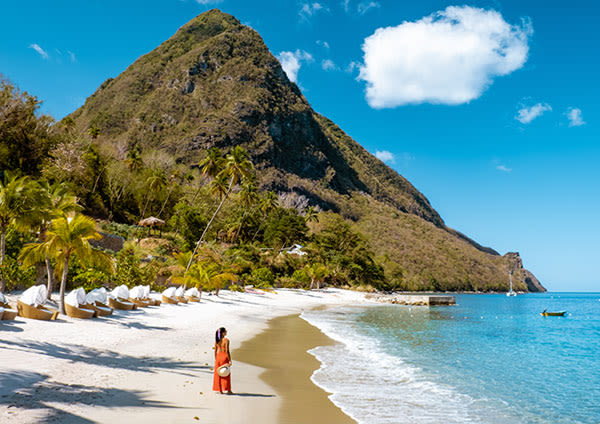 If your ears prick up at the phrase "tropical paradise" then add St Lucia to your bucket list. Although she may be small in size, she's guaranteed to leave a lasting impression. St. Lucia is an island of two halves, to the north you'll find Rodney Bay, which offers a modern marina dotted with seafood bars and upmarket restaurants. To the south, you'll find Soufriere and its retro candy-coloured villages, food stalls by the roadside and barbeques on Anse Chastanet Beach. A dream vacation for the young and young-at-heart, St. Lucia also boasts a vast array of accommodation options, from family friendly through to all-inclusive beach resorts such as Coconut Bay where you can sip, snack, nap, repeat 'till your heart's content. If you do manage to peel yourself out of your sun-lounge, a trip to Sulphur Springs is a must! It's not only the world's only drive-in volcano but you can treat yourself to a mud bath followed by a refreshing natural rainforest bath. If sun-soaked days snorkelling and exploring coral reefs sounds like your ideal vacation, talk to our team about our St. Lucia vacation packages today.
Deals with your name on them...
Explore holidays by interest
Frequently asked questions
Can you fly direct to St. Lucia?
There are 9 airports that offer direct flights to St. Lucia but if you're not close-by, you'll have to catch a connecting flight to get there!
---
What to take on vacation to St. Lucia?
Don't forget your universal power adaptor, passport & the most comfortable pair of shoes you own to explore. For main character vibes, we recommend headphones & a great playlist!
---
Where to go on vacation in St. Lucia?
Each side of St. Lucia offers something unique! The south offers Volcanoes & nature reserves, the west is perfect for families and the east gets the atlantic breeze so it's a haven for watersports.
---
How do I go about cancelling my St. Lucia vacation package?
---
What part of St. Lucia is best to stay at?
St. Lucia has something for every traveller. Families will love Rodney Bay for the quiet atmosphere & nature lovers will never want to leave the scenery of Soufriere.
---
When is the best time to visit St. Lucia?
Beach lovers need to travel from December to April to take advantage of the sunny days but if you love the wet season & laid-back vibes then June to November is for you.
---
What is there to do in St. Lucia?
From chocolate farms to frolicking dolphins to sailing the bay, you'll be spoilt for choice during your stay.
---
How to find the best vacation package to St. Lucia?
Flight Centre's team of Travel Experts know St Lucia like the back of their hand and have worked hard to curate the best St Lucia vacation packages on the market. Check out what we have available online or in store today!
---
...loading
Popular local & international holiday deals
Popular holiday destinations