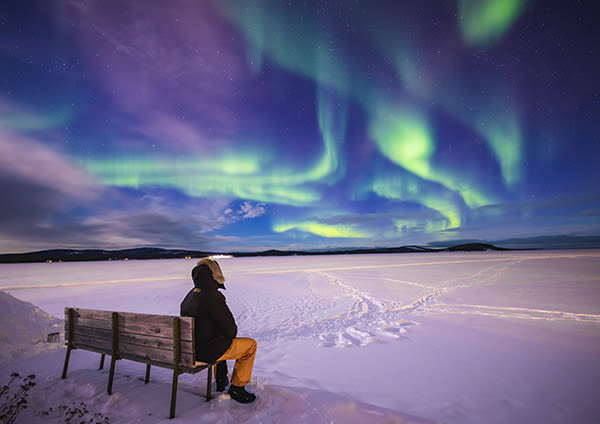 You know the lyrics, "walking in a Winter wonderland?" Well, our Flight Centre travel experts think they must have been talking about our Finland holidays. The country's Artic landscapes, national parks and snow-covered forests provide the perfect backdrop for unique activities like cross country skiing, reindeer herding and husky safaris (AKA dog sledding). And yes, some places will let you cuddle the huskies afterwards. If you haven't seen the Northern Lights before too, you can stay in a glass igloo decked out with modern comforts so you can witness this optical phenomenon from the comfort of your bed. Get those pyjamas on and let's plan a holiday! Although, if you're coming in store to book, you may want to wait until you're back home to put them on (or not, you do you).
Deals with your name on them...
Explore holidays by interest
Frequently asked questions
What to take on holiday to Finland?
Your Finland packing list depends on the time of year you plan to travel, especially if you plan to visit in winter, as you'll need some seriously heavy-duty layers. Even if you're travelling in summer, you can be caught out by a cool breeze or a flash rain cloud so best do some season specific research. Be sure to pack comfortable shoes and your sense of adventure.
---
Where to go on holiday in Finland?
Finland is a place of geographical extremes, from the remote wilderness of Lapland to the deep forest of Lakeland and the effortless cool city vibes of Helsinki. You could have an entirely different holiday depending on the time of year and the region you choose to visit. For a thoroughly modern Nordic experience, head to Helsinki where you can skip between UNESCO World Heritage listed sites and contemporary art galleries, stopping for dinner at a Michelin-starred Finnish restaurant. If you're planning a trip around Christmas time, be sure to stop in at Rovaniemi to say hey to Santa Claus.
---
How do I go about cancelling my Finland holiday package?
---
When is the best time to visit Finland?
This is one of those questions that comes down to personal preference, while some prefer the long sun-kissed summer days from June to August, others opt for the magical winter wonderland from December to February. The great news is that there are no wrong answers here, so the best time to visit Finland is any time you can.
---
What is there to do in Finland?
Experience the magical Northern Lights, dive into a traditional Finnish sauna (if you know, you know), indulge in delicious Finnish cuisine, meet Santa Claus, explore the stunning natural beauty of the wilderness on foot, bicycle or the most fun option, on a dog sled. Oh and if you visit in summer, the midnight sun is an experience that promises to linger in your memory long after your holiday has ended.
---
How to find the best holiday package to Finland?
Sign up to get the hottest deals sent straight to your phone & emails. You can also check out our deals online, or speak to one of our Travel Experts.
---
...loading
Popular local & international holiday deals
Popular holiday destinations