Underwater Paradise: 7 Top Snorkelling Spots Around The World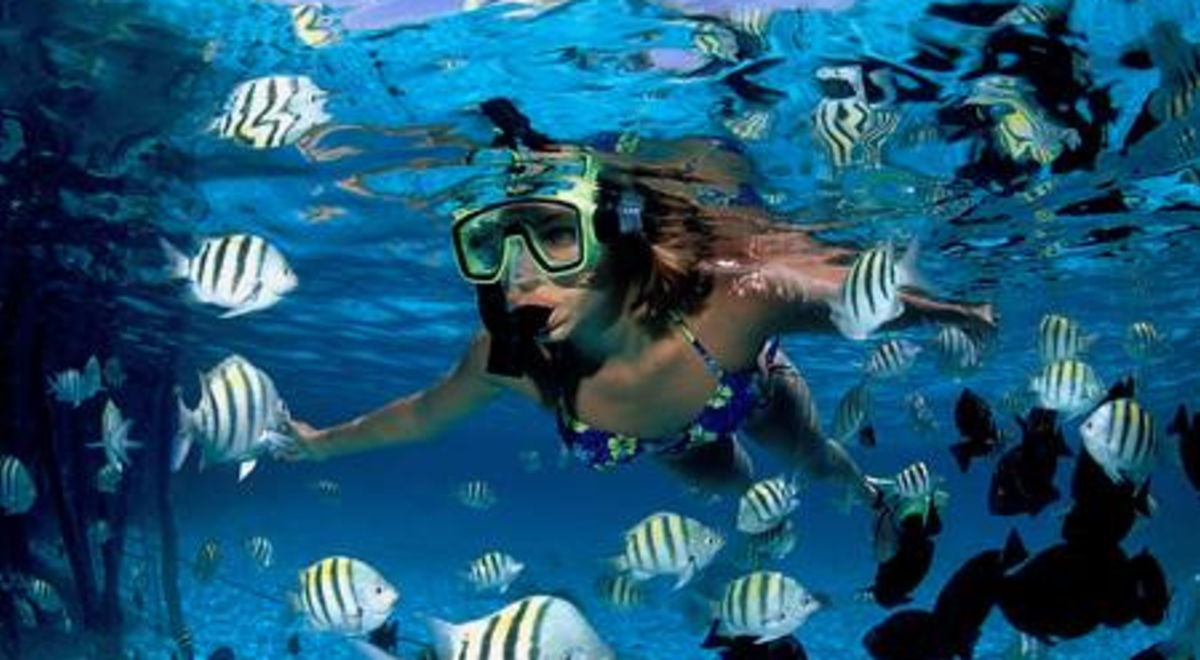 ---
---
Snorkelling is one of the easiest and most fun ways to explore the magical underwater world. You don't need any training and it's a great family activity, too – just put on your goggles, a snorkel and flippers and you're good to go. Here are some of the best snorkelling spots around the world:
  Sodwana Bay (South Africa)
You don't always have to travel abroad to see some of the most vibrant coral reefs and an abundance of marine life. Sodwana Bay is situated on the north coast of KwaZulu-Natal, approximately 400km north of Durban and 100km south of the Mozambican border. With its warm waters all year round, Sodwana Bay has been one of the most popular scuba diving and snorkelling destinations in South Africa for years.Enjoy world-class diving in Sodwana. Browse our hottest South Africa holiday packages today.
Mauritius
A few strokes away from the Preskil Beach Resort, located on the southeast coast of the island, you'll discover spectacular underwater scenery in a unique marine park. The resort borders a lagoon of crystal-clear blue water that leads to the marine park of Blue Bay, where you'll be able to explore many islets, including the Ile aux Aigrettes (Egret Island), the Ile Phare (Lighthouse Island), and the Ile de la Passe (Pass Island).Explore Mauritius for yourself with our hottest Mauritius holiday packages now.
Maldives
South Ari Atoll has long been a favourite destination for diving and snorkelling holidays in the Maldives and when you plunge into the topaz waters of Holiday Island Resort & Spa, you'll quickly see why. Nearby reefs, wrecks and coral towers teem with sharks, tuna and barracuda, as well as a variety of other colourful creatures and plant life. Snorkelling in the tranquil waters provides you with a bird's-eye view of the marine life below.
Zanzibar
When going to Zanzibar for the first time, you soon realise that the pictures you've seen of this island off the coast of Tanzania weren't "Photoshopped" after all. The water is just as turquoise and crystal clear as it appears on postcards. You can go on snorkelling tours from most of Zanzibar's villages, as well as the capital, Stone Town. The east coast of the island, where the Karafuu Beach Resort and Spa is located, is blessed with loads of green and hawksbill turtles, as well as octopuses hiding in every crevice, moray eels, marble rays and more.Zanzibar awaits. Explore our Zanzibar holiday packages now.
Cairns (Australia)
The Great Barrier Reef is not only the world's largest and arguably most spectacular coral reef system; it's also one of the seven wonders of the natural world. Cairns, a city on the north-eastern coast of Australia, is the perfect gateway to the reef, which is so big that it can be seen from outer space.Discover the wonders of Australia, with our Australia holiday packages.
There's a number of tours and cruises available from the Pacific Hotel Cairns, so you'll be able to explore some of the 1 500 species of fish, 4 000 species of molluscs and 400 coral types on the Great Barrier Reef. You might even meet Wally, the friendliest fish you'll ever come across – a humphead wrasse that doesn't mind being stroked or sometimes even posing for photos (you never knew a fish could be tame or friendly, did you?).
Seychelles
Going on a reef safari gives you an opportunity to be taken to some of the most spectacular snorkelling spots in the Seychelles.
The Coral Strand Smart Choice Hotel in the north-west of Mahe, the main island of Seychelles, is perfectly positioned in the middle of the famous Beau Vallon Beach. Go on a full-day reef safari that takes you on a gentle cruise past the island of Hodoul, whereafter you'll move into the marine park where you could board a semi-submersible to explore the reefs. You'll also get the opportunity to dive or snorkel to get up close to the sea creatures of this area.Take your dream holiday to the Seychelles. Explore our hottest Seychelles holiday packages now.
Phuket (Thailand)
Some of Phuket's best snorkelling spots can be found at the shallow reefs on the northern and southern end of Kata beach, just 150m from the shore. Look out for wrasse, bannerfish, parrotfish, triggerfish and the camouflaged poison stonefish. If you're lucky you may even spot a sea turtle.
Just 100km north of Phuket, in the Andaman Sea, are the Similan and Surin islands with some of the best diving and snorkelling spots in the world. Visibility is often up to 30m with an abundance of marine life – from rays, sharks and sea turtles to colourful fish and soft and hard coral formations.Your dream island holiday awaits. Browse our hottest Phuket holiday packages now.
* Take a look at Flight Centre's hottest Maldive holiday packages