Watch the spectacular Dubai skyline unfold before you, as your cruise liner glides into the expansive city harbour. This unique city offers no shortage of exceptional activities both on land and at sea. Dive into warm tranquil waters and explore the colourful coral reef below. Or simply lounge on pristine beaches followed by a gourmet meal from one of the many chic eateries dotted along the waterfront.
Holidaymakers in search of some cosmopolitan culture can head to the city where architectural wonders, world-class shopping and hedonistic delights await. Travel to the top of Burj Khalifa, the world's tallest building, marvel at the world-famous Palm Islands and explore the myriad shopping, sight-seeing and entertainment activities before returning to the plush comfort of your cruise liner.
Follow the coastline to the capital city, Abu Dhabi, where you'll be greeted by an exquisite waterfront tableau. Cruise-goers in the mood for a more cultural experience can take a day trip to visit the city's many art galleries, heritage sites, local markets and ancient mosques.
Experience the 'Norway of Arabia' as you cruise along the spectacular shoreline of Khasab. Gaze in wonder at its rugged coastline framed by glacier-like cliffs and crystalline fjords. Watch dolphins frolic in the waves, see traditional dhow boats set sail and bask in the glow of red-gold sunset on the horizon.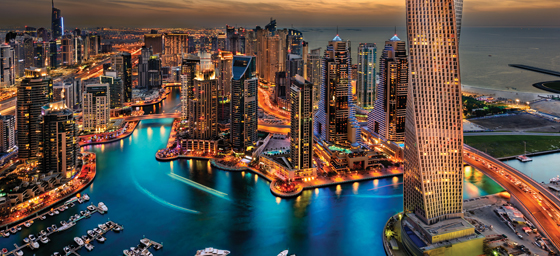 Make the magical city of Muscat your next port of call, where stunning deserts, majestic mountains, idyllic beaches and picturesque seafront streets meet with all style and sophisticated of a modern metropolis.
From the bright lights of Dubai to the tranquil beaches, rich culture and kaleidoscope of activities in Abu Dhabi, Khasab and Muscat, our experienced team of cruising experts will make your dream holiday in the Middle East a reality.