The best national parks and safari game reserves in Botswana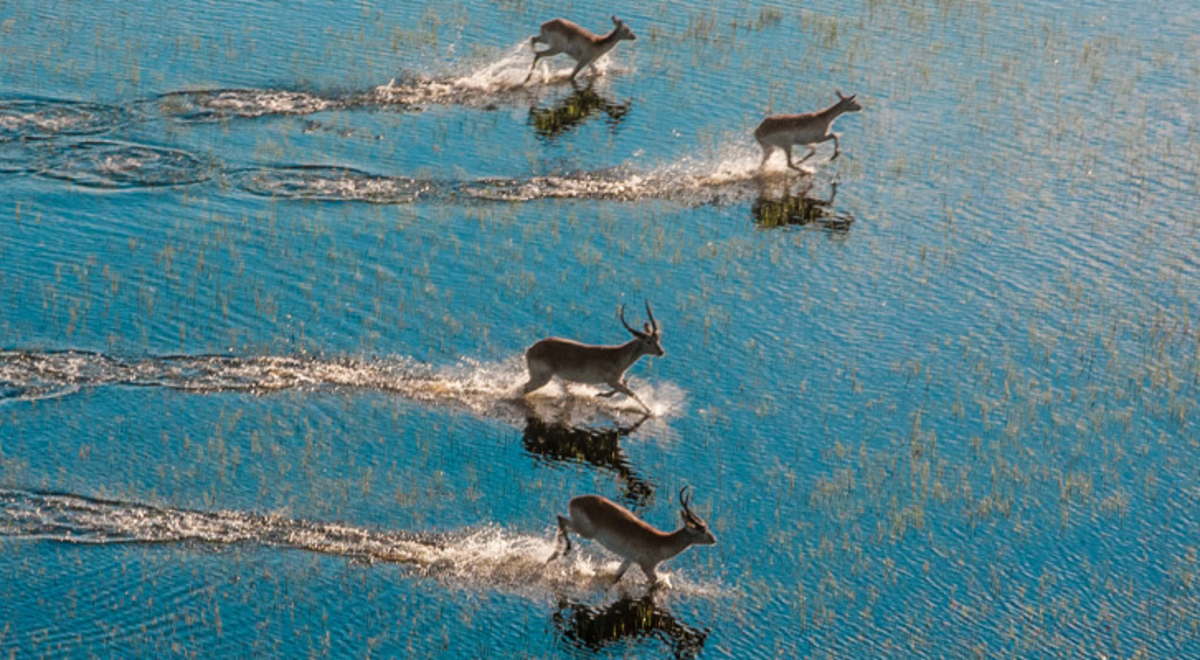 Known for being Africa's ultimate glamping and safari destination, there are countless reasons why a trip to Botswana deserves a place on every traveller's bucket list. Did you know that up to 17% of the country is devoted to national parks and safari game reserves? With that in mind, our team, shares the best of these nature-packed havens, including activities to enjoy and the best times of the year to plan your visit.
Moremi Game Reserve
Why you'll love it
Moremi Game Reserve is located in the Okavango Delta – arguably, Botswana's most talked-about tourist attraction and home to some of the world's most critically endangered mammals, such as the African wild dog, as well as an array of rare plants. The magical delta is made up of a combination of permanent marshlands and plains that are flooded seasonally. Travellers can look forward to floating along the scenic waterways onboard traditional mokoro boats, partaking in fishing and birdwatching, and embarking on helicopter tours to admire the wetland wilderness from an entirely new perspective.
When to go?
The great news is that Moremi Game Reserve is a fantastic year-round holiday destination and the 'best' time to go all depends on personal preference. For example, those looking for more manageable temperatures and the opportunity to scope out more wildlife should plan a visit during the dry season (May – November). On the other hand, those hoping to benefit from lower prices and a more intimate experience should endeavour to visit during the wet season (December – April).
Chobe National Park

Why you'll love it
Known for its lush vegetation and wildlife diversity, Chobe National Park is an absolute must for all tourists venturing to Botswana. It's where you'll have the chance to spend a few nights onboard a luxurious houseboat to appreciate the local landscape all the more. The Zambezi Queen houseboat promises a laid-back river safari, followed by a comfortable night or two in one of the 14 ultra-luxe suites, each with a private balcony for gorgeous views of the surrounding waters and the distant African landscape. 
Other reasons to love Chobe National Park? Take your pick from game drives, photographic safaris, guided bush walks, and so much more.
When to go?
Like Moremi Game Reserve, Chobe National Park can be visited and enjoyed throughout the year. April – October is the dry season (and also the high season) known for the best weather, and perfect for viewing wildlife at the riverfront. Having said that, the wet season (November – March) is extremely under-rated. It's a wonderful time for spotting large groups of zebra at the Savuti Marsh, seeing hordes of baby animals, and is also the ultimate time for birdwatchers as the park is alive with many beautiful migrants in search of warmer temperatures.
Nxai Pan National Park
Why you'll love it
Unsurprisingly, Nxai Pan National Park is home to the Nxai Pan, a massive salt pan that once formed part of Lake Makgadikgadi. It's a fantastic place for observing wildlife and birdlife throughout the year – although some species are more prominent during either the dry or wet seasons.
Travellers can book traditional safari game drives, along with nature walks for a close-up encounter with the Kalahari, educational tours of the nearby Baines Baobabs, and enjoyable horse-riding safaris out on the Makgadikgadi Salt Pans.
When to go?
Deciding when to go depends on the wildlife that you're most keen to see. The wet season (November – March) is great for spotting gemsbok, elephants, springbok, and zebra. Zebra and springbok, in particular, are known to drop their new-born foals and calves at the Nxai Pan during the famed Zebra Migration, making for an unrivalled game viewing experience. Alternatively, travellers can look forward to sightings of cheetah, lion, wild dog, and giraffe during the dry season, which is also the off-season for cheaper rates.
A Botswana and Victoria Falls combo

Countless travellers opt to maximise their African adventure by road-tripping from Botswana to Victoria Falls, nestled on the border between Zimbabwe and Zambia. In fact, some opt to road-trip from Namibia to Botswana and Victoria Falls over a period of three to four weeks, allowing them to experience a variety of memorable adventures, including the bustling city of Windhoek, the mysterious Skeleton Coast, the Okavango Delta, and, of course, the 108-metre-high majestic Vic Falls.
The perfect route for the popular Botswana – Victoria Falls combo getaway, in particular? It's best to start off in Maun before taking a detour to the Okavango Delta. Then, head back the same way onwards to Nata followed by Kasane and, eventually, northward to Victoria Falls.
No matter where you stay or which national park or game reserve you choose to visit, the 'Gem of Africa' promises you a revitalising journey that you definitely won't be quick to forget!