Gorgeous beaches, turquoise waters and brilliant sunshine are all things that come to mind when dreaming of a holiday in Mauritius. But there's even more to this incredible island if you know where to look! Check out some of these clever travel hacks to help you get the most out of your amazing Mauritius holiday.
Secret attractions
Escape the crowded tourist markets and go to the local Monday market in Mahebourg. This historic town is home to one of the most enchanting bazaars, where fragrant spices and musky perfumes mingle in the air and mesmerise your senses. Nature lovers should head straight for the lush Black River Gorges National Park. Crisscrossed with scenic hiking trails and challenging quad biking routes, this vast stretch of forest is big enough to keep you from bumping into large crowds. Up for a challenge? Conquer the Morne Brabant that towers above the charming village of Le Morne. Get a second wind after your climb and go kite surfing on the stunning beach too.
Savour the local flavour
Skip the swanky restaurants and go local with some tasty street food. Unofficially Mauritius' national dish, Dholl pori is not to be missed. Head to Dewa in Rose-Hill for a taste of this delicious take on Indian flatbread. Thirsty? Sip on some freshly tapped coconut water or visit the Bois Cheri tea estate for a cup of refreshing black vanilla tea. It's no surprise that freshly caught fish is a favourite on the island. So be sure to sample the many spicy seafood curries or try it steamed in a straight off a bana. It doesn't get more delicious than this!
Learn the lingo
Mauritians are known for being super friendly. Leave the confines of your resort behind and mingle with locals for an authentic island experience. You don't have to be fluent in French to hold a conversation, but knowing a few key phrases helps break the ice.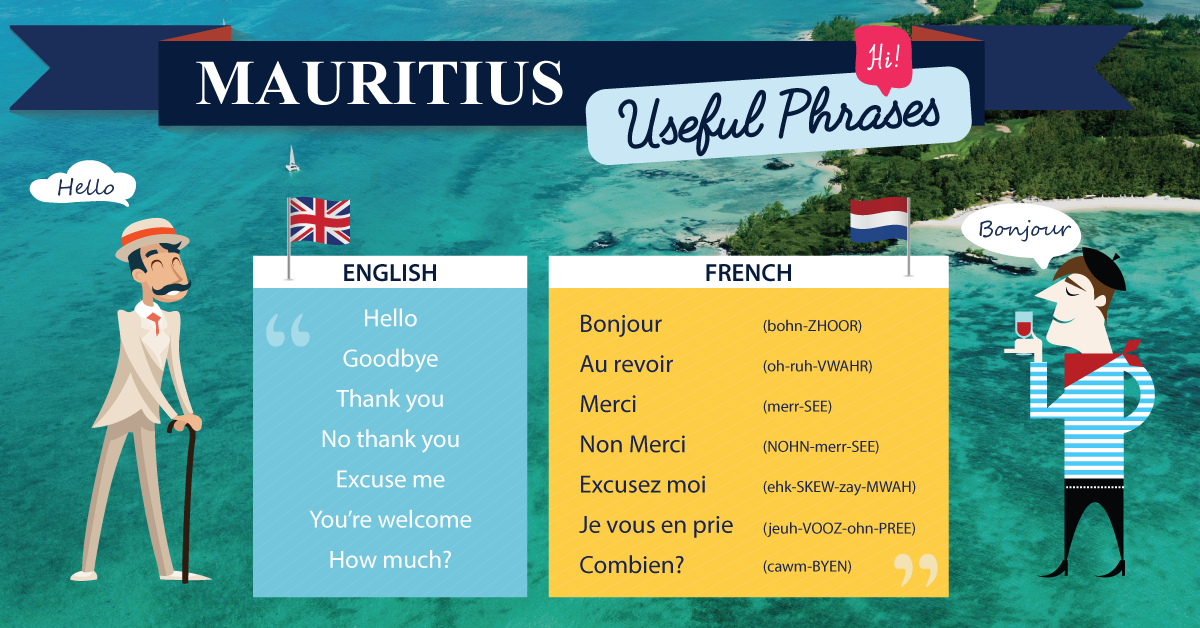 Things to know before you go
Your GPS might lead you astray. Give Google Maps a miss and ask a friendly local for directions instead.
Watch out for mandatory group shopping trips. Your tour guide will stop at over-priced stores or dodgy restaurants to earn a sweet commission. Feel free to browse but don't get swindled into buying things you don't really want.
Mauritius can be a bit rough on the wallet, but there are way to save a few bucks. Take advantage of your resort's all-inclusive package to enjoy drinks, some meals and water sports at no extra cost.
Remember that haggling is part and parcel of the shopping experience. If you don't ask, you don't get!
Getting around
Avoid expensive taxis and hop on a bus instead. You can save up to 275 MUR per trip just by taking public transport. Busses are always on time and run until 6pm. If you really want to go your own way, consider hiring a car. What's more, everyone drives on the left, so you'll feel right at home behind the wheel.
Now that you know all the tips and tricks make your holiday in Mauritius even more rewarding, contact us to start planning your island holiday right away! You can also take a look at our amazing Mauritius holiday deals right here