Experience our Economy Class
A pleasant and relaxing experience, flying Economy Class with Air Mauritius is all about quality service provided by a friendly cabin crew. Be it our wide and comfortable seats,  our wholesome meals or our hand-picked entertainment selection – everything comes together for an experience that leaves you satisfied!
Voted best Indian Ocean airline at the World Travel Awards, Air Mauritius prides itself on friendly island service and hospitality.  The new generation economy seats provides a 31 inch seat pitch and a personal TV with on-demand movies, games and music options. The inflight menu highlights the delicious Mauritian cuisine with a range of meals and beverages available as part of the ticket price.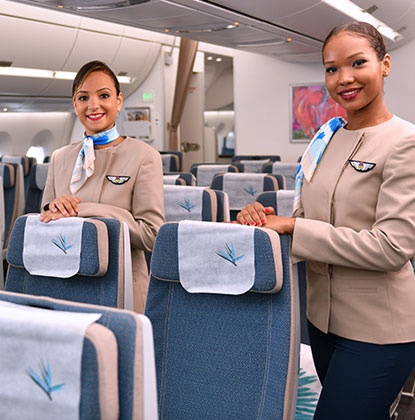 Before you fly
BOOKING
We know what it takes to prepare you for a pleasant flight with us! That is why we encourage you to select your seat in advance over the Manage Booking tab so you can get the seat of your choice – be it the window seat with the breath-taking views at take-off and landing  or that aisle seat that allows you to access the galley or restrooms with ease.
BAGGAGE
We understand that no travel experience is complete without the right clothes and accessories to carry along with you! Click on our Checked Baggage section for more details of the baggage allowance for your travel sector.
DUTY FREE SHOPPING
Give yourself one less thing to think about at the airport! Buy before you fly over Air Mauritius Duty Free. You save 20% off your shopping and we deliver the duty free items to your seat on board your next flight.  Find out more.
* Only available on flights departing from Mauritius and operated by Air Mauritius.
At the airport
CHECK-IN
Already checked in online? Great! You now simply need to drop-off your baggage at the drop-off point* and complete the required procedures at the airport you are departing from.
Didn't have time for an online check-in? Check-in at an airport kiosk, where available, or at our ticket counter and get your boarding pass printed by our helpful staff who shall also help you to drop-off your checked baggage so you can move to immigration without a hassle.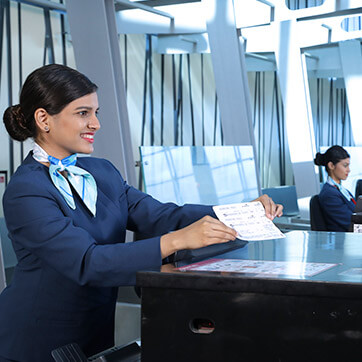 On your flight
YOUR CABIN COMFORT MATTERS
Sit back, relax, and enjoy your flight! At Air Mauritius, we understand that cabin comfort goes a long way in determining the quality of your inflight experience.
Our new generation and ergonomically designed seats on our Airbus A340/A330 feature a 79 cm (31'') distance between seats to provide you with the legroom and space that you need. A comfortable seat width of 18"/A350, 17"/A330 Neo and a 6'' recline on both aircraft sets a new benchmark in comfort in Economy Class. With an adjustable headrest, a flip cushion that offers back support and a seat extension, our Recaro seat in the A350 and A330 Neo is a dream come true for long-haul economy passengers looking to get some sleep on their flight.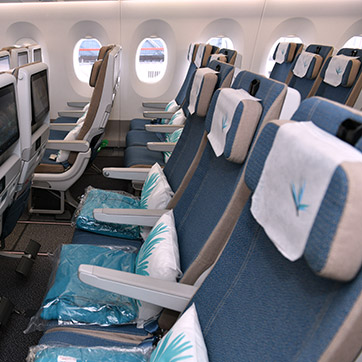 FOOD THAT REFLECTS OUR MAURITIAN MOSAIC 
Taste our fresh meals inspired by diverse cuisines and discover flavours especially made for you by our creative chefs. Our meals come accompanied with a full range of complimentary drinks so you can indulge yourself with both alcoholic and non-alcoholic beverages between meals. You can also enjoy a snack service on some flights. Read our Inflight Menu section for more details on what to expect in the dining department while flying with us.
TREAT YOURSELF TO A GLASS OF FIZZ 
Economy passengers are welcome to treat themselves to a glass of champagne for a small fee, whether to celebrate a special occasion or simply add sparkle to their day. * Available on London, Paris and Geneva routes only.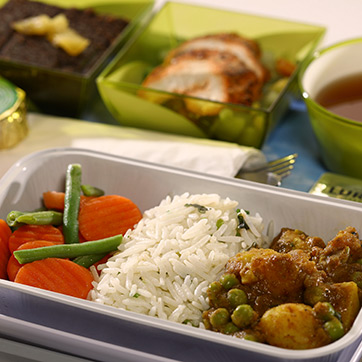 WATCH IN WONDER 
Enjoy our hand-picked selection of movies, TV shows and music. Our A350, A340E and A330 aircraft all come equipped with the cutting-edge AVOD (Audio Video On Demand) experience that will leave you hungry for more. Spanning from blockbusters to documentaries, our wide-ranging Inflight Entertainment Programme caters for various audiences with multiple cultural backgrounds.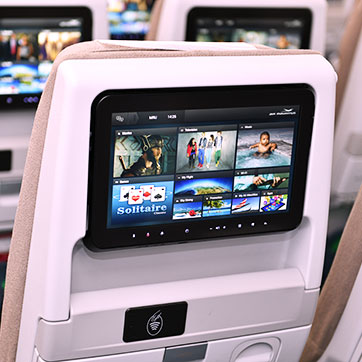 WATCH IN WONDER 
Enjoy our hand-picked selection of movies, TV shows and music. Our A350, A340E and A330 aircraft all come equipped with the cutting-edge AVOD (Audio Video On Demand) experience that will leave you hungry for more. Spanning from blockbusters to documentaries, our wide-ranging Inflight Entertainment Programme caters for various audiences with multiple cultural backgrounds. 
Experience our Business Class
Fall in love with air travel all over again as you experience the luxury of flying with Air Mauritius Business Class!
From streamlined booking and priority check-in to generous baggage allowances and boarding in advance at the airport, to the full-flat comfort of our seats and individual big screens to view our hand-picked entertainment selection on the flight or to read our insightful Islander magazine on your eReader, or to enjoy lounge comforts with us or our partners, our Business Class passengers can truly experience the best of what we have to offer*.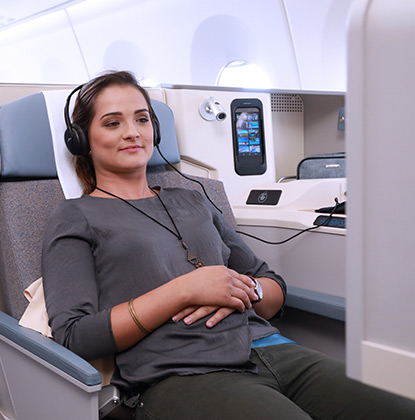 Before you fly
BOOKING
Wondering how can you choose your preferred seat from which to enjoy the many amenities on offer in our Business Class experience?
Access our free advanced seat selection facility over the Manage your booking tab and choose the seat you prefer.
BAGGAGE
In Air Mauritius Business Class, you get to carry not just all you need for your journey – but also all you want to take with you for a truly special experience!
We are pleased to offer two pieces of hand baggage (up to 7 kg each) and two pieces of checked baggage (up to 32 kg each) for passengers flying Business Class.
DUTY FREE SHOPPING
Give yourself one less thing to think about at the airport! Buy before you fly over Air Mauritius Duty Free. You save 20% off your shopping and we deliver the duty free items to your seat on board your next flight*. Find out more.
At the airport
CHECK-IN
Experience the perks of flying Business Class with our priority check-in facility! Seamlessly complete your check-in formalities at our premium counters the moment you arrive at the airport.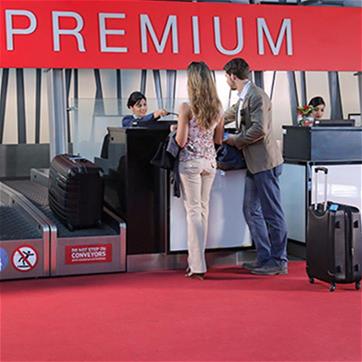 LOUNGE
Relax in our award-winning Amédee Maingard Lounge at the SSR International Airport in Mauritius or in the plush environs of partner lounges worldwide, which we have hand-picked for your comfort.
Present your boarding pass to unlock these privileges and take a break from the hustle and bustle of the airport.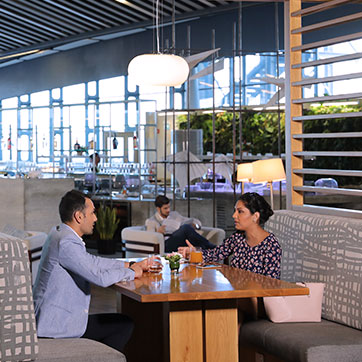 PRIORITY BOARDING
As a Business Class passenger, get ready to experience the best of what we have to offer! Enjoy the red-carpet treatment as you board before other passengers with our priority boarding facility.
ENJOY AN ARRAY OF BEVERAGE
Our signature cocktail for a warm, tropical welcome
Fancy a taste of the tropics? Delight your senses with the Air Mauritius Signature Cocktail* which is specially crafted and beautifully blended with a rich fusion of flavours from our island.
A true mix of Mauritian flavours – white rum expresses its local character; mingling with tropical juices from our locally grown pineapples and mangoes to impart an exotic touch; echoes of ginger and cardamom as reminders of the Spice Route; and to top it all off, the sweetness of honey and the fresh twist of lemon juice comes to us straight from our pristine, sister island of Rodrigues.
* Available on flights departing from Mauritius only. 
RAISE A GLASS TO A SPECIAL JOURNEY
The culinary experience begins even before you take off! Relax with welcome drinks in hand, including a sparkling glass of champagne, ahead of your flight's departure. Our hand-picked Duval-Leroy Brut is a great-tasting champagne of golden colour with light bubbles. Take a sip to feel a velvety softness in your mouth and savour the pleasant aroma of chocolate as you enjoy your drink. Let the magic begin even before you are up in the sky!
Wine as you dine
Our wine selection is hand-picked by master sommelier David Biraud, who has won the prestigious titles of Employee of the Year, France, in 2004, the Best Sommelier of France in 2002, and the Best Young Sommelier of France in 1998. Based on over two decades of experience, he has put together an amazing selection of wines which, served in the skies on Air Mauritius flights, gives a delightful foretaste of your fantastic holiday to come. Titillate your taste buds as you browse through our discerning selection of wines.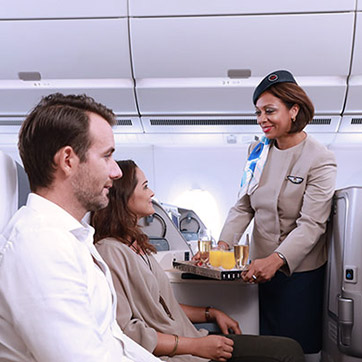 MEALS THAT REFLECT OUR RICH CULINARY HERITAGE
Our menus have been carefully designed to reflect the diversity of our local cuisine. Just like our people, our cuisines also come from different continents to create a harmonious blend that constitutes the unique and unforgettable Mauritian experience. Check our inflight menu.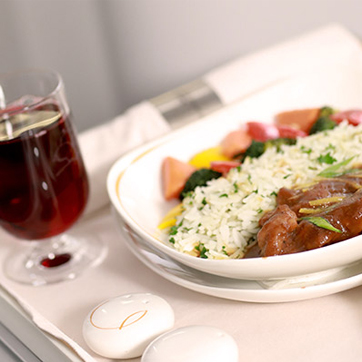 IN-FLIGHT ENTERTAINMENT THAT IS TRULY ON DEMAND
On board our aircraft*, individual large full HD 15.6-inch screens and noise-cancelling headsets allow you to enjoy your entertainment the way you want it. Our cutting-edge and interactive AVOD (Audio & Video on Demand) system allows you to pick the movie of your choice and watch it at your own pace, with options to pause, rewind, forward, and stop as you enjoy each moment of your flight with us.
Who knew flying could be such a pleasant experience? Feel well and truly spoilt for choice as you browse through a hand-picked and wide selection of movies, TV shows and audio albums from old classics to the latest releases.
For those who wish to learn more about our paradise island, our tastefully presented Islander Magazine can be perused at leisure over the eReader.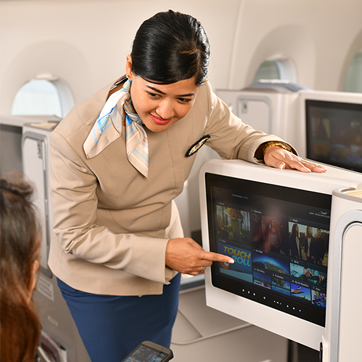 WE THINK OF ALL YOU COULD NEED – AND MORE!
Forgotten to carry any last-minute accessories you need on your trip?
In our stylish bags, you will receive a plethora of practical amenities such lip balm, hand balm, facial mist, dental kit and more.
 
YOUR PRIVATE SPACE IN THE SKY
Wish you had your personal space in the sky, far from the crowd? Wrap yourself in a plush cocoon of comfort as you travel in a comfortable full-flat seat.* Sink back into luxurious seats that offer you full privacy and your own personal space in the sky.
Travelling with a partner? We have seats that ensure your experience is twice as nice and allow you and your travel companion to have a quiet conversation.   
Need to work on the go or focus on your business projects, undisturbed?
Find a plethora of business amenities and work accessories at your fingertips to allow you to tackle work projects even when you are thousands of feet up in the air. Be it a power outlet for your laptop, tablet or mobile phone, an adjustable reading lamp, a handy storage area or noise-cancelling headphones, you have all you need to focus on your business while flying with Air Mauritius Business Class.
* Facility available on a majority of our aircraft.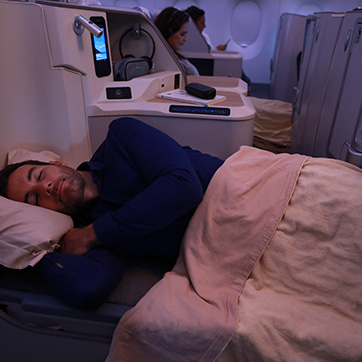 DUTY FREE ONBOARD
Craving some shopping therapy before you land? Look no further than the seat pocket in front of you and flip through the pages of our tasteful Island Boutique magazine for an exclusive duty-free shopping experience with Air Mauritius. We invite you to explore our fantastic range of fragrances, watches, jewellery, spirits and much more, as you shop from the comfort of your luxurious seat. 
THERE'S ALWAYS EXTRA SPACE IN OUR HEARTS FOR OUR BUSINESS CLASS PASSENGERS!
Enjoy a cabin service that is tailored to your every need and take advantage of complimentary inflight WiFi connectivity* to truly personalise your experience as you travel with us.
* Available on selected aircraft
On Arrival
We make it our business to ensure that our Business Class passengers get the red-carpet treatment all the way!
Relax in the warm comfort of our hospitable touch all the way till you reach your final destination. Upon landing, your baggage is delivered first, so you can save time and head out of the airport at your convenience.
As the whole world searches for happiness – be it the happiness of relaxing on the beach, soaking up the sun, or feeling the hospitable touch of a warm and smiling people – we invite you to experience the true taste of happiness as you travel with Air Mauritius Business Class.
Browse our hottest Mauritius holiday packages and flights to Mauritius with us.
CHECKED BAGGAGE
Wondering how many checked baggage items you can bring along on your Air Mauritius flight? Keen to find out the size and weight limits for each baggage item? Find out essential information to prepare your baggage for check-in!
As our passenger, you are entitled to a checked baggage allowance based on various factors such as the fare paid, the class of travel, the origin and destination of your whole itinerary, as well as your Kestrelflyer membership, if applicable. Before your flight, we recommend that you give due attention to the checked baggage allowances and make yourself aware of the excess baggage charges. You can pay your excess baggage charges online via Manage Booking or at our local ticket office or through our Call Centre (+230 207 7575).
Baggage Dimensions
As a general rule, the maximum weight for any piece of checked baggage is 32 kg and the dimensions (length + width + height) should not exceed 158 cm. Please note that for dimensions exceeding 158 cm up to a maximum of 300 cm, a surcharge will apply. Finally, if your baggage dimensions exceed 300 cm, we request you to make prior arrangements for the baggage to be carried as cargo. Please call Air Mauritius on +230 207 7575 for more information.
Piece and Weight Concepts
There are two standard checked baggage allowance concepts:
Weight concept: Measured by the total weight of checked baggage (shown as weight amount on ticket in kilos). Piece concept: Measured by the number of pieces of checked baggage (shown as number of pieces on ticket, with a maximum weight allowed per piece).
Checked baggage allowance based on origin:
Based on the piece and weight concept, the baggage allowances for each sector of travel with Air Mauritius are shown in the section below. Note that the baggage allowance is per passenger, whether an adult or a child as from 2 years of age.
Other conditions affecting checked baggage allowance:
Infants are allowed one piece of 23 kg, except on the Mauritius-Rodrigues leg, or vice-versa, where the allowance is one piece of 5 kg.
If the itinerary involves flying over the Atlantic/Pacific Ocean to America, the baggage policy of the transatlantic/transpacific airline will prevail.
If another airline is involved in the itinerary, the other airline's baggage policy may prevail, depending on the itinerary.
Extra Baggage Allowance for Special Categories
Students
Going overseas for studies and wondering where to pack in those precious books? Don't worry! Air Mauritius has got you covered. All students travelling on student fares are entitled to one additional free piece of luggage of 20 kg maximum. The additional allowance will be mentioned on your airline ticket, however applicable charges will apply for any baggage in excess of the authorised limit. You will be asked to produce the supporting documents at the ticket counter for verification purposes:
Passport with Student Visa and 1 photocopy.
Proof of Registration as Overseas Student and 1 photocopy.  
Seamen
Working on a ship and wondering how the same baggage that fits into those roomy shipping containers will find its way onto our sleek aircraft? Air Mauritius understands your special needs!
Seamen travelling on seaman's fares will be entitled to one additional free piece of luggage up to a maximum of 20 kg.
The additional allowance will be specified on the ticket.
However, charges will apply for any piece of luggage over and above the free baggage allowance.
Additional points to be kept in mind
Right of refusal
Please note that Air Mauritius reserves the right of refusal with respect to checked baggage, which is inadequately packed or unsuitable for air carriage due to its weight, size or nature.
Name tags
Further, to ensure that your baggage reaches you promptly, every piece of checked baggage should display the passenger's name. We recommend that all checked baggage bear your name label externally and if you do not wish to have your home address on your baggage, we request you to place at least your temporary and business addresses on the bag.
Damaged baggage
While we make every attempt to accommodate you, if your bag is damaged, Air Mauritius staff has the right to ascertain that it can reasonably withstand normal handling before it is accepted at the check-in counter. If your baggage is accepted, we shall duly bring the damage to your attention and label the bag with the concerned tag bearing your signature.
Confirmation of Final Destination
When accepting baggage, our staff shall confirm your final destination as you may be subject to a separate contract of carriage by the connecting airlines.
Excess Baggage
Shopped and shopped till you dropped? We understand if you can't fit all your baggage within the applicable allowance, even though we endeavour to keep your allowance as flexible as possible.
Please note that we are happy to carry your excess baggage, subject to the following:
Available space
Aircraft type
Aircraft set limitation
Weather conditions
You can pre-purchase excess baggage online while making your booking or, if you have already booked your tickets, you can add these services through the Manage Booking section. Alternatively, you can pay for excess baggage charges at our local ticket office or through our Contact Centre (+230 207 7575).
For more information regarding excess baggage charges, click here.
Forgotten to pay for excess baggage in advance? Don't worry! You can always pay at the airport on the day you are flying out.
Standard Baggage Check-In Procedures
Baggage acceptance at check-in desk opens at least three hours prior to departure.
Our check-in staff shall ensure the following for your information and ready reckoning:
Dangerous goods signage is prominently displayed on the check-in desk.
Assess the exact weight and pieces information based on your proposed checked baggage and identify excess baggage (if any).
Ask security related questions for your safety and that of your fellow passengers.
Enquire deeper into items that, due to their nature, might contain dangerous goods.
Airport Check-in
Air Mauritius offers check-in at the airport on the day of departure. If travelling in business class, a dedicated check-in area will be available at your departure port. Check-in times for all international flights are as follows.
International Check-in Guide
at home
Know what time you need to leave the house to get to the airport
Pack your things, check out our baggage guide
Have your flight itinerary ready
Ensure you have your valid passport ready
Getting there
Be at the airport at least

120 minutes

prior to scheduled departure time
At the airport
Proceed to check-in counter with passport and itinerary ready
Go through security
Continue through customs
Check the gate number and flight status
Sit down and get comfy!
Lounges
Airport lounges are located at Mauritius International Airport and at Hong Kong International Airport. Each lounge offers a bar and buffet area with light refreshments and beverages, a dedicated children's play area, books, magazines, a business centre and complimentary Wi-Fi.
Lounge services are available to all business class ticket holders and Kestrelflyer Elite card holders travelling in any cabin class.
Upon request, economy class passengers are able to purchase a one time lounge pass on the day of travel at the lounge reception area. Some restrictions apply and entry is subject to availability on the day.
Kestrelflyer Frequant Flyer Program
The Air Mauritius Kestrelflyer frequent flyer programme consists of three tiers. Each level offers a range of benefits. Points can be earned on valid flights and used towards free flights, upgrades, extra baggage allowance and more. 
Kestrelflyer Status Levels
Red Kestrelflyer: Red KestrelFlyer members have access to the following rewards;
Free tickets
Upgrades
Excess baggage allowances
Silver Kestrelflyer: Silver KestrelFlyer members have all the benefits of red plus;
Priority check-in at airports
Additional baggage allowances
Sharing of awards with up to 5 nominated persons
10% discount on helicopter services
Gold Kestrelflyer: Gold KestrelFlyer members have all the benefits of red and silver plus;
Bonus 50% of miles earned in economy class
Free access to Air Mauritius lounges plus one guest at Mauritius International airport
15% discount on helicopter services
AIRBUS A350-900
AIRBUS A330-900NEO
AIRBUS A340-300
AIRBUS A330-200
AIRBUS A319-100
ATR72-500