Choose from our range of Mauritius holiday packages that include your flights, accommodation, and often special bonuses like tours and free upgrades. If you can't find the package you're looking for, contact one of our friendly consultants on 0877 40 50 00 and don't forget to ask about customising a package to suit your needs.
The Island of Mauritius is located east of Madagascar and southeast of the Seychelles. Arabic sailors discovered Mauritius in the 9th century. The Dutch, French and British has since colonised the island before gaining independence in 1968. Beyond the picture-perfect beaches, 700 species of indigenous plants spread across the island's 65-kilometre length and 45-kilometre width. Its varied past has left a blend of culture, architecture and influences on food, and most people are equally fluent in English and French. Mauritius's top sights and attractions are the 7 Coloured Earth, Port Louis, Black River Gorges River Park and Rum Distillery.
Wish You Were Here?
- Here's the rough guide to making the most of your Mauritius stay if you want a beach break plus a little more:
- Try glass-bottomed boating at Blue Bay, which is partly designated as a marine park. It is quietest to visit during the week.
- Visit the Hindu temple at Triolet, which honours the gods Shiva, Vishnu, Krishna, Brahma, Ganesha and Muruga.
- Hike in Black River Gorges National Park – enjoy the fresh air of the virgin forests.
- Surf at Tamarin Beach – the bay also has a dolphin pod and dramatic views to an extinct volcano.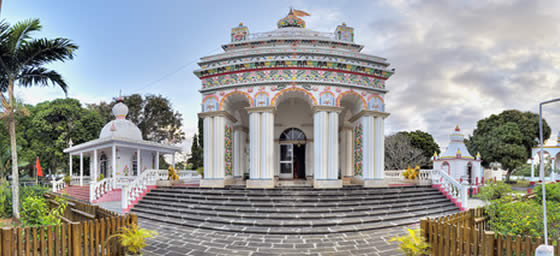 Hindu Temple at Triolet
The only caveat with island paradises is a watch on cyclone season: it's December–March. So if you're hankering for a little slice of paradise, grab a flight to Mauritius or check out the Mauritius holiday packages to keep your plans simple.
How long is the flight from South Africa to Mauritius?
The flight to Mauritius is 4 Hours 30 Minutes long.
Which day of the week is cheapest to fly to Mauritius?
It all depends on availability. The earlier you book, the cheaper seats you get available. Weekends seem to be more expensive as most people prefer to fly over weekends, which leads to the more affordable seats to be first sold out.
What time of day is cheapest to fly to Mauritius?
It also depends on seat availability. However, most clients prefer morning departures to still arrive in Mauritius during the daytime.
Which month is the cheapest to fly to Mauritius?
South African winter months from May to July, and not during school holidays are the cheapest months to fly to Mauritius. In general, the more affordable time to travel to Mauritius is in the winter months between May to September. 
Which airlines fly direct to Mauritius?
Air Mauritius and British Airways fly to Mauritius directly from South Africa.
When are the flights to Mauritius from Johannesburg?
There are daily flights.
When are the flights to Mauritius from Cape Town?
There are no direct flights. However, there are 2 indirect flight per week.
When are the flights to Mauritius from Durban?
There are 3 flights per week.
What should I know regarding COVID-19 pandemic and flights to Mauritius?
As of January 2021, Mauritius is still on Lockdown for SA passport holders, which should change sometime in the future. They have not released yet what the new rules will be at the time of writing this. However, they may require a Covid19 Negative test or an antigen test.
Is Mauritius a safe country?
Yes, it is.
Is Mauritius expensive?
You will get the best value for money if you go with an all-Inclusive holiday package.
What language do they speak in Mauritius?
Creole or French.
What is the weather like in Mauritius?
It is usually hot, summer-like, humid weather.
What currency do they use in Mauritius?
The Mauritian rupee. Carry Mauritian rupees when shopping at local markets and street vendors. All hotels, supermarkets and stores accept debit and credit cards.
Can I use an ATM in Mauritius?
         ATM's are widely available
How much money do I need for 1 week in Mauritius?
It depends on your shopping preferences and what meal basis you are on. If you are on an all-inclusive holiday, you will only have to spend money on excursions ( that you can pre-book with your agent) and shopping for souvenirs.
Do I need a visa for Mauritius?
South African passport holders do not need visas for Mauritius however foreign nationals must always double-check for their requirements.
What is the best time to go to Mauritius?
Mauritius is an ideal destination to visit throughout the year with warm summers and mild winters.
The best time for me is September or October. The winter months are just ending so the weather is not too hot and pleasant enough to enjoy water activities and explore the hidden gems of the Island.
For what is Mauritius most famous?
Not a care in the world – that's how you'll feel after a week's sojourn in Mauritius. A favourite among South Africans, this island escape offers something for everyone – families, honeymooners, friends and even for special celebrations. You may never want to leave your idyllic beachfront resort, but if you do, consider a visit to Port Louis or Grand Baie, and experience the island's cosmopolitan culture or perhaps visit the seven-coloured sands of Chamarel.
Which are the best holiday resorts in Mauritius?
All hotels are so different and each offers a unique experience. With over 60 resorts to offer you are spoilt for choice so I suggest calling one of our expert consultants to ensure that your needs are met and with this can offer you the best resort.
How much money do I need per day in Mauritius?
 I would suggest that travellers upgrade to an all-inclusive package whereby all meals and selected drinks are included in the rate. I also suggest that you pre-book excursions. This will ensure that you will not have any unexpected expenses and you can enjoy a hassle free holiday.
To give you an idea here are some costs:
Local beer – R80*
A glass of wine – R150*
A cocktail – R150*
Bottled water 1litre – R50*
Three-course meal for two at a local restaurant – R600*
*Above rates are approximate prices.
What do I need to bring and what shouldn't I bring to Mauritius?
Your essentials should include some light cotton clothes in the summer, some warmer jerseys and long-sleeved tops in the winter months and flip flops/sandals. Swimwear is a must throughout the year. Bring a pair of sneakers for excursions or hiking, sunglasses, mosquito repellent and sunscreen. Remember to have aqua socks for diving to protect your feet from corals. Also, bring along your camera to capture your memories.
How do you dress in Mauritius?
Hotels have a casual dress code in the day, and beach attire is accepted, but the evening smart casual dress code is required. Some hotels do not allow shorts and need collared shirts and long pants for men at dinner time. Appropriate attire must be worn at places of worship, covering shoulders and legs below the knees.
Enquire about Mauritius flights today