Vietnam Destination Guide
Culturally diverse and naturally exquisite, overtly friendly and historically rich, the curvaceous country of Vietnam has it all – and then some! 
Vietnam holidays are growing increasingly popular as the country opens its arms to visitors from all over the world. Bordered by China, Laos and Cambodia, this ancient country boasts beautiful scenery and some of Southeast Asia's most welcoming hospitality.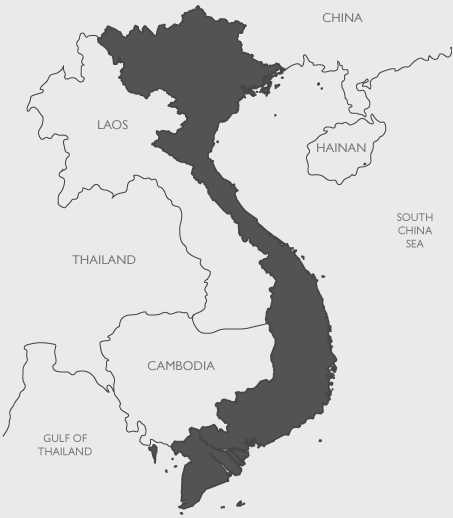 From impossibly green rice terraces to the other-worldly Halong Bay, Vietnam abounds with sights certain to leave you awestruck. From the saddle of your cycle (as is the definitive way to enjoy Vietnam tours) you will find rural villages sustained by non la-wearing farmers interspersed with grand colonial hubs.
Follow the country's arc and see where it takes you – an imperial ancient city or an off-shore utopia? Vietnam's north and south are like apple and oranges, with the grand and graceful boulevards of capital Hanoi worlds apart from the inexhaustible energy of Ho Chi Minh City. Formerly known as Saigon, Ho Chi Minh City today rivals Bangkok and Singapore with its progressive zest for life. 
Put on your party hat and celebrate...
Yen Tu Spring Festival
Tet Nguyen Dan – Lunar New Year
Huong Pagoda Festival 
A trek from north to south is a visual feast. Stop halfway along the coast of Vietnam to discover the enchanting city of Hoi An. Honouring a traditional ceremony on the full moon each month, this coastal port comes alive with coloured silk lanterns hanging through the streets.
While you're in Hoi An, order a bespoke suit or dress in the city – an excellent personalised souvenir to take home from your trip to one of Asia's most exciting countries.
Lay down some Dong and buy...
Traditional silk ao dai tunics
Non la conical hats
Bespoke suits from Hoi An 
For a little taste of France in Vietnam, head to Hanoi. Vietnam's capital city oozes serenity and grace, from its Parisian facades and cafes to the tranquil waters of Hoan Kiem Lake. Sometimes known as Thanh Long (the City of the Soaring Dragon), Hanoi is a mishmash of sights, sounds and flavours, and sums up the charming contradiction that is Vietnam. 
Don't leave without trying...
Goi cuon – fresh spring rolls
Banh khot – mini pancakes
Ca phe trung – sweet egg coffee 
Flights to Vietnam are both frequent and relatively inexpensive, with most of the surrounding Asian countries linked by direct routes. It's also possible to trek around the country, using the rail network for slow contemplation of the beautiful scenery as you connect to different cities including popular beach resort Nha Trang.
Alternatively, take a cruise on the Mekong Delta, which meanders through tropical forest and alongside small villages on the river banks, which are at times only accessible by the waterways that criss-cross each other.
Explore off the beaten track at...
The beautiful beach town of Qui Nhon
The remote mountain town, Sapa
The impossibly scenic Con Dao islands