On The River Royale: French Romance And Beauty In Bordeaux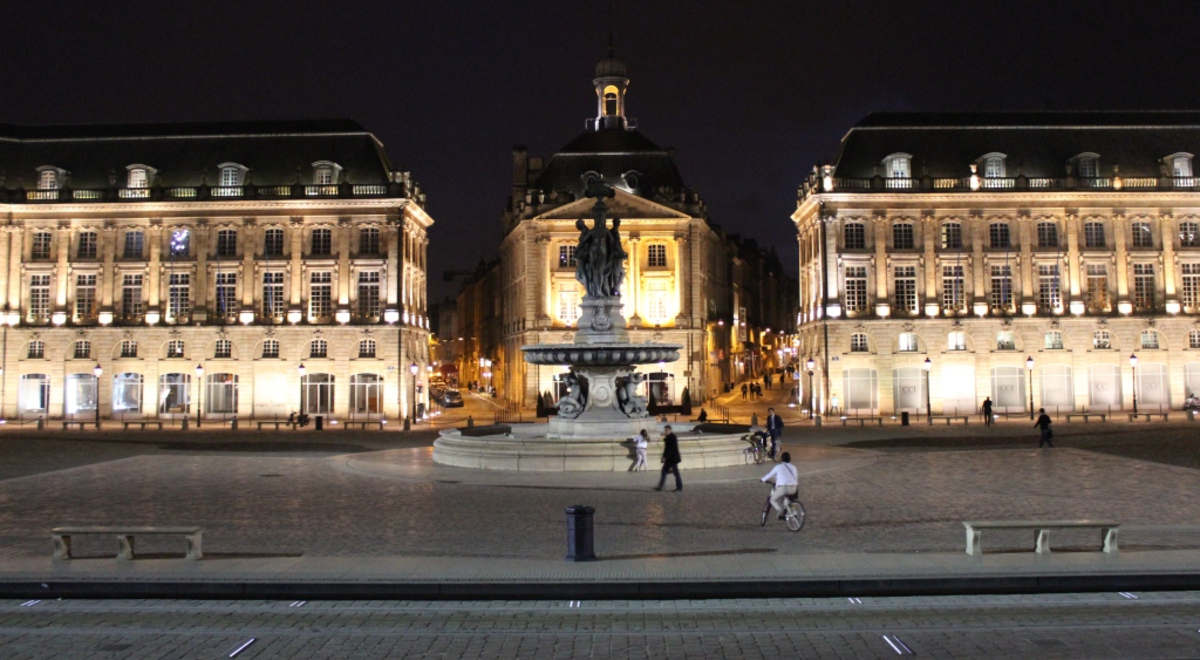 Jolene Campbell, Brand Manager for Uniworld, recently had the privilege of travelling on the newest cruise in the Uniworld offering. She tells us all about her experience.
Bordeaux always sounds like such a romantic place- The name itself rolls off the tongue so beautifully. But when I arrived in Bordeaux it was even more than I had imagine. Not only a bustling city, Bordeaux offers beauty in abounds, in its architecture, its people and its unique history.  Derived from the French au bord de l'eau, the name Bordeaux essentially means "along the waters". This refers to the Girondeestuary and its tributaries, the Garonne and the Dordogne. Both of these rivers have played a vital role in the history of the region.
Docked on the banks of the heart of the city, lying in wait on the magical Garonne river is our ship the River Royale. Uniworld Boutique river cruises has a number of company-owned ships, which all sail various rivers in Europe. The Garonne and Dordogne Rivers are Uniworld's latest addition to its programme, where the 7 night itinerary 'Bordeaux, Vineyards & Chateaux' is offered. On this cruise we were set to visit Pauillac, the gateway to the Medoc wine route, Bergerac and the beautiful fortified medieval town of Libourne. We would also get the opportunity to stroll through Saint-Emilion, a UNESCO-designated town as well as explore the Sauternes of Cadillac. Finally we would end off with the lively city of Bordeaux.
These are the highlights of my cruise:
Bordeaux by night
Bordeaux is beautiful by day, but at night the city comes to life and its impressive architecture is lit up to reveal all of its glory. We embarked on an open deck bus for a panoramic illuminations tour which would last for about 1.5 hours.
 ''Chateaux and Vineyards of Sauternes'' tour
I love sweet wine, and that is exactly what Sauternes is- a French sweet wine from the Sauternais region of the Graves section in Bordeaux. We started our tour with a visit to Chateau Myrat, an estate which dates back to the 1700's. Here we had the privilege of tasting the sauternes wine that is produced on this estate, a combination of Semillon, Sauvignon Blanc and Muscadelle.
Following this we headed off through the beautiful countryside of the Barsac, to our next destination- Chateau d'Arche. This estate boasts 40 hectares and the 17th century manor house lies in the centre. Here we were treated to a Uniworld exclusive- an Artisanal Lunch & wine pairing. In general people are reluctant to pair very sweet wine with savoury foods, but this lunch proved otherwise. This 3 coarse meal included three different dishes paired with 3 different sauternes wines, each working beautifully with the other.
Epicurean Dinner
Uniworld's culinary offering onboard is surpassed by no other. Every day, there were new culinary delights to look forward to- from sumptuous buffets to lunch offering seasonal delights and 6 course dinners to die for. Not only that, but a variety of cakes and sweet treats were served every afternoon, and I will admit that I looked forward to that every day and still had room for dinner! One particular evening we were treated to a special epicurean dinner. We were presented with a menu, created especially for Uniworld by two Michelin star Chef Philippe Etchebest from Saint Emillion. Chef Philippe himself had taught the Uniworld chefs onboard how to  recreate the menu, and they did not disappoint.
Wine Sign
Wine tasting can get a little tedious, that why Uniworld tries to do things differently. On our next ''Uniworld Exclusive'' we visited Chateau d'Arsac. Chateau d'Arsac is regarded as one of the oldest wine estates in the Medoc region and its vineyard of 112 hectares is planted with Merlot, Cabernet Sauvignon and Sauvignon Blanc. At Chateau d'Arsac they offer an opportunity for you to discover your personal 'Wine Sign'.
A blind tasting session of six wines enables participants to refine their own personal taste and discover the wines that they like. 6 wines are presented to you, as you taste each wine you are asked to rate the wine by means of an electronic voting system. Other questions are asked as well, such as 'what is your favourite smell?' and 'What do you like to eat?.
The result is presented to you in a booklet which outlines what your wine sign is, along with suggestions of local wines which correspond to your taste. My sign? Adventurous! My main problem (I am told) is succeeding in choosing from all the bottles I like. I travel the wine world with eclecticism and enthusiasm. I'm quite happy with that result!
Arachon oyster and Caviar tasting
While cruising the beautiful Garonne river, one could spend hours relaxing on the sundeck and watching the vineyards and Chateaux go by. But while doing so, why not experience Arachon oyster and Caviar tasting, paired with dry white wine of course! Hosted by the head chef in the 'Blue Fox' restaurant on the sun deck, we were given the opportunity to taste oysters with caviar. A truly memorable experience.
Bordeaux Bike ride
This cruise was not all about eating of coarse and once docked in Bordeaux, there is more to explore. I opted to try a guided bike tour of Bordeaux, offered as an optional by Uniworld. Split into two groups of ten, we were led by a very enthusiastic and knowledgeable guide who showed us a few unique sites of Bordeaux. Although I had not been on a bicycle in many years, I soon got the hang of it and managed to keep up with our guide.
This was something truly memorable, as it is not something you to do every day, and after all the amazing food you have consumed onboard, it is good to get active! Uniworld also offers a bicylcle tour of the Medoc Vineyards while in Pauillac, offering an opportunity to get an up-close look at the vines and truly take in the atmosphere of the famous wine-growing region.
This cruise was a truly special experience, and not only did Bordeaux live up to my expectations, but Uniworld exceeded them. The service onboard was truly not comparable to anything I have experienced before. The staff were friendly, helpful and really willing to go the extra mile. No request was too large. The food onboard was among some of the best I have ever tasted, and at the end of the cruise I felt like I have been on a culinary journey where I had got to experience new foods, new tastes and of course new wines.
The River Royale has a wine tasting room, offering many different wines of the region for you to taste. On top of this Uniworld has a sommelier on board, who introduces the wine you will have at dinner every evening, giving an insight into the wine and where it came from. This cruise is not all about wine, but it is also about the towns you visit, all steeped in history as well as beautiful and unique in their own way. Uniworld offers true all-inclusive cruising, meaning that everything is taken care of, including tipping and gratuities. All that is left to do it watch the Chateaux go by and sip a glass of wine.
About Uniworld Boutique River Cruise Collection
Los Angeles-based Uniworld Boutique River Cruise Collection, the world's only authentic boutique cruise line™, is recognized among the "World's Best River Cruises" by Travel + Leisure. Uniworld has also been recognized in their "Top 20 River Ships," with seven ships ranking in the top 20, along with the River Countess earning the highest score of all cruise ships, both river and ocean. Uniworld has been named to Condé Nast Traveler's prestigious Gold List for six consecutive years and to their Platinum Circle for two years. Uniworld was also ranked in their top three among the world's "Top Ten" cruise lines, both ocean and river. Uniworld's staterooms and dining are also ranked among the "Top Three in the World" by Zagat Survey®, with Uniworld being the only river cruise line named in the Zagat Survey® amongst the best of the best in the cruise industry. The editors of Cruise Critic handpicked Uniworld'sS.S. Antoinette as the "Best River Cruise Ship," and Cruise International awarded Uniworld for the second year in a row, the "Best Luxury River Cruise Line." In addition, Uniworld has the highest rankings by travelers on Cruise Critic for both river and ocean cruise lines. Uniworld features luxurious boutique ships with an average capacity of 130 guests and the highest staff-to-guest ratio in the river cruise industry, as well as included shore excursions, world-class gourmet cuisine, and award-winning hospitality. Uniworld offers over 500 departures sailing on more than 15 rivers in over 20 countries throughout Europe, Russia, Egypt, China, Vietnam, and Cambodia.
Pont de pierre
About The TreadRight Foundation
Uniworld Boutique River Cruises is a part of a joint initiative with The TreadRight Foundation, a not-for-profit foundation established by The Travel Corporation to encourage sustainable tourism within our own family of brands and in the places we visit. To date, TreadRight has donated more than US$2 million to sustainable tourism projects around the world.