Choose from our range of South Africa holiday packages that include your flights, accommodation, and often special bonuses like tours and free upgrades. If you can't find the package you're looking for, contact one of our friendly consultants on 0877 40 50 00 and don't forget to ask about customising a package to suit your needs.
South Africa has the rare honour of boasting three capital cities. Pretoria is the executive capital, while Bloemfontein is the judicial. The third capital is Cape Town, which is the legislative centre. While in Cape Town, consider taking the cable car up Table Mountain for the views over the region. On the other hand, enjoy strolling through the suburb of Bo-Kaap to admire the brightly coloured houses. To gain a greater understanding of the nation's recent history, take the ferry across to Robben Island where Nelson Mandela and other political prisoners were held for decades. Divers will appreciate the diving opportunities from the Cape Town coastline.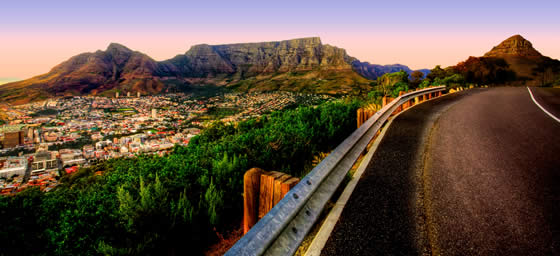 Cape Town
While the nation's cities offer a great insight into South African culture, it would be a tragedy not to explore the country's national parks courtesy of a wildlife safari. The Kruger National Park is located in the northeast and gives lucky travellers the opportunity of spotting the big five - lions, leopards, elephants, rhinoceros and buffalos. Other national parks worthy of attention include the Kgalagadi Transfrontier Park and the Addo Elephant National Park.
Wildlife Safari
Northwest of Johannesburg is a destination that offers an incredible glimpse into man's evolutionary process. Dubbed, the Cradle of Humankind, the site consists of over 200 caves where hominids and advanced ape fossils were discovered.
Are you ready to explore South Africa? Check out our flights to South Africa or contact Flight Centre for great tips on things to do and see on your African holiday.