Choose from our range of Rome holiday packages that include your flights, accommodation, and often special bonuses like tours and free upgrades. If you can't find the package you're looking for, contact one of our friendly consultants on 0877 40 50 00 and don't forget to ask about customising a package to suit your needs.
Once the centrepiece of the great Roman empire, the architectural legacy of this glorious ancient civilisation invites exploration. Be mesmerised by the Colosseum, the largest amphitheatre ever constructed, capable of seating 50,000 eager spectators keen to enjoy the gladiatorial conquests. Another highlight is St Peter's Basilica, completed in 1626. Today it represents the heart of Catholicism and is a major pilgrimage destination for Catholics worldwide. Together with the adjoining St Peter's Square, the Basilica is a must-see site and where a number of Rome tours are available.
St Peter's Basilica
Other significant attractions in Rome include the Trevi Fountain, the Vittorio Emanuele monument and the Spanish Steps. Surrounding these attractions you will find a great array of centrally located Rome accommodation options. There are also many impressive piazzas including Piazza Navona, Piazza della Rotonda, Piazza della Repubblica and Piazza della Minerva. Watching an Italian opera in the nation's capital at the Rome Opera House is a special experience.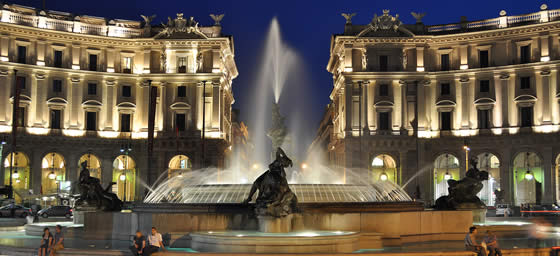 Piazza della Repubblica