Choose from our range of Phuket holiday packages that include your flights, accommodation, and often special bonuses like tours and free upgrades. If you can't find the package you're looking for, contact one of our friendly consultants on 0877 40 50 00 and don't forget to ask about customising a package to suit your needs.
Phuket offers a choice of holiday styles to travellers keen for a Thai break. Phuket accommodation commonly includes all-inclusive luxury resorts boasting modern conveniences, gorgeous pools and delicious culinary delights. Those who seek an activity-filled vacation can choose from a range of Phuket tours involving snorkelling, diving and sailing on the picturesque waters around the island. Racha Yai is the most well-known Phuket dive site with its spectacular coral displays.
Colourful Beach Umbrellas
On the other hand, you may prefer to laze around on the beach all day, before preparing for a night of partying and hedonistic pleasure. If this is your holiday style, head to Patong for your nighttime festivities - the city holds the dubious title as the party capital of Asia. The internationally renowned cabaret shows, which demonstrate you can never have enough sequins, are sure to entertain.
Other attractions scattered around the peninsula include a Butterfly Farm, a Crocodile Farm and the Phuket Aquarium. Consider visiting the Chalong Temple to justify the cultural component of your trip. For a unique fantasy experience, convince your mates to go to FantaSea, the Disneyland of South East Asia. On offer are a sumptuous buffet dinner and dazzling show with dancing elephants and trapeze artists. There are also carnival attractions and a tiger jungle adventure.
Overall, popular holiday activities in Phuket include any water activity you can think of is available in Phuket. One of my personal favourites is the day tour around the Phi Phi Islands, including snorkelling, stopping at Monkey Beach, and lunch on one of the islands. All of the beaches are a fantastic thing to see. The Phi Phi islands are also a must-do location, as the crystal clear water allows for some of the best snorkelling you can imagine. The Thai Big Buddha and Phuket Elephant sanctuary are also quite famous.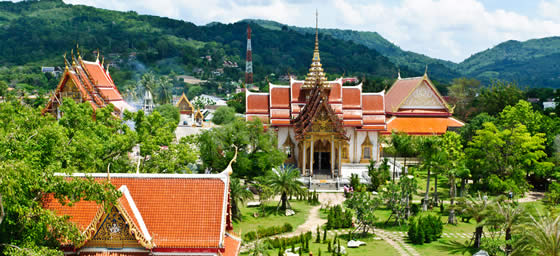 Chalong Temple
How long is the flight from South Africa to Phuket, Thailand?
The average flight time from SA to Phuket, that usually includes one layover would be between 13 - 15 Hours, depending on your city of departure.
Which day of the week is cheapest to fly to Phuket?
Weekends typically cost more than weekdays, so flying between Monday & Thursday should be cheaper.
Which month is the cheapest to fly to Phuket?
There is a common argument that October is the cheapest month to fly to Phuket. However, the price of flights would mainly depend on major events such as school holidays, Christmas, etc.
What time of day is cheapest to fly to Phuket?
There is no time of day that would impact the price of the flight.
Which airlines fly direct to Phuket?
No airlines fly direct from South Africa to Phuket. The most common options with South Africans are:
- Emirates (with a layover in Dubai).
- Etihad Airways (with a layover in Abu Dhabi).
- Qatar Airways (with a layover in Doha).
When are the flights to Phuket from Johannesburg?
There are flights every day.
When are the flights to Phuket from Cape Town?
There are daily flights from Cape Town to Phuket.
When are the flights to Phuket from Durban?
Flights to Phuket depart every day of the week.
What should I know regarding COVID-19 pandemic and flights to Phuket?
Always check the destination country's requirements for arrival. Your travel agent would be able to provide you with this updated information.
Is Phuket expensive?
It is not expensive. Phuket is one of the most cost-effective destinations for South Africans to travel to anywhere in the world.
What language do they speak in Phuket?
Thai is the official language spoken on the island. Nevertheless, because they are a top destination for tourists, English is commonly spoken.
What is the weather like in Phuket?
Phuket has tropical weather and is usually hot all year round.
What currency do they use in Phuket?
The Thai Baht is most commonly used, a lot of places would also accept US dollars. However, ATMs are freely available to withdraw cash in the local currency, and they have currency converting stalls all over the island.
How much money do I need for 1 week in Phuket?
This is very much dependent on the individual and what you plan to do. If you plan to have a relaxing time and do some light shopping, R500 - R1000 per day would be enough.
Do I need a visa for Phuket?
No visa needed for SA passport holders.
Enquire about Bangkok flights today