Choose from our range of Phuket holiday packages that include your flights, accommodation, and often special bonuses like tours and free upgrades. If you can't find the package you're looking for, contact one of our friendly consultants on 0877 40 50 00 and don't forget to ask about customising a package to suit your needs.
Phuket offers a choice of holiday styles to travellers keen for a Thai break. Phuket accommodation commonly includes luxury all-inclusive resorts boasting modern conveniences, gorgeous pools and delicious culinary delights. Those who seek an activity-filled vacation can choose from a range of Phuket tours involving snorkelling, diving and sailing on the picturesque waters around the island. Racha Yai is the most well-known Phuket dive site with its spectacular coral displays.
Colorful Beach Umbrellas
On the other hand, you may prefer to laze around on the beach all day, before preparing for a night of partying and hedonistic pleasure. If this is your style of holiday, head to Patong for your night time festivities - the city holds the dubious title as the party capital of Asia. The internationally renowned cabaret shows, which demonstrate you can never have enough sequins, are sure to entertain.
Other attractions scattered around the peninsula include a Butterfly Farm, a Crocodile Farm and the Phuket Aquarium. Consider visiting the Chalong Temple to justify the cultural component of your trip. For a completely unique fantasy experience, convince your mates to go to FantaSea, the Disneyland of South East Asia. On offer is a sumptuous buffet dinner and dazzling show with dancing elephants and trapeze artists. There are also carnival attractions and a tiger jungle adventure.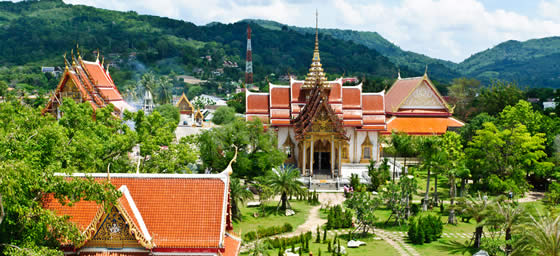 Chalong Temple