Choose from our range of Netherlands holiday packages that include your flights, accommodation, and often special bonuses like tours and free upgrades. If you can't find the package you're looking for, contact one of our friendly consultants on 0877 40 50 00 and don't forget to ask about customising a package to suit your needs.
This is one of the world's most densly-populated countries but you'd not often realise it on the streets of The Netherlands' major cities. If you're walking you might feel in the minority though – The Netherlands has around 22,000 kilometres of dedicated cycle paths and city cycling doesn't faze the locals. The Dutch are known for their liberal and relaxed attitudes and the atmosphere this creates spreads well beyond the coffee shops of the capital, Amsterdam.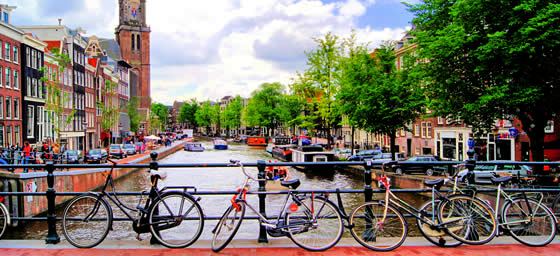 Bikes are a Popular Means of Transport
If you want a taste of cities other than Amsterdam: many of Utrecht's medieval strucutres remain; Maastricht is one of the country's most beautiful cities; and Leiden's claims to fame are as Rembrandt's birthplace and home of the oldest university in The Netherlands. Speaking of Dutch masters, Rembrandt is one of the many great painters, including Van Gogh, who have left a remarkable legacy here. Amsterdam's Rijksmuseum, Van Gogh Museum and Stedelijk Museum are worth a trip if you're an art lover, as is the Kröller-Müller Museum in the delightful Hoge Veluwe National Park (in the Gelderland province).
Maastricht
There are several huge summer carnivals and dance parties to enjoy here too – Dance Valley and Mystery Land are the 2 major ones in July and August, handy for the traveller as they are near Schiphol Airport.
Book a flight to The Netherlands if you're set to go or contact Flight Centre to get tips on making the most of your holiday.