One of our expert travel agents can get you to Johannesburg
Fill in the online enquiry below and one of our experts will contact you shortly (Johannesburg does not have a specific deal at the moment).
Call us on 0877 40 50 00 or
The economic heart of the country, Johannesburg, or Jozi as it's affectionately known, offers a fascinating insight into the challenges facing modern day post-apartheid South Africa. The city was founded after the discovery of gold in 1886 and essentially remained a prospecting town until the 1930s when there was a focus on construction. Today the sprawling metropolis is the country's largest city and offers interesting attractions deserving attention.
Old Mining Village
To gain a greater understanding of the country's turbulent history, consider exploring the Apartheid Museum before moving onto the Museum Africa on Mary Fitzgerald Square. Established by the apartheid Government during the 1960s, the district known as Soweto or South Western Townships, are a symbol of oppression and today, out of curiosity, visitors are expressing a desire to explore these areas in the west of the city.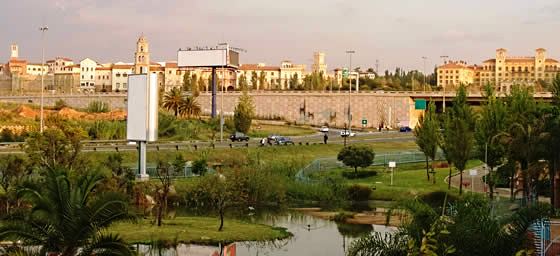 Johannesburg's Skyline and City Gardens
For a panoramic view of Johannesburg, take the lift to the fiftieth floor of the Carlton Centre, the tallest building in Africa. Also consider exploring Constitution Hill, the site of a fort prison complex, visit Lion Park where you can pat lion cubs and wander through the Walter Sisulu Botantical Gardens, a beautiful oasis within the city. Just outside the city, you can investigate the Old Kromdraai Gold Mine, a mine that originally brought prosperity to the city. You can visit these attractions and more with our cheap flights to Johannesburg.