Choose from our range of Bali holiday packages that include your flights, accommodation, and often special bonuses like tours and free upgrades. If you can't find the package you're looking for, contact one of our friendly consultants on 0877 40 50 00 and don't forget to ask about customising a package to suit your needs.
Why book your flight to Bali? Over the years Bali has successfully managed to stand out from over 17,000 islands that make up Indonesia. Its enduring popularity can be put down to its natural beauty and peaceful spirituality. Bali is often lauded as the ultimate island holiday where travellers come to let loose, relax and centre themselves. When you return home from Bali, you genuinely feel like you have had a holiday - and it's an addictive feeling.
This island is also a hotspot for Bali tours including snorkelling and scuba diving, while water sports are also a popular past time. Away from the water, Bali's restaurant and bar scene buzzes every day and night. From the packed out bars in Kuta to the romantic restaurants along Jimbaran, Bali boasts an active social life with something for everyone.
What are popular holiday activities in Bali? Bali is an Instagram Haven. Perhaps start with the Bali Swing, the Monkey Forest with ancient architectures and thousands of different Monkey species. Next, you could drive to the Tegenungan Waterfall and walk down steeps steps to swim in a sacred pool next to the end of the waterfall. Perhaps go on an island tour to Nusa Penida for the day or visit a temple at the foot of the famous Mount Agung volcano.
Overall, Bali's top sights and attractions include the Ubud Monkey Forest for nature and forestry, Tegalang Rice Terrace, Tanah Lot Temple, Lempuyang Temple, and Kuta Beach for the vibe. Don't forget to visit Tirta Ganga and Nusa Penida.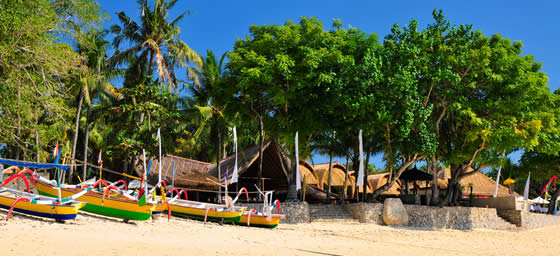 Balinese Beach
But for every packed bar and beach party, Bali has a tranquil spa and ancient temple where peace and quiet can be enjoyed. Though there are many resorts, nature still prevails in Bali, and there are numerous jungles, rice paddies and unspoilt beaches to explore. Whether you crave a holiday of sea, sand and cocktails or a spiritual journey involving culture, nature and meditation, Bali can accommodate you're every wish.
Buddha Statues
How long is the flight from South Africa to Bali, Indonesia?
The flight to Bali takes 15 hours and 20 minutes on Singapore Airlines.
Which day of the week is cheapest to fly to Bali?
It depends. Flight Centre offers the lowest price guarantee every day of the week. There are often deals you could book. Feel free to contact one of our travel experts or browse our website.
Which month is the cheapest to fly to Bali?
A flight in April could be the cheapest but check with your travel expert to make sure that you get the cheapest flight to Bali.
What time of day is cheapest to fly to Bali?
It depends on seat availability.
Which airlines fly direct to Bali?
There are no direct flights but the quickest flight would be Singapore Airlines.
When are the flights to Bali from Johannesburg?
There are daily flights via Singapore or Qatar Airways should you wish to go via Dubai or Doha they also fly daily.
When are the flights to Bali from Cape Town?
There are daily flights on Qatar Airways.
When are the flights to Bali from Durban?
Flights from Durban to Bali depart on Mondays Tuesdays, Thursdays and Saturdays on Qatar Airways.
What should I know regarding COVID-19 pandemic and flights to Bali?
The airlines are flexible with rules, and waiving penalties should borders close, which gives you peace of mind.
What is the Johannesburg to Bali flight schedule?
Flight depart at 13h40 afternoon on Emirates and 22h30 (Sundays, Wednesdays and Fridays) or 13h45 daily on Singapore Airlines from Johannesburg to Bali.
What is the Cape Town to Bali flight schedule?
Flights depart at 12h25 midday from Cape Town to Bali.
What is the Durban to Bali flight schedule?
The flight to Bali departs from Durban at 18h20.
Is Bali expensive?
I compared costs to here and I found that food, shopping and tours were all similar to our local costs and excellent value.
What language do they speak in Bali?
Balinese, Bahasa and English.
What is the weather like in Bali?
It is warm most months of the year but best visited April to October.
What currency do they use in Bali?
The Indonesian rupiah.
How much money do I need for 1 week in Bali?
Depending on what you would like to do, R11,000 spending money for 8 days in Bali could be enough.
Do I need a visa for Bali?
South Africans do not need a Visa for Bali
Enquire about Bali flights today