Choose from our range of Bali holiday packages that include your flights, accommodation, and often special bonuses like tours and free upgrades. If you can't find the package you're looking for, contact one of our friendly consultants on 0877 40 50 00 and don't forget to ask about customising a package to suit your needs.
Over the years Bali has successfully managed to stand out from over 17,000 islands that make up Indonesia. Its enduring popularity can be put down to its natural beauty and peaceful spirituality. Bali is often lauded as the ultimate island holiday where travellers come to let loose, relax and centre themselves. When you return home from Bali, you truly feel like you have had a holiday - and it's an addictive feeling.
Much of the action in Bali centres around the coastline where bronzed bodies line the water's edge, surfers from around the world chase big waves. This island is also a hotspot for Bali tours including snorkelling and scuba diving, while water sports are also a popular past time. Away from the water, Bali's restaurant and bar scene buzzes every day and night. From the packed out bars in Kuta, to the romantic restaurants along Jimbaran, Bali boasts an active social life with something for everyone.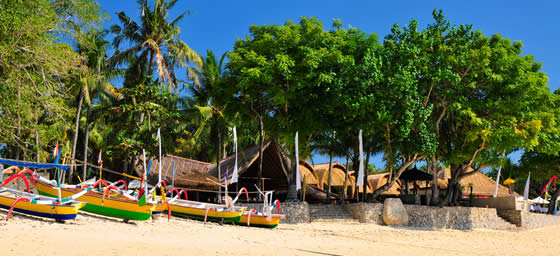 Balinese Beach
But for every packed bar and beach party, Bali has a tranquil spa and ancient temple where peace and quiet can be enjoyed. Though there are many resorts, nature still prevails in Bali and there are numerous jungles, rice paddies and unspoilt beaches to explore. Whether you crave a holiday of sea, sand and cocktails or a spiritual journey involving culture, nature and meditation, Bali can accommodate you're every wish.
Buddha Statues