Why Everyone Should Travel To Morocco At Least Once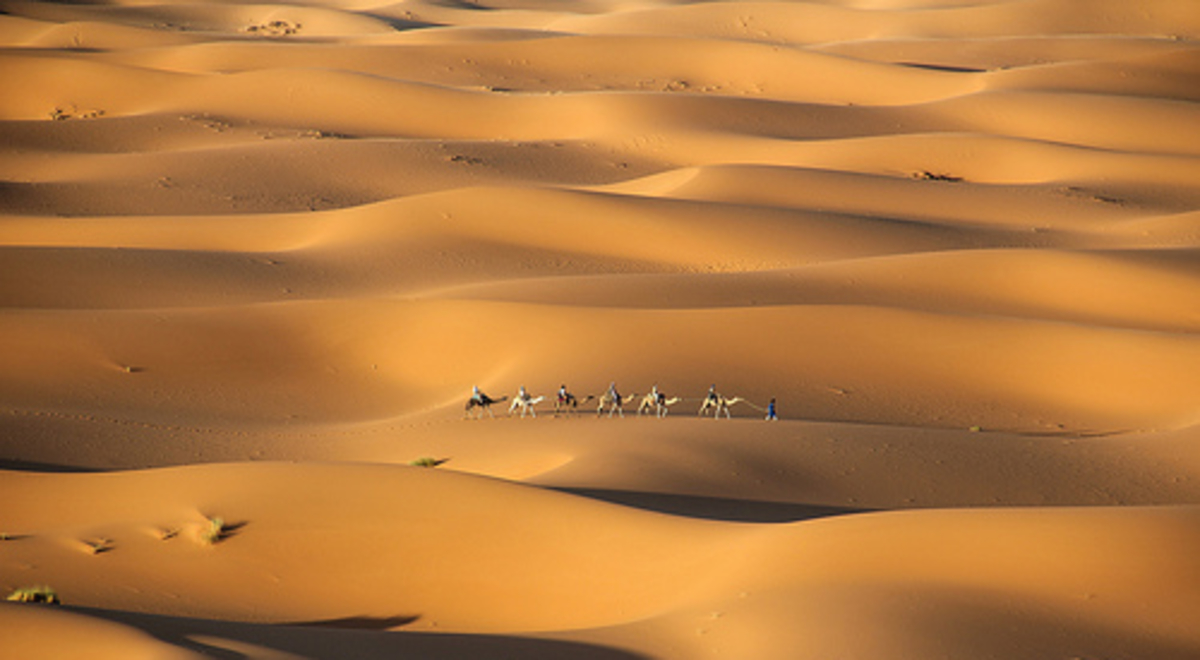 Imagine snow-covered mountain peaks nearly 2 000m high. Deep gorges with rushing rivers. Barren rocky landscapes descending to deep green valleys. And long belts of date-palm oases scattered with the fabulous mud architecture of kasbahs and fortified ksour villages.
Imagine ancient caravan routes that reached from the ancient royal cities of Marrakesh and Fes and out across the Sahara to Timbuktu, Niger and old Sudan, carrying gold, slaves and salt well into the 19th century.
Picture little seaside towns, their white buildings gleaming in the sun like so many children's building blocks. Foreign Legion forts standing lonely and sentinel against a blazing blue sky. Towering dunes and seemingly limitless rolling hills of golden sand. And a line of camels silhouetted against the desert sky making its way with slow dignity over rolling sand 
Wander through a thousand-year-old medina – an enclosed warren of houses, shops, schools, mosques, fountains, communal bakeries and public baths – where life has gone on in the same way for over a millennium and where's there's only room for a couple of people to walk abreast between the narrow walls. No vehicles allowed or possible here.
Make way for the heavily laden donkeys and mules in the medina that carry all that's needed on sure-footed little hooves in those rabbit warrens of streets, alleys, blind corners and narrow paths – Balak! Make way! Donkey alert! Quickly squeeze yourself flat against the walls.
Imagine extremes of temperature too. One day it's bright, warm and sunny, the next, up high in the Atlas Mountains, it's nearly freezing.
For such a small country, Morocco offers a staggering array of cultural, geological and natural diversity. Some highlights stand out. The Hassan II Mosque in Casablanca is the third largest in the world (St Peter's in Rome can fit comfortably inside), behind the great mosques in Medina and Mecca in Saudi Arabia.
Raised on a rocky platform reclaimed from the ocean, it's awesome in size, and its 200m minaret is the tallest in the world. The mosque itself holds 25 000 worshippers within and a further 80 000 in the courtyard.
Aït Benhaddou, in Morocco's great southern part, is one of the most awe-inspiring and wildly beautiful. It's one of the most spectacular sights of the Atlas, piled higgledy-piggledy upon dark soaring rocks above a shallow, reed-strewn river, a drawcard not only for tourists and travellers, but also for movie-makers. Lawrence of Arabia, Gladiator, Jesus of Nazareth and Game of Thrones were all filmed here and it's now a UNESCO Cultural World Heritage Site.
It has some superb architectural attractions – the Royal Palace, the Menara gardens with their still waters and ancient olive groves, the fine carving of the Saadian Tombs and, towering above all, the Koutoubia Minaret, the most perfect Islamic monument in North Africa.
Oh, yes. And the cats of Morocco. To be found everywhere. Apparently, the Prophet Muhammad is somewhere depicted with a cat in his arms, and so cats have First Class status. They're everywhere, sleeping in dark corners, miaowing for food and attention in souks and restaurants, dozing on piles of colourful Berber rugs, foraging for fish heads beside a seaside café, and reclining regally on ancient monuments.
But if you're adventurous, eager to see and learn, open to a very different but incredibly rich culture, ready to be overpowered by the country's natural beauty, want to buy some of the most beautiful and cheapest handmade jewellery in the world, then make your way to Morocco.