Durban holidays: Our travel experts answer your popular holiday questions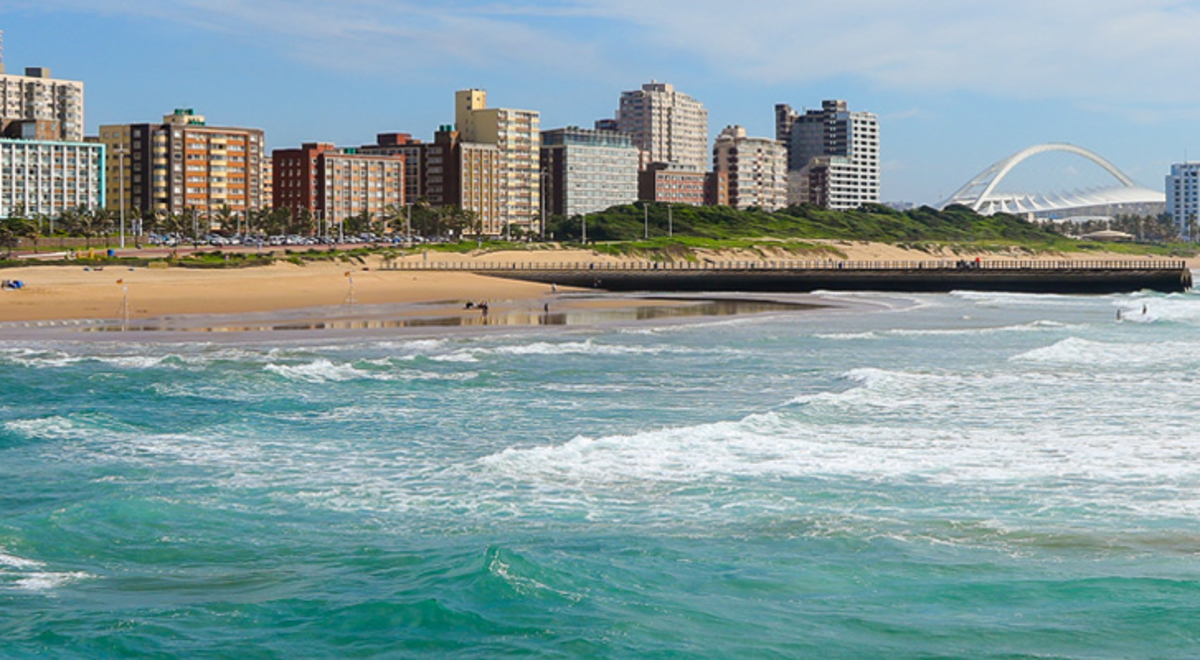 Why make Durban your next holiday destination? This beautiful city by the sea is home to a fascinating convergence of friendly cultures, golden beaches and lush natural beauty. There is so much to experience in sun-kissed Durban, at a fraction of the cost to travel overseas. Are you intrigued to discover more about this seaside gem and want to find out more? Considering a Durban holiday package? We caught up with our travel expert Yuthika and asked her popular questions that would-be travellers may ask about Durban holidays.
Why are Flight Centre's Durban holiday packages the way to go?
"With Flight Centre, you can rest assured you are always getting the best deal.We offer you the widest choice, so you have more options to choose from, and you can travel without stress knowing that you have expert advice available 24/7 throughout your journey, making your travel dreams come true."
How much would an average holiday to Durban cost?
"It would be dependent on the time of year, but a 2 night weekend, including flights 3* accommodation and car hire would cost -/+R3,000 per person sharing."
How much does it cost to stay in Durban for a week and to visit Durban's tourist attractions?
"Durban is also an affordable self-drive option. Seasonality and high season rates play a significant role in costing. Accommodation only for a good 3*, on Durban's Golden mile, including breakfast you are looking at approximately R2,600 per person sharing.

"The great thing about Durban is that most attractions and activities are close to each other, so you are not spending a lot of time and money travelling to them. Depending on how much you want to see and do would determine how much spending money you would need.

"Most attractions do not have entrance fees, or if they do, they are minimal fees. A full list of pricing can be found on each specific attraction's website. Food and beverage are at your account."
What month is the cheapest to fly to Durban?
"The cost of flights to Durban are entirely dependent on availability and seasonality. If you are looking for the most affordable time to fly to Durban, try to avoid school holidays, long weekends and peak seasons. If you are completely flexible with dates, then getting the best deal is easy. Sometimes airlines do have specials so always make sure you subscribed to travel websites to make sure you are getting the best deals."
What is the best time to go to Durban?
"The good thing with Durban is that it is an 'all-year-round city'. The warm east coast climate keeps the city cool during its humid summers. You can enjoy cooler temperatures with less rain between autumn and winter, from April to around September."
What are the top attractions and holiday activities in Durban?
""Durban has a bit of everything for every traveller. Shopping, historical tours, visiting arts and crafts markets and museums, going on a safari, surfing, cultural tours, whatever you want to do Durban has something for everyone.

"Durban is a melting pot of several cultures with many fun things to do, so to single out a few top attractions wouldn't be doing it justice. That being said, I'll highlight a few top attractions.

"The best way to see some of the top attractions is to jump on the Durban Rickshaw Bus. It is a 3-hour blend of an old and new culture through the streets of Durban. Some of the attractions that standout include:
uShaka Marine World, which is the largest marine theme park in Africa and the fifth largest aquarium in the world. There is plenty to do there for the whole family. Activities such as watching dolphin, seal, and penguin shows, as well as water rides, the oceanarium, the beach and shopping are on offer.
The Victoria Street Market, Durban's oldest market.
The Emmanuel Cathedral, which was built in 1903.
The Kwa Muhle museum exhibiting the development of Durban and the iconic individuals responsible for its transformation pre and during the apartheid era.
Then take a trip to the Moses Mabhida Stadium, built for the 2010 Soccer World Cup, that has the only bungee swing in the world.
Take a drive through the modern streets of Florida Road filled with some of the best eateries and clubs Durban has to offer."

What can I do in Durban that is either cheap or free while on holiday?
"Most of Durban's attractions are under R200 per person (child rates might be different) Some of the popular activities are below. Alternatively, anyone can visit the Durban Tourism offices at the Tourist Junction in Durban CBD, to get a full list of things to do.
Phezulu Safari and Cultural Park.
uShaka Marine World.
Skycar at Moses Mabhida Stadium.
Durban's Minitown.
Durban's Rickshaw bus.
Durban Botanical Gardens (free).
Visiting the Golden Mile (free).
Surfing on Durban beach (free).
Japanese Gardens (free).
Mitchell Park (free)."
What can you do in Durban if it's raining?
"The Durban ice rink, Southern Rock, the only indoor climbing venue in Durban, visit one of the fantastic malls or try your go-karting skills at Galleria mall or Watercrest mall."
For what is Durban most famous?
"If you're a food lover, like me, Durban's famous Bunny Chow and Durban curries are a must. The Golden Mile of beaches, uShaka Marine World and the friendly, local cultures are famous too."
What is there to do in Umhlanga?
"Umhlanga is about 15 km from Durban. There are also plenty of fun things to do in Umhlanga on your next holiday trip:
Take a stroll through the Wonder Market Umhlanga that showcases some of the best local arts, crafts and produce the province has to offer, which takes place on the last Sunday of every month.
Visit the Umhlanga lagoon nature reserve.
Take a +/- 40-minute drive out of Umhlanga to see the Monkeyland Primate sanctuary.
If you want to do something more mainstream visit the Gateway Theatre of Shopping which is the largest shopping centre in the southern hemisphere, which boasts over 390 stores and over 70 eateries as well as a Wave house, where you can try your hand at flowboarding."
Is Durban safe for tourists?
"Every city in the world is safe, as long as we are responsible and cautious travellers. Durban is no different. Stay out of high-risk areas, and if not using car hire, use safe and secure transportation such as Uber."
How much money do I need per day in Durban?
"This depends entirely on how much you want to do or see in a day. The food is relatively cheap if you're going to eat out and popular tourist attractions have either no entrance fees or very minimal."

What honeymoon holiday packages do you recommend in Durban?
"Durban is fast becoming one of SA's top honeymoon destinations. No honeymoon is complete without a night at the 5-star Oyster Box hotel and spa, boasting one of the best health spas and iconic views in Umhlanga. Or take a romantic Gondola ride at the canals of uShaka beach or take an hour drive outside Durban to the Tala Game Reserve to experience the breathtaking hot air balloon breakfast."
How much is a flight to Durban?
"Depending on availability and seasonality, the airfares vary from +/- R1,200 upwards from within South Africa."
What is there to do in Durban in December for the holidays?
"In December, Durban is best known for the Christmas lights strewn across the streets of Durban CBD. Or visit the trail of lights at the Durban Botanical gardens or take a 20-minute drive from Durban to Kloof and jump on the Umgeni steam railway which is available every last and first Sunday of the month, but has an extraordinary Christmas carol journey around this time of year."
How many days are enough to visit Durban?
"I've lived in Durban for 32 years and still have so much to see, but if I had to provide a figure, I would say a minimum of 8 days."
What do I need to bring to Durban?
"Durban weather can be quite hot and humid, especially during the summer months. A hat, sunscreen is a must but is also widely available on Durban's Golden Mile at any of the craft vendors."
Which part of Durban is best for a holiday?
"Durban is one of the best holiday destinations in SA, because most attractions are easily accessible and not far distances from the city centre, so cutting out travel time and giving you more time to enjoy the destination."
How long should I stay in Durban for a holiday?
"You can stay in Durban for as long as you like, it just depends on how much you want to see and do and what you are looking to invest in your holiday."
Are you thinking of booking a Durban holiday package? Why not browse our Durban holiday packages today.