Your Complete Guide To Travelling With kids During COVID-19
After enduring the past (almost) two years, nobody needs a getaway more than parents do right now! Luckily, that's where we at Flight Centre come in, to help you navigate travelling with kids during COVID-19, whether domestically or internationally.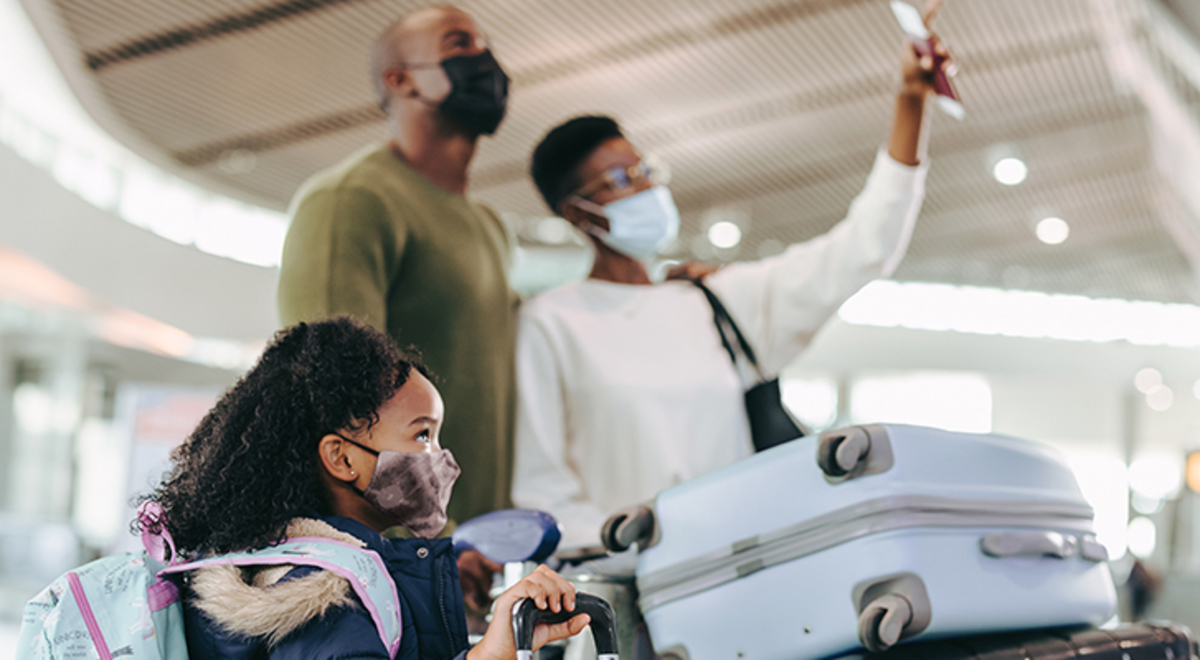 ---
---
After enduring the past (almost) two years, nobody needs a getaway more than parents do right now! Luckily, that's where we at Flight Centre come in, to help you navigate travelling with kids during COVID-19, whether domestically or internationally.
---
After enduring the past (almost) two years, nobody needs a getaway more than parents do right now! Luckily, that's where we at Flight Centre come in, to help you navigate travelling with kids during COVID-19, whether domestically or internationally. Here's a breakdown of all the information you need to get your family ready to travel safely again – whether in Mzansi or abroad!
Is it safe to travel with kids during COVID?
Stakeholders within the travel industry have made the necessary changes to ensure all travellers' health and safety across their journey, which is why you'll definitely notice a few changes the next time you and your family arrive at an airport, board a flight, or check in to a hotel.
Expect to wear masks both in the airport, on board your flight, and in all public spaces upon your arrival. Children under 6 years old will generally be exempt, but for children 6 years and older, face masks will normally be required. Of course, these requirements differ from country to country and airline to airline, so be sure to do your research beforehand to ensure compliance.
Furthermore, travellers are encouraged to check in online and to use self-service kiosks wherever possible to limit unnecessary person-to-person contact in airports. Worried about close quarters while on an aeroplane? Fear not. Most aircraft now boast hospital-grade HEPA air filtration systems to provide a constant flow of clean air.
While plenty has been done to prioritise your family's health during your travels, now's not the time to let your guard down. There are many things you can do to further optimise your safety, such as continuing to practice social distancing wherever possible, washing and sanitising your hands frequently, wearing your face mask over your nose and mouth when in public, steering clear of people who are ill, and putting any travel plans you may have on hold should any of your family members display COVID-19 symptoms ahead of your departure.  



South Africa's travel restrictions – what's changed?
The discovery of the new Omicron variant has definitely thrown a spanner into the works, but regional and in some cases international travel is still on the cards for South Africans. Of course, restrictions vary significantly from country to country. One factor that's vital at the moment is getting your entire family fully vaccinated before travelling (children as young as 12 years old are now eligible to receive a jab in South Africa). Many international destinations are only allowing entry to fully vaccinated visitors, so you'll be required to present your proof of vaccination upon arrival.
Note that children under 12 and people unable to get vaccinated due to medical reasons are allowed to travel internationally without applying for a travel exemption. However, if your child is aged 12 or older, they will need to be fully vaccinated and show their vaccination certificate to travel internationally, following the same requirements as travelling adults. Note that in SA, kids are currently allowed getting one shot while other countries may require more doses to be deemed 'fully vaccinated' so be sure to check regulations of the destination and your travel supplier at every touchpoint on your journey (ie. Airline, cruise ship, etc).
Related content: How to travel South Africa safely, when we're able to
Returning to South Africa   
When returning to South Africa, all travellers will need to take a mandatory COVID-19 PCR test no more than 72 hours before arrival and provide proof of negative results (children under age 5 are exempt). Travellers are also required to complete a health declaration form with details on arrival in South Africa, including address, contact information, and recent travel history, as well as download the COVID Alert South Africa mobile app on their phones.
Remember, as the COVID situation continues to change, travel requirements for South Africans are changing too. Always confirm details before booking, departure and prior to your flight home.
Travelling internationally? Be sure to check destination travel rules
It's important to remember that just because you're now allowed to leave South Africa, this does not guarantee you entry into any other country, so it's crucial that you carefully check your destination's rules and restrictions, especially if you're travelling with kids. 
Here are three of the top destinations for South African travellers and their current entry requirements for families.  



Zanzibar
Currently, most travellers from South Africa with proof of full COVID-19 vaccination can enter Tanzania, but there are restrictions.  Aside from kids 5 years old and younger, all travellers arriving from or who have travelled through South Africa in the last two weeks must take a COVID-19 rapid test on arrival at their own expense. A 14-day quarantine will be required if any family members test positive.
Upon arrival, travellers must present a negative COVID-19 RT-PCR or NAAT test result. The test must be taken a maximum of 96 hours before departure to Tanzania (kids 5 years old and younger are exempt). Travellers are also required to complete an online Health Surveillance Form a maximum of 24 hours before arrival in Tanzania/Zanzibar. Travellers will then receive a Unique Health Code (UHC), which they will present to health officials upon arrival.
Namibia
Most travellers from South Africa are welcome to enter Namibia. However, they may be required to be tested for COVID-19 at their own expense on arrival if they present symptoms. This is on top of a mandatory COVID PCR test conducted via a Trusted Travel accredited laboratory or verified on the Global Haven system no more than 7 days before departure. As usual, kids 5 years and younger are exempt from testing requirements.
Other restrictions to keep in mind when visiting Namibia include filling in the COVID-19 surveillance form and health questionnaire before departure and securing valid travel health insurance with COVID-19 coverage.
Mozambique
Entry requirements for South Africans to Mozambique are relatively straightforward. All that is required is a mandatory COVID PCR test conducted no more than 24 hours before departure (kids 5 years and younger are exempt) and proof of negative results.
Testing requirements
As you can see, COVID-19 testing is a very real part of travel. The challenge comes in with regard to the many different requirements, so it can be difficult to know exactly what tests you need and when you need to get them in order to travel safely and compliantly.
It's important to know that PCR (Polymerase Chain Reaction) and RT-PCR testing is not the same as rapid antigen testing. In some cases, you'll need to make a booking to undergo these tests, and most PCR tests cost in the region of R800.
Requirements for different destinations will vary, and different countries have different testing requirements and exemptions in place for children so make sure you check the relevant government websites before travelling.



Helpful tips for travelling with kids during COVID
It's rather daunting travelling with kids at the best of times! Luckily, with a bit of planning, it doesn't have to be any more stressful tackling this feat during COVID. Here are some tips for getting it right.
-You're likely have to endure longer waiting times due to restrictions and protocols, so don't forget to arrive at the airport armed with a few distractions! Think colouring books, iPads, headphones, toys, and snacks.
-Bring some extra face masks, wipes, and hand sanitiser along to keep curious little hands clean at all times.
-Invest in travel insurance with adequate COVID-19 cover ahead of your trip. This is no longer a luxury, but non-negotiable.
-Look into the travel requirements for your destination (and any transit points) before you leave (even if you checked a few days ago) to avoid any unnecessary stress or delays.
Always contact a Flight Centre Travel Expert for up-to-the-minute advice, travel deals, and general assistance when making any booking.

Please note: the above article serves as a guideline only and entry regulations, tests, etc are subject to change at short notice. Check with the relevant embassy (you may encounter different information even from official sources) and seek guidance from your Travel Expert before making any bookings.