9 Of The Fanciest Most Expensive Dishes Around The World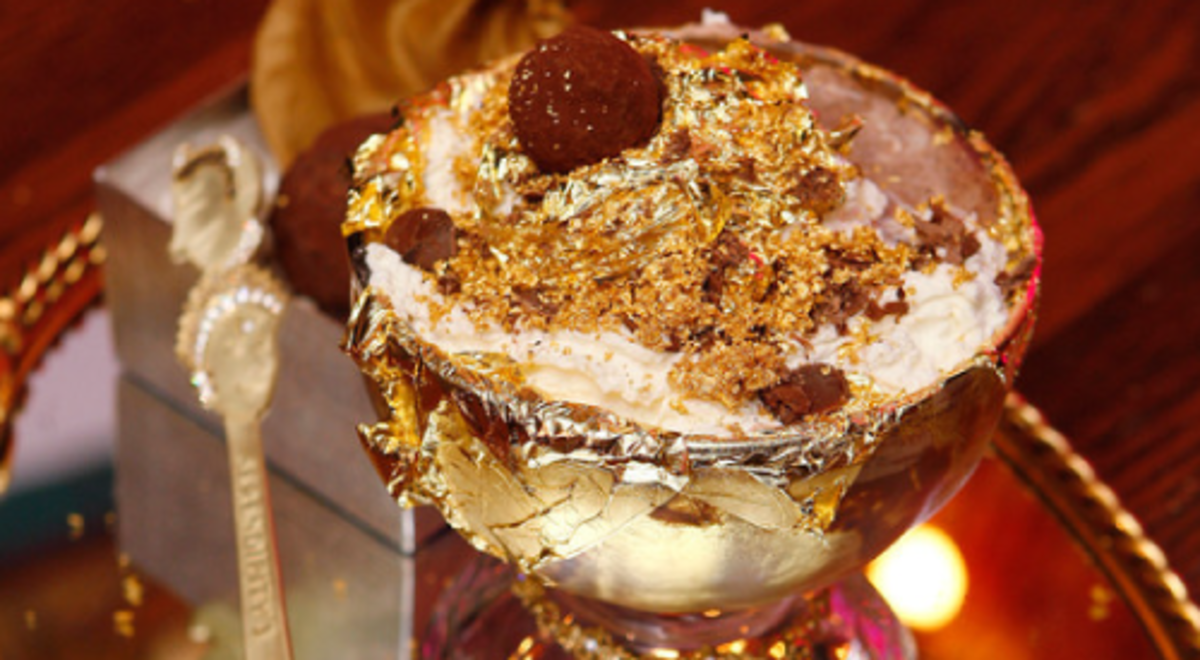 ---
---
Believe it or not, there are restaurants in this big wide world of ours which will charge the same amount as your monthly car installment for a lavish beef sandwich. Restaurants in New York, London, Dubai and Chicago have developed menus which include over-the-top burgers, ice-cream sundaes, pies, curries, pizzas and more.
9 – Zillion Dollar Grilled Cheese Sandwich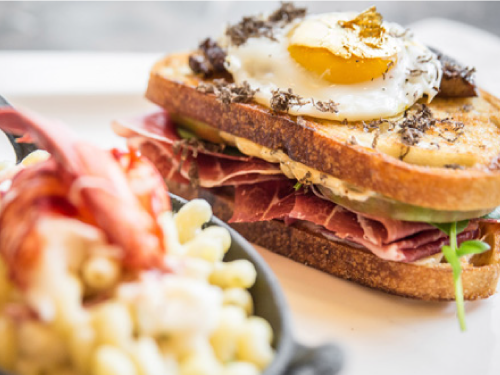 Everyone loves a good old grilled cheese sandwich, but perhaps the price tag of the 'Zillion Dollar Grilled Cheese' sandwich from Decca Restaurant and Bar in Chicago may be a little much for most people. However, it's made with 40-year aged Wisconsin Cheddar, 100 year old balsamic vinegar and served with a little lobster on the side. If you've got a spare R1 400 lying around for a sandwich, it could be all yours!
8 – Pizza
The world's most expensive commercially available pizza is regularly sold to a group of discerning and die-hard pizza lovers at Gordon Ramsey's restaurant in London. Maze restaurant serves this delightful Italian dish with pancetta, baby mozzarella, white truffle paste and shavings of Italian truffles, wild mizuna lettuce and cep mushrooms. For R2 165 you could enjoy the world's most expensive pizza. We're pretty sure it tastes amazing but, wow what a price tag!
7 – Fish Pie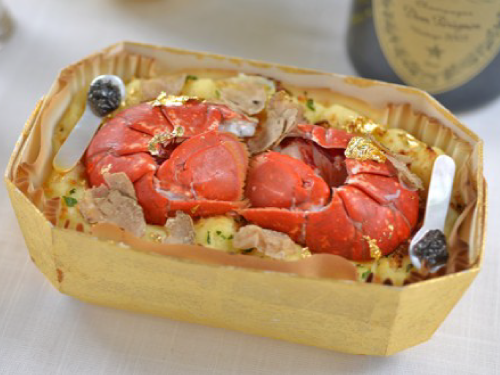 Take a regular fish pie and spruce it up with the world's finest ingredients, and what you will be presented with, is London based restaurant's Charlie Bigham's 'Swish Pie'. Made with Dom Perignon poached fish, scallops, salmon, Alba truffle and completed with Cornish lobster tails and gold crumbs, you'll find the mother-of-pearl spoons which present a serving of caviar to be quite delightful and a nice touch to an already lavish dish. You can have this exclusive fish pie next time you're in London for about R7 000.
6 – The Surf and Turf Burger
The Surf and Turf Burger. It sounds quite normal and regular, doesn't it? Well, not if you buy one from Paris Las Vegas in Las Vegas. The burger itself is Kobe beef and is served with lobster, 100 year old balsamic vinegar, brie, prosciutto and a bottle of Dom Perignon. Splash out with this Surf and Turf in Vegas for just R11 100.
5 – Golden Opulence Sundae
If you're in New York one day and feel like a record breaking ice-cream sundae, head on over to Serendipity 3 for their Guinness Book of World Records holder for the most expensive ice-cream sundae, the Golden Opulence Sundae, which will set you back a 'mere' R14 000. With Tahitian vanilla ice-cream and Madagascar vanilla beans, the world's rarest chocolate and of course a 23-karat gold leaf and a smidgen of caviar, how could you go wrong. The dessert is served in a crystal goblet with a golden spoon for extra opulence.
4 - Craftsteak's Wagyu Ribeye Steak:
Why would you pay R40 328 for a delicious ribeye steak? Could it be because the cows which produce this delicious beef are fed beer, and massaged on a regular basis? The emphasis here is on tenderness and you can enjoy this tender and delicious steak in New York at Craftsteak.
3 – The Samundari Khazana curry
If you're feeling spicy both financially and cuisine wise, you may want to pay Bombay Brasserie a visit when you're in London again. Their famous and expensive Samundari Khazana curry is a seafood delight with caviar, lobster, sea snails and a splash of edible gold. It could be yours for the hefty price of R46 000.
2 – Frrrozen Haute Chocolate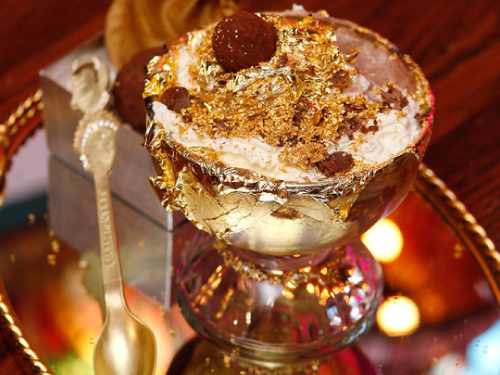 Heading back to Serendipity 3 in New York, you could enjoy a delicious and pricey frozen hot chocolate which was named as the world's most expensive dessert in 2007. Put together with cocoas, whipped cream, 24-carat gold, La Madeline au Truffles, frozen milk and served with a golden spoon and a goblet of diamonds and gold. This dish could be yours for a whopping R360 000.
1 – Strawberries at Arnauds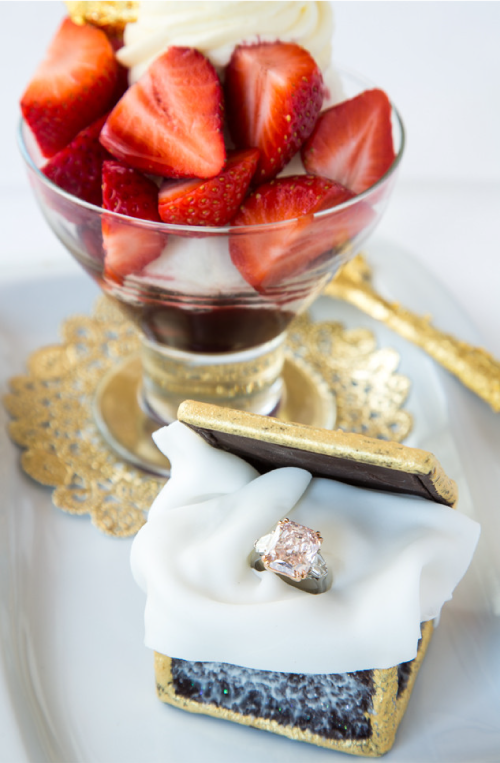 If you're looking for the most expensive dish available on the planet, you would need to visit Arnauds in New Orleans for a bowl of strawberries with French vanilla ice-cream. The price tag? You'd be looking at spending about R56 million (yes, million) for this memorable bowl of strawberries. Luckily it's not only served with mint, port-red wine sauce and cream, but also comes with a 7-karat pink diamond ring by MS Rau Antique.
If you're feeling flashy and are passionate enough about food to fork out a small fortune, these 9 dishes will be the ones to go for. As a foodie who may not actually be willing, or able to fork out a small fortune for any of these dishes, you have to admit that simply visiting these restaurants and asking to see the menu with these items presented, would be quite an experience. Flight Centre can get you there with our magnificent flight deals heading to destinations around the world, so speak to your Flight Centre consultant today!