100% Fun 0% Stress
Whether it's a romantic getaway for two, a fun filled trip with friends or a magical family holiday, all-inclusive packages take all the hassle out of travel and enable you to enjoy every moment of your holiday stress free. With both local and global resorts to choose from, one of our Flight Centre Travel Experts can recommend the best all-inclusive holiday to suit any taste. From Zen-like wellness retreats to exotic beach locales where you can party through the night, let us plan your next all-inclusive getaway.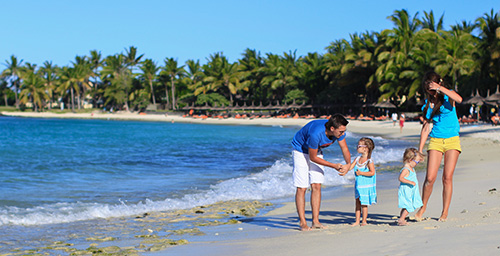 Maybe it's time for an awesome family holiday. Spend your days relaxing, laughing and exploring an amazing new place together without having to organize all the details. With easy access to some of the Indian Ocean's premier all-inclusive addresses, South Africa is a great place from which to start your holiday. Splash around on the shores of Mauritius. Snorkel, sail, go hiking, build sand castles or stay local and let our team organize the ultimate family holiday.
Spark up the romance on a secluded island in the Seychelles or snuggle with your loved one on palm shaded beaches in the Maldives. From luxury to budget, we have the best all-inclusive resorts perfect for a romantic getaway just for two. Enjoy champagne under the stars, relax with a couples-only spa treatment or simply enjoy each other's company and watch the sun set. Whatever your ultimate romantic retreat, let our Flight Centre team help make all your dreams come true.
No matter if it's hectic work schedules or tough varsity exams, an all-inclusive holiday is a great way to explore the world with your favourite mates. Best of all, one of our expertly trained Flight Centre travel consultants can make sure you get the most fun out of your all-inclusive holiday without breaking the bank!