News
News from the Travel Desk
October 19, 2016
Nigeria has changed its requirements for visa applications for South Africans, effective from October 17. Applicants now have to submit colour copies of all required documents.
Source: www.etnw.co.za
October 14, 2016
The first Qatar Airways flight from Doha to Windhoek landed on September 28.
The service operates four times a week using a Boeing 787 Dreamliner configured with 22 seats in business class and 232 in economy.
October 14, 2016
Kenya Airline Pilots Association (KALPA) is threatening to take industrial action from October 18.  
The reason for the strike is because of the association's dissatisfaction with Kenya Airways' senior management.
October 14, 2016
Saudi Arabia's Ministry of Foreign Affairs has increased the visa fees across all categories, effective October 2.
The fee for a business visa was R3 937 and has almost doubled to R7 645.
October 10, 2016
The Mayor of the City of Tshwane, Solly Msimanga, last week announced his municipality's intention to change Wonderboom National Airport's status to international.
September 27, 2016
The Rwandan government will start construction of a new international airport in June next year at a cost of $818 million.
September 26, 2016
The Gautrain has opened a dedicated kiosk in the OR Tambo international arrivals hall. 
Once customers have cleared customs and made their way through the Gautrain-branded corridor they are able to purchase preloaded Gold Cards with their credit cards and get up-to-date in
September 23, 2016
Emirates passengers looking to select their seats during the booking stages will have to pay a seat-selection fee from October 3.
The new fee will apply to passengers travelling in economy class on special or saver fares across the airline's network.
September 20, 2016
Kenya's national carrier, Kenya Airways, has introduced shuttle bus services from Nairobi city centre to Jomo Kenyatta International Airport, Tourism Update claims.
The buses depart from Nairobi's Central Business District at 06h00, 11h00 and 17h00, while the service from
September 20, 2016
7 September 2016
A shortage of officials to man the immigration desks at OR Tambo International Airport is continuing to cause delays more than two months after the capturing of biometric data was rolled out at the airport.
Biometric capturing was int
September 20, 2016
Travellers to Australia may experience delays at the country's international airports and cruise ship terminals due to a planned strike by Department of Immigration and Border Protection (DIBP) staff from September 26.
DIBP staff, who are members of the Community & Pub
September 13, 2016
Delta Air Lines has cancelled four flights in October between Johannesburg and Atlanta. 
The flights that will be affected are DL201 from Johannesburg to Atlanta on October 6 and 12, and DL200 from Atlanta to Johannesburg on October 5 and 11.
The canc
September 12, 2016
Air Mauritius will add a flight from Mauritius to Chennai and Bangalore from November 3. This brings the service to two a week, operating on Mondays and Thursdays.
Flight MK746 will depart Mauritius on Thursdays at 21h00 and arrives in Bangalore at 04h20.
September 9, 2016
Ethiopian Airlines has increased its services from Addis Ababa to Guangzhou, China, with three new weekly flights, effective October 1. 
The additional flights will operate on Tuesdays, Thursdays and Saturdays using a Boeing 787-800 with 24 business-class seats and 246 in
September 6, 2016
Flight Centre South Africa has changed its name to Flight Centre Travel Group (Pty) Ltd (FCTG).
FCTG, South Africa's largest travel company with an annual turnover of more than R5-billion in sales, has changed its name to reflect the growth and extent of its diversified br
Pages
Insights
Insights from the Travel Desk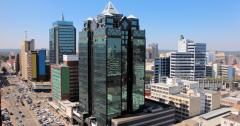 As business opportunities in Africa continue to grow, so too has the need for convenient, affordable and accessible accommodation. Given that six of the world's 10 fastest growing economies over the past decade have been in sub-Saharan Africa, it's little wonder that hotel groups are rapidly expanding their footprint across the continent to keep up with demand.
Pages