News
News from the Travel Desk
April 13, 2017
The Nigerian Consulate in Johannesburg has temporarily suspended issuing visas as it has run out of visa stickers.
Visas will not be issued until further notice.
April 5, 2017
The Nigeria Immigration Service (NIS) has introduced a 48-hour visa-on-arrival system in a bid to attract foreign professionals, investors and businesses to the country. Muhammad Babandede, controller general of the NIS, made the announcement last week.
March 28, 2017
Emirates is the only airline to have come up with a workable solution after the US and UK issued a ban on certain electronic devices, including cameras, on flights from certain hubs in the Middle East.
March 28, 2017
The runway at Abuja airport will require another 18 weeks of upgrade repair works after completing the initial six-week project, according to All Africa.
However, the 18-weeks upgrade will be carried out at night, meaning normal flight operations will continue during the d
March 20, 2017
The Ministry of Health and Wellness Botswana is warning that the country is experiencing a high level of malaria, following the recent heavy rains.
There have been increases in the number of cases in Okavango, Ngami, Chobe, Boteti, Tutume and Bobirwa.
March 13, 2017
The Gautrain Management Agency has identified Lanseria Airport as one of 19 proposed new stations in the rail network expansion plan.
A feasibility study identified and outlined preferred routes, with Randburg a new station on the link between Sandton and Cosmo City with a
February 8, 2017
Airlink launched a Cape Town-Pietermaritzburg flight on Monday, February 6.
Flight SA8721 operates Monday to Saturday, departing Pietermaritzburg at 07h00 and arriving in Cape Town at 09h10.
January 30, 2017
Following the implementation of US President Donald Trump's temporary travel ban on travellers from Iraq, Syria, Sudan, Iran, Somalia, Libya and Yemen to the United States, protests are taking place outside a number of US airports. 
Due to the protests, Los Angeles Interna
January 25, 2017
The UK's Foreign and Commonwealth Office says it is safe for travellers to resume travel to Gambia.
This follows a warning on Thursday, January 19,  advising against all but essential travel to The Gambia, due to the deteriorating political situation.
January 23, 2017
Airlink will acquire five Embraer E-Jets during the first half of this year – three E170s and two E190s.
January 19, 2017
The UK's Foreign and Commonwealth Office has warned against all but essential travel to The Gambia. The advisory follows a deteriorating political situation since the country's presidential elections in December and potential military intervention, says the FCO.
January 17, 2017
Emirates will use a 516-seat A380 on one of its Johannesburg-Dubai flights from February 1.
The airline currently operates four daily flights on the route and the A380 will replace the 364-seat Boeing 777 on one of these services.
The A380 will have a
January 13, 2017
Ethiopian Airlines will launch flights to Antananarivo in March, Chengdu, Jakarta and Singapore in June and resume its service to Conakry in February.
From March 28, Ethiopian will operate three weekly flights to Antananarivo, Madagascar. 
The airline
January 12, 2017
SAA took delivery of its third A330-300 in December.
January 11, 2017
Following the deployment of 92 additional staff at OR Tambo International Airport between December 9 and January 14, Tourism Update understands that the temporary solution to the long queues has been managed effectively.
Board of Airline Representatives of South Africa CEO
Pages
Insights
Insights from the Travel Desk
Travelling to Nigeria on business?

On Tuesday 21 March 2017 the USA and UK issued a ban on any electronic devices larger than 16cm x 9.3cm from being carried as hand luggage in the airline cabin when travelling from certain destinations.

In honour of another successful year of business travel, Flight Centre Business Travel has saluted its customers at a series of glittering events held across the country in November.
From canapes to cocktails, Flight Centre Business Travel clients gathered together to the

Business trips can be stressful at the best of times, but even more so during the festive season when everyone else seems to be winding down. There are ways to beat the madness, though.

The 17th of October is Bosses Day and through the ongoing efforts of the Flight Centre Foundation we are proud to play a small part in investing in the future bosses of South Africa. 
The Flight Centre Foundation is a registered non-profit company.

Are you responsible for arranging your company's business trips? Do you spend hours looking for flights and accommodation and organising transport? Is managing travel claims giving your grey hair and preventing you from getting other important work done?

With business travel to Nigeria on the increase, we've put together some advice and information to help you navigate Africa's most populous country.

At Flight Centre Business Travel we know how hard you work every day and would like to tell you how much we appreciate all you do. To help you celebrate Secretary's Day we thought we'd share some interesting travel facts to make you smile.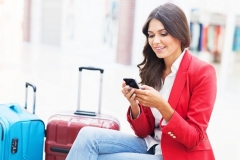 Business travel is not easy at the best of times.

Insider tips and hacks from the specialists at Flight Centre Business Travel on how to make your business travel so much easier.
1.
Less is more

Travelling with hand luggage only should be your goal, as yo

All work and no play makes Jack a dull boy ­– and that goes for business travel, too.

For those who don't often travel for business, it's easy to glamorise it. But those who do travel face the sometimes tedious routine of packing, catching flights, taking taxis and getting ready for meetings.
Africa is the world's second-largest continent, covering more than 30.3-million square kilometres, and home to 54 countries.
This massive expanse of land and its 1.1-billion inhabitants live in environments that range from deserts and jungles to bustling cities, which mean

Long stopovers can be frustrating, especially if you're in a hurry to get back home, have a lot of work to do or just need to get some rest. Airport facilities, however, can make all the difference.

If you are someone who travels extensively, especially for business, then you need to stay mentally and physically healthy during your travels in order to stay on top of your game.
However, jet-setting around the globe is no easy feat as it places your body and mind under pressure due
Pages