Last-minute or early bird – what's the secret to making sure you get the best travel deal? We asked the travel experts how to get the best bargains for 2020…
What's better than spending a glorious week relaxing on a tropical island? Making sure you have another week to look forward to in the near future.
That's why January is typically peak holiday booking period in South Africa. We return from our December holidays and can't bear the thought of staring down the rest of the year without our holiday plans locked and loaded. Sound familiar?
In 2020, however, it's no secret that the state of the South African economy hasn't done much for our consumer confidence.
For those of you who have decided to hold on to your purse strings in the hope that the exchange rate will improve, the economy will turn around and travel suppliers will relent with last-minute deals to try and fill airplane seats and hotel beds, think again.
There will never be a better time to book your 2020 holiday than right now. That's because January and February in South Africa herald the arrival of Early Bird deals.
"We compete with the rest of the world when it comes to space on airplanes, at resorts, in hotels, on cruise ships, etc. Leaving your holiday booking to the last minute almost never delivers a better deal.
"By the time you want to travel, all the budget options have been snapped up by travellers from all over the world so travel experts will tell you that last-minute bargains are a bit of a fallacy," says Andrew Stark, Flight Centre Travel Group Middle East Africa Managing Director. 
In travel, the early bird really does catch the worm. For 2020, 4 budget destinations that should be on your radar for early bird bookings under R15,000, include:
1. Cape Town
Mother City magic should be on your agenda this 2020. Don't for a second think Cape Town is a no-go zone in Autumn and Winter. In fact, March and April are among the best months to visit the city. The pesky southeaster will have made tracks and the days are still gloriously warm and sunny. If you do happen to encounter a rainy winter day, there are a mélange of wine farms just waiting to share their award-winning vintages to warm your soul.
2. Zanzibar
A short hop from South Africa, Zanzibar pairs a taste of the exotic with an affordable beach retreat great for families and couples. This is one destination you don't need to dwell over and spend months planning your visit. Visit one of the Spice Farms, head out on a dhow for a snorkelling day trip or roam around the UNESCO-listed Stone Town. It's affordable and easy to get there and around.
3. Dubai
The golden city in the desert is super easy for South Africans to visit. With direct flights from Durban, Cape Town and Johannesburg to Dubai and an array of accommodation options and attractions, it's easier and more affordable than ever to visit this desert playground.  Take a stroll around Dubai's Old Souq and Gold Souq for some retail therapy, board an ambra boat at Dubai Creek or hit the beach – all great options that won't break the bank.
4. Mauritius
A firm favourite among South African families and couples for generations, Mauritius offers a very affordable and convenient getaway, only four hours' flight from South Africa. Stay on the north west coast just 10 minutes from Grand Bay and enjoy beach, pool and restaurant facilities and a truly relaxing getaway without ever having to leave the comfort of your resort. If you're travelling with a family, good news is that kids under 12 actually fly free.

"You're looking at prices up to 30% cheaper than what you would pay if you waited until later in the year," says Stark.
"We've also provided some peace of mind by putting in place a Price Drop Protection so that even if the rand exchange rate fluctuates, South African travelers are still guaranteed to get the best price for their flight no matter when they book.
"If the price of the air ticket booked on the Flight Centre website or App drops before the departure date, or the traveler finds a cheaper fare, Flight Centre will give the difference back in a travel voucher, valid for 12 months to be used on their next flight."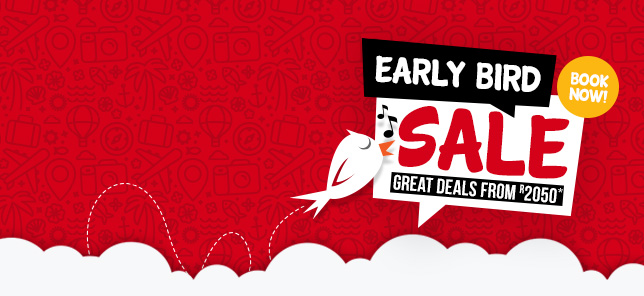 So, no matter what Eskom is doing, how much the rand fluctuates in the next few months or what lies in store in the State of the Nation speech, your only travel tip right now is to seek out those early bird deals in the marketplace and grab them with both hands.  There's no such thing as last-minute luck.