There are few places that exude the Christmas spirit like our top 5 white Christmas destinations. Our top 5 has a snowy December just about every year and you are guaranteed to fulfil all your white Christmas dreams by visiting them.
The towns and cities are elaborately decorated with Christmas trees and lights and often have street markets where they sell Gluwein, mince pies and fresh ginger bread. The atmosphere at these destinations is full of cheer, with an ambience that warms your heart against the icy snow which covers the ground; the scene is set for a traditional white Christmas you won't ever forget.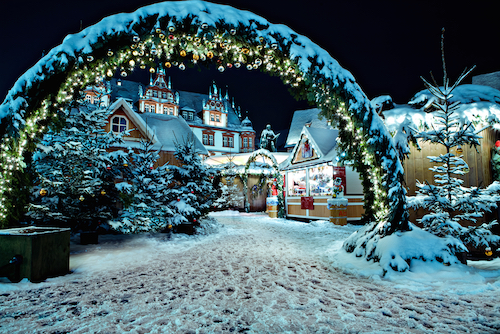 Salzburg, Austria
Salzburg in Austria is set in a valley with the Salzach River running through it. This traditional European city is at the base of beautiful mountains, which really compliment an already scenic town, especially in winter when the snow falls on the peaks and surrounding fields.
You'll find plenty of nativity displays, hand-made Christmas decorations and fun night markets, which offer goods like handmade Christmas ornaments and mulled wine and ginger bread. Now that sounds good for a snowy Christmas night.
With this being the birthplace of Mozart, it goes without saying that you can enjoy classical music concerts and Christmas carol performances, which will surely top off your Christmas experience in Salzburg.
Switzerland
If you're a skier who want to enjoy a white Christmas of alpine proportions with your family or friends, then Switzerland is the place to go. There are a number of mountain villages and ski resorts which offer the perfect setting for a memorable Christmas in the snow.
From Zurich to Montreux, Zermatt and St. Moritz you will find the world's best ski slopes. Combine this with chilly nights around a warm fire and the sound of Christmas cheer emanating from the Christmas markets outside your window and you will have the ultimate Christmas skiing holiday.
Montreal, Canada
Montreal is the largest city in Quebec and is a predominantly French speaking city that celebrates Christmas like no other. Montreal starts celebrating Christmas in November with their annual Christmas parade, but one of the best things about celebrating Christmas in this city, has to be the number of outdoor activities you can participate in. From sledding to skiing or ice-skating at the outdoor rink outside an Olympic stadium, Montreal has plenty of winter activities to enjoy.
If you were to head to the downtown area of Montreal, you would be greeted by an exciting display of Christmas lights, trees and other decorations that really set the tone for a fantastic Christmas holiday.
Every Saturday in Montreal during December, there are amazing fireworks displays that add to the festive spirit in this exciting city. And of course what would a white Christmas be without a traditional Christmas market? From December 5th to 24th there is a traditional Christmas market at the "In the Park" festival, which has live performances, bonfires and loads to eat and drink.
Germany
Germany was the first country to host a Christmas Market in Europe. A Christmas spectacle not to be missed is the Dresden Christmas market, which has been going since 1435. If you're visiting Germany during the December festive season, don't miss Munich and Berlin – two cities who are also big on celebrating Christmas.
The Tollwood Winter Festival in Munich and Berlin's Christmas Market are some of the best you will find anywhere. Wander around the markets and enjoy the atmosphere with a glass of Gluwein while snacking on some freshly baked Gingerbread.
Napapiiri, Lapland, Finland
The home of Santa Claus and elaborate Christmas themed parks surrounded by thick snow is the best way to get to the heart of Christmas. In Napapiiri you can have loads of fun and experience exciting days exploring the Santa Claus Village. Not far from the Arctic Circle, this destination is Europe's Christmas capital. You'll find real reindeer wandering around and will have the opportunity to visit Santa's workshop, and even meet up with the big bearded guy in the red suit, in person.
These are our Top 5 white Christmas destinations, each with their own traditions and customs. So, jump on it and see if you can still get there this Christmas, otherwise start planning for next year and make sure you have the best white Christmas possible. Your Flight Centre Consultant will be more than happy to assist you with arranging your trip, so contact us today!
Other Travel Articles You Might Like...