South Africa holidays: Our travel experts answers your popular holiday questions

Whether you are visiting South Africa from abroad or if you are a local, the country at the Southern tip of Africa offers countless wonderful experiences for everyone. South Africa has a vast number of different beautiful landscapes, fascinating cultures and more than 2 850km of breathtaking coastline to explore.                           
Do you have any questions before you consider booking a South Africa holiday package? We have many friendly travel experts who are happy to answer any questions you might have. Altus, one of our travel experts, answered popular questions that travellers ask when it comes to holidays in South Africa.
Our experienced travel experts are passionate to share our beautiful country with those who want to explore South Africa's many wonders.
Why are Flight Centre's South Africa holiday packages the way to go?
"Flight Centre has been around globally for more than 40 years, and in South Africa since the birth of Democracy. Due to our presence and footprint, our friendly travel experts have access to exceptional deals, the most extensive range of airfares, accommodation suppliers and car rental options at the best prices negotiated for you. Also, our customers love our service, which is why we score 4.8 out of 5 based on 966 reviews."
What tips do you have to travel cheaply in South Africa?
"Get in your car and explore this spectacular country of ours behind the wheel. Many of these places are far from airports, and you can tailor-make your itinerary as it suits you. Want to make a detour or adapt your travel plans? Just take a left turn or a road less travelled. You can adjust your travel plans at little/no notice with no massive impact.
"Alternatively, if time is of the essence and you like to stick to a more organised plan, make sure you purchase your air tickets well in advance. The further in advance, you secure them, the more you will save. Flights fill up closer to the time and become more expensive."
What are the top 10 tourist attractions in South Africa?
"Wow, where to start? I have to share world-class attractions, but there are so many more places in South Africa to see as well.
The Kruger National Park.
Cape Town, including Table Mountain, Robben Island and the world famous Cape Winelands.
The Garden Route.
Addo Elephant Park. Did you know that here you can see the Big 7? Yes, they exist!
Magaliesburg and the Cradle of Humankind.
Sun City.
Durban's Golden Mile. While still in the KwaZulu-Natal province, you could visit the historic battlefields that trace back to the time of the Anglo Boer War, surrounded by the majestic Drakensberg mountain range.
The Karoo region with its desolate beauty.
The vast Bush landscapes of the northern provinces with its abundance of game.
The thriving metropolis of Jozi and its rich and divided past, which includes places such as the Apartheid Museum and Vilakazi Street in Soweto, where Nelson Mandea and Desmond Tutu once lived."
When is the best time to go on holiday to South Africa?
"South Africa is an all-year-round destination as it is quite vast and expansive. The northern part of the country has wet, humid summers and dry, cold winters, while Cape Town has dry summers and wet winters. June to August is the best time for game viewing in the northern half and November to February is the best time for the coastal region and its beaches. Keep in mind that these are also the busiest times."
What are the top 10 things to do for fun in South Africa?
"It depends on how you feel about adrenaline!
Try the Bloukrans River Bridge along the Garden Route for one of the highest bungee jumping spots in the world.
Try the longest over the ocean Zipline in Mossel Bay!
Canopy Tree Ziplining in the Magaliesberg (how about combining that with a visit to the excavation site of Mrs Ples?
A hot air balloon ride while at Sun City
Take a trip to Namaqualand to view the wildflowers in August.
A wine tasting tour of Cape Town. Did you know that the MyCity public bus stops at some of these?
Adventure walk on top of the Moses Mabhida Sports Stadium in Durban
Quad biking in the Kruger National Park. Who knows what you will see?
An authentic bushfire experience while on Safari in the evening around a Boma with locally braaied cuisine. No, a braai is not a grill or a barbeque.
Trying to maintain your composure when riding on an ostrich in the Little Karoo town of Oudtshoorn. Trust me, it is a lot harder than it seems."

Which is the best place to visit in South Africa?
"Easy one! The answer is: It depends entirely on you! Beauty is in the eye of the beholder and each person's version of what is best differs. Some might marvel at city skylines and architecture, and others want to be one with nature. For me, taking in the awesomeness of the Atlantic Seaboard on top of Table Mountain, as well as hearing a Lion roar around a campfire in the Kruger are close contenders for that top spot."
What are the best December 2020 South Africa holiday packages in South Africa?
"December is summertime in South Africa, so I would have to recommend Cape Town. Spoil yourself with flights, accommodation for a week or two and car hire. Make sure you opt for a package that gives you plenty of mileage on your car so you can do daily excursions. Start your holiday with a week in Cape Town and then take the next week to road trip down the Garden Route and end it in Port Elizabeth. So much to see and do in the questions answered above."
Are holiday packages cheaper than other options in South Africa?
"Absolutely! You are booking all the aspects of your trip through a dedicated travel expert who has access to a wide variety of airfare, accommodation options and transport that can be combined and discounts used. Packages can be selected as is, or tailor-made to unique and bespoke tastes. It is much easier to manage your trip/package through one dedicated professional."
Which are the best South Africa holiday packages for couples?
"Some game lodges offer couples packages, although these are on the higher end of the luxury scale. There are some stunning bespoke game lodges for the discerning traveller. There might also be some smaller guest houses offering couples weekends with spa inclusions, although couples packages in South Africa are not as widely available."
What are the best last-minute holiday packages in South Africa?
"You are best off to go somewhere with a lot of variety and options. Like your bigger metropoles. It also depends what time of year your last-minute request is for based on your personal preferences. For the Kruger National Park, you will struggle to find something last minute as the demand is high. If your request does not fall over peak periods like school holidays or long weekends, one could easily sneak off to Cape Town, Durban or even the bush for a well-deserved break."
Which are the best family holiday packages in South Africa?
"You cannot go wrong with Sun City. The Cabanas Hotel offers family rooms, and this casino and entertainment resort approximately 3 hours from Johannesburg offers a variety of restaurants, water sports, golf, children's activities and much more. If you can manage a mid-week trip, you can score a great deal. The resort was recently spruced up and refurbished and remains a firm family favourite.
"Alternatively, Fairmont Zimbali offers great family fun in Durban. A short, 15-minute drive from the airport to this coastal property will provide lots for families to do. A stone's throw away from uShaka Marine World offers an aquarium and an impressive collection of water slides for young and old alike.
"If you are heading in the direction of KwaZulu-Natal, why not opt for the Wild Coast Sun. This property is located approximately 2 hours' drive south of Durban and offers unspoilt coastlines and lush tropical surrounds. A casino, water slides and restaurants add to the ambience and things to do."
Which are your top South Africa holiday packages for 2020?
"The tried and tested options remain the most popular. Many of these have been discussed, including Sun City and Cape Town options. Durban's Urban Park Hotel is trendy due to excellent pricing.
"Alternatively, there are some famous game lodges about 2 to 3 hours' drive from Johannesburg for those who do not fancy to travel the distance of the Kruger National Park. Think of sister properties like Bakubung Bush Lodge and Kwa Maritane, or Ivory Tree and Shepherds Tree.
"For those wanting something coastal, think of the Arabella Hotel and Spa, about 20 minutes outside of Hermanus on the whale watching coast. June to September is best for that is when the whales spoil our vistas. Hermanus and the surrounding Overberg is also one of the best wine routes due to the unique cooler climate making for excellent cultivars of Pinot Noir, Chardonnay and Sauvignon Blanc. The two most famous wineries are Hamilton Russell and Bouchard Finlayson. Having experienced both, I can proudly talk from experience!"
Which are the top South African holiday destinations?
"Popular spots remain those with activities for one and all to do. Cape Town, Durban, Sun City, the 'Bush' (nature reserves, game farms and national parks)."
Which family adventure holiday packages can I book in South Africa?

"Apart from what I've already said before, why not consider a cruise. MSC cruises have two ships from October to April during cruising season with loads of itineraries departing from Cape Town and Durban. Some of them go to the Portuguese Islands, Mozambique or Mauritius. While other cruises stay local and either journey to nowhere or from Durban to Cape Town with no passport needed. All meals and entertainment onboard are included, and children under 18 generally cruise for free when sharing a cabin with two paying adults. What an excellent way to explore and relax at the same time."
Which are the best beach resorts in South Africa?
"Although not necessarily beach resorts per se, South Africa has some of the most beautiful coastlines around the world.
"In Cape Town, the Bay Hotel in Camps Bay is a firm favourite. On the higher end of the range, there are the Twelve Apostles on the Atlantic Seaboard and the Oyster Box in Durban.
"The Marine Hotel in Hermanus and the Beacon Isle in Plettenberg Bay (part of the Garden Route) also paints a beautiful picture. Although not beach resorts, these beach hotels have easy beach access and are located in close vicinity of things to see and do."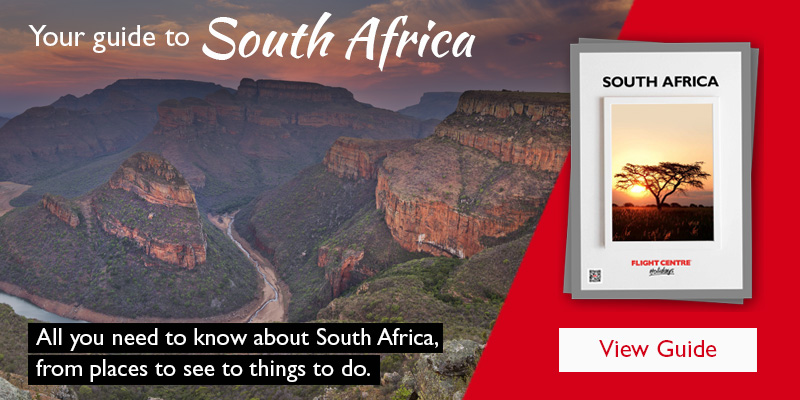 Which luxury holiday resorts in South Africa would you recommend?
"On the very top of my list, there is the most luxurious train in the world, Rovos Rail. On this train, everything is included: all meals, all drinks, even fine spirits. Sorry bubbly lovers, French Champagne, are excluded from this list) and all activities and excursions. Trips ranging from 2 to 14 days will leave you to unpack only once and wake up in a new location. What is wrong with taking 3 days to travel from Cape Town to Pretoria or vice versa? Nothing!
"If you prefer to stay in one spot, consider one of the luxury high-end game lodges like any in the Sabi Sands range where all meals, drinks and two game drives per day are included. If you prefer something next to the sea, try the mesmerising Tintswalo Boulders or the brand new reopened Tintswalo Atlantic retreats in Cape Town.
"Or, if you prefer something with a bit more city vibe, the Taj or Silo Hotel (with only 28 rooms) has my nod of approval."
Which are the best self-catering holiday resorts in South Africa?
"South Africans love self-catering resorts. One can opt for any of the 7 ATKV resorts or any of the 9 Forever resorts. These resorts usually have at least one restaurant, swimming pool, mini-golf and during the school holidays, there are daily programmes and even music artists performing. Accommodation styles range from campsites to tented camps to self-catering bungalows or even luxury villas."
Which unique, quirky and characterful holiday destinations can you visit in South Africa?
"While en route to the Kruger, stop off at Pilgrim's Rest and immerse yourself back in gold rush history. Also, take a detour and stop off at Leydsdorp, South African's smallest city (yes a city) with 8 residents.
"On the open road, make sure to view the Big Hole at Kimberley (this is one of the stops on Rovos Rail when travelling between Pretoria and Cape Town). There is also the Owl House in Nieu Bethesda. The world's most massive post box in Calvinia and the world-famous South African Large Telescope (SALT) in Sutherland. The list goes on..."
Which all-inclusive holiday packages do you suggest are the best in South Africa?
"The closest you are going to get to all-inclusive packages in South Africa is the Rovos Rail (or the Blue Train), luxury bush lodges or MSC cruises (only drinks not included, but drinks packages can be pre-purchased). South Africa is diverse, vast and expansive, so the need for all-inclusive packages are less vital."
What are the most affordable holiday destinations in South Africa?
"Affordability differs from person to person, but why not try the Alpine Heath Resort in the Drakensberg. A semi self-catering resort offers economies of scale for larger groups of between 6 and 8 people sharing a unit.
"Also, the midweek special at Sun City is hard to give a miss.
"The MSC Cruise option is also brilliant value for money for those who are willing to spend a tad more but to get so much more value in return."
Where is the cheapest place for a holiday in South Africa?
"'Cheap' is a relative term, and it has different meanings for different people. Technically the cheapest place is your backyard, but after so many weeks of lockdown, who wants that? South Africa is begging to be explored, shall we pack our bags?"
Are you keen to book a South Africa holiday package yet? Our customers love what we do, and our people do what they love. Put us to the test and see for yourself! Take a look at our South Africa holiday packages today.
*Please note that prices are in ZAR and subject to availability. Please refer to specific product's terms and conditions.