Drakensberg holidays: Our travel experts answer your popular holiday questions

Why is the majestic Drakensberg mountain range a top holiday destination in South Africa? The most obvious reason would be its unique, utterly breathtaking natural beauty, as a UNESCO World Heritage Site.

What else makes 'the Berg' worth visiting? From family holidays, romantic getaways, honeymoons, girls spa weekends, boys golfing weekends, the Drakensberg has something for everyone. It is an outdoor enthusiast's dream holiday as there is pretty much activity for every day of the week, from biking, hiking, fishing, horse riding, mountain climbing to golfing. But you don't have to be an athlete to enjoy the Drakensberg.

This magnificent part of South Africa has fantastic spa resorts as well, so if you are looking to go somewhere to unwind, have a massage or two, read a book and not move for 7 days, with breathtaking scenery to enjoy, then the Drakensberg is for you.

Perhaps you are thinking of booking a Drakensberg holiday package? We spoke to our travel expert Trish, who has spent the last 42 years vacationing in the Drakensberg. So, she has a very in-depth personal knowledge of the area. Trish answered popular questions about Drakensberg holiday trips to help you decide.
Why are Flight Centre's Drakensberg holiday packages the way to go?
"Flight Centre has the most comprehensive choice and lowest price guarantee. We also have the best experts in the business that are available to you 24/7 to handle your holiday package, so there is no reason to book anywhere else. Our experts are incredibly well-travelled and can give you expert advice on where to go and what to do when you are there as well. It's always great to have an expert in your corner."
How much would a holiday to the Drakensberg cost?
"Depending on where you stay, prices start around R500 per person per night and upwards."
How much does it cost to stay in the Drakensberg for a week?
"It is dependent on where you are staying anything from R3,500 per person onward."
Where should I stay in the Drakensberg to see snow?
"Places such as Giants Castle and Cathedral Peak have great snow in Winter. Underberg also experiences quite a lot of snowfall, and of course, if you take your passport with you (as you cross into Lesotho here), Sani Pass is always a top location to experience snow."
Which month does it snow the most in the Drakensberg?
"July and August are best to view snow in the Drakensberg. Nevertheless, it has been known to snow as late as November in some parts of the Berg."

What is the best time to go to the Drakensberg?
"If you want to go for winter activities and snow, then July / August is best, however, if you would like to take part in some hiking, bird watching and sightseeing then April has the best weather."
What are the top attractions to visit in the Drakensberg?
"The rock paintings, outdoor activities, mountain climbing, the Amphitheatre, and golf courses are all top attractions. Also, if you are up for a bit of a drive, the KwaZulu-Natal Midlands offers travellers views of the spectacular countryside with rolling hills about 80 km from the Drakensberg. The region is steeped in history too, with the battlefields in Spioenkop, Isandlwana, Rourke's drift and Blood River, which is where the battles of various Anglo/Zulu wars and Boer/Zulu wars took place."
For what is the Drakensberg most famous?
"The Drakensberg is most famous for its breathtaking mountainous vistas, hiking, fishing, mountain biking, sightseeing, ancient rock paintings, horse riding trails, mountain climbing. It's an outdoor enthusiast's heaven."
Which are the best holiday resorts and hotels in the Drakensberg?
"There are many top holiday resorts and hotels, such as Cathedral Peak Hotel, Champagne Sports Resort, Gooderson Drakensberg Gardens Golf & Spa Resort, Alpine Heath Resort, as well as Bushman's Nek Berg and Trout Resort. There are so many great resorts, and countless immaculate guest houses, these are just a few of the more popular ones."
How far is the Drakensberg from Durban and Johannesburg, respectively?
"It's 175km from Durban and takes approximately 2.5 hours, and 382km from Johannesburg and takes about 5 hours."
How much money do I need per day in the Drakensberg?
"The amount of money you need per day depends on what you would like to do. Hiking and mountain climbing are generally free. However, some activities do have a cost. I would suggest anything from R300 per day if you are looking to experience everything."
What honeymoon holiday packages do you recommend in the Drakensberg?
"The various resorts and spa's have fantastic packages for honeymooners, especially if you are looking to relax. I would suggest Cathedral Peak for a beautiful spa and activities."
How much is a flight to the Drakensberg?
"There are no direct flights to the Drakensberg. If you are not keen to drive, then the closest airport would be Pietermaritzburg, with a 2-hour drive from there."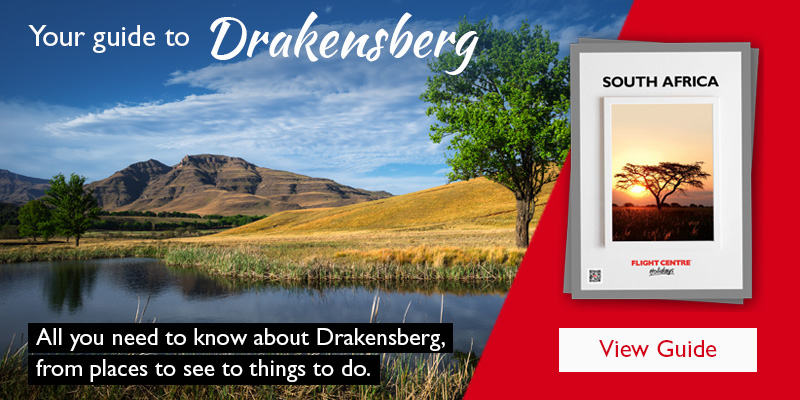 What is there to do in the Drakensberg in December for the holidays?
"All the outdoor activities will be available, although the weather is generally good in December, the fierce afternoon storms can put a damper on outdoor activities in the afternoon. All resorts will offer holiday entertainment for the children and the family."
How many days are enough to visit the Drakensberg?
"I suggest that 7 days is enough time to relax and enjoy what the Drakensberg has to offer."
What do I need to bring to the Drakensberg?
"Bring warm clothing for any time of year. Hiking boots, sun hat, sunscreen and a raincoat are also recommended. Please don't be lulled into a false sense of security by the colder weather. The sun is fierce."
Which part of the Drakensberg is best for a holiday?
"Any part is lovely, depending on the activities you are looking to do. Fishing is best in the Southern Berg, hiking is excellent all over, for scenery the Northern Berg is best, mountain climbing best done at or near the Amphitheatre."
What holiday activities can I do in the Drakensberg?
"Most resorts offer holiday activities for families, from rock climbing, horse riding, kiddies activities (rock painting and games) mountain bike trails, tubing on the rivers etc."
How much does it cost to visit the Drakensberg's tourist attractions?
"Many of the attractions are free. Nevertheless, you can expect to pay for wine tasting, fishing, horse riding, tennis and some of the nature reserves you have to pay to upon entry with a vehicle. These prices vary depending on the activity and the resort at which you stay. For example, horse riding is approximately R400 for a 2-hour outride."
How long should I stay in the Drakensberg for a holiday?
"In my opinion, anything between 4 to 7 days is best."
What can I do in the Drakensberg that is either cheap or free on holiday?
"There are many cheap or free things to do such as mountain climbing, hiking, nature trails, and fishing is generally reasonably priced. It will cost about R200 for a week's worth of fishing in the local dams."

There are so many reasons to make the Drakensberg your next holiday of choice. Have you decided to book your Drakensberg holiday package? Perhaps get in touch with us to answer any questions you may have and to make your next dream holiday a reality.

*Please note that prices are in ZAR and subject to availability. Please refer to specific product's terms and conditions.