A trip to Bali is an affordable overseas holiday choice for South African travellers, where visitors experience a tropical island paradise with a friendly culture, shopping, fun nightlife and plenty more. Bali has something for everyone. There is a vibrant nightlife for some. If you want to experience something more relaxed, with a beach, rice paddy or forest setting, Bali has that too. It just depends on what you would like to do and where you decide to stay in Bali.
We spoke with Gershwin, one of Flight Centre's travel experts, who has visited 56 countries to date, to get the answers to popular Bali holiday-related questions. He shared his in-depth and first-hand experiences as well as tips for those that are interested in vacationing at this top holiday destination.
Why are Flight Centre's Bali holiday packages the way to go?
"Our customers love our service. An independent review company's rating of our service is 4.8 out of 5, based on 966 reviews. With over 20 years of experience, Flight Centre has excellent relationships with our suppliers around Southeast Asia for us to get exceptional deals for our customers. You can also rest assured that your whole trip will be sorted regarding flights, airport transfers and accommodation when you get a holiday package from us. Our suppliers can also organise day tours and activities during your stay. We have everything covered. You can explore our Bali holiday packages online as well."
Is Bali a cheap holiday and how much would be a trip to Bali cost from South Africa?
"Yes, travelling to Bali for a South African traveller is a very cost-effective destination. Bali packages can range anywhere from R11,000 to R15,000 per person."
What month is the cheapest to fly to Bali?
"You will get the better-priced options if you avoid the peak season travel dates such as school holidays, Christmas and New Years."
What is the best time to go to Bali?
"June and July are considered to be the best times to visit Bali. However, it is a year-round holiday destination. I was there in September one year, which some would imagine is a bad time, and the weather was amazing."
When should I not go to Bali?
"The only date to maybe avoid Bali would be on Nyepi, the Balinese Day of Silence because that is when most businesses close."
Is a Bali holiday cheaper than Thailand?
"Both destinations are relatively the same when it comes to affordability."
Is Bali a better holiday destination than Thailand?
"I love both Bali and Thailand. Each offers a combination of beach, shopping and cultural experiences. So, I would consider them equal, yet both are special in their own ways and are both worth visiting. Bali is one of my top 5 overseas destinations that I've visited."

Do you need a visa for Bali?
"Yes, a South African traveller would get a visa on arrival in Bali."
How much money do I need for a week-long holiday in Bali?
"I would say anywhere between R1,050 and R1,750 per week should be enough."
How much money do I need per day in Bali?
"Bali is a very cost-effective destination. About R150 to R250 per day could be adequate."
What honeymoon holiday packages do you recommend in Bali?
"I would highly recommend any of the 7 or 8-night holiday packages to Seminyak, or a combination of 5 nights in Seminyak and 3 nights in Ubud."
What hotels do you recommend in Bali?
"The best hotel of all my stays in Bali was at the Haven in Seminyak. There are many fantastic options regarding accommodation with something for everyone."
Can I pay off a Bali holiday package monthly?
"A Bali holiday package could be partially paid off. Flights need to be paid in full upfront, and a deposit of between R1,500 and R4,000 would need to be paid for the accommodation/tour part of the holiday package. The payment of the outstanding balance is usually due about two months before departure for most of the holiday suppliers."
Do I need injections for a trip to Bali?
"No vaccinations are needed before you visit Bali."
How many days are enough to visit Bali?
"I would recommend a minimum of 7 or 8 nights."
What do I need to bring to Bali?
"Bali is a very tourist-friendly destination. So swimwear and flip flops can be worn all around. Do not forget to pack your hat, sunglasses and sunblock."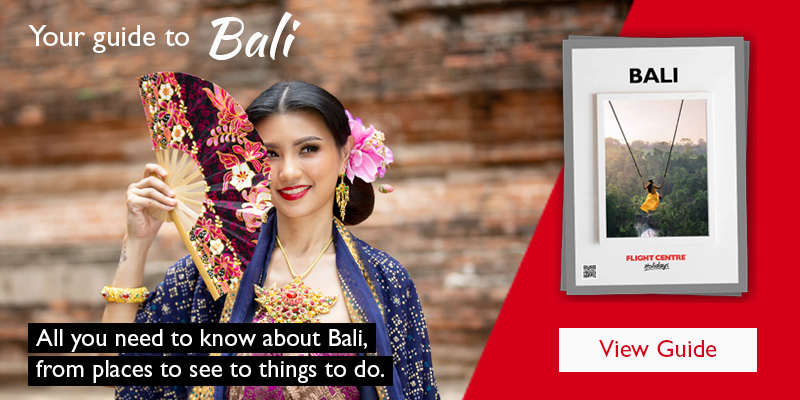 Which side of Bali is best for a holiday?
"Every part of Bali offers a different experience, so this is dependant on what the traveller is looking to experience. Nusa Lembongan offers a more secluded, small-town beach experience. Seminyak and Kuta have more of the city and beach experience, and Ubud will allow the traveller to experience more of Bali's lush greenery."
What currency should I take to Bali?
"I have only ever swiped my card at restaurants or I withdrew cash in the local currency, the Indonesian Rupiah, from ATMs. The US Dollar is also widely accepted."
Can I use an ATM in Bali?
"Yes, you can. It is best to inform your bank before you to travel to Bali to avoid the risk of getting transactions or your cards blocked."
Should I exchange money before I go to Bali?
"If you would like to have some cash on hand when arriving in Bali, then the US Dollar is the best route to go with."
How do you dress in Bali?
"As long as you keep it respectful, beachwear can be worn almost anywhere. How you dress will be fully dependant on the weather, I suppose. You may have to wear a sarong if you visit a temple if your legs are visible below your knees, which each temple provides its visitors if needed."
Are you interested in booking a Bali holiday package? Browse our latest Bali holiday packages today, and our friendly, experienced travel experts like Gershwin can assist you.
*Please note that prices are in ZAR and subject to availability. Please refer to specific product's terms and conditions.