With its beguiling mix of the traditional and ultra-modern, Japan is a nation of contrasts and ever-changing surprises. From the futuristic neon cityscapes of Tokyo and Osaka to the teahouses and traditions of Kyoto and Takayama, there's something new to discover everywhere you go.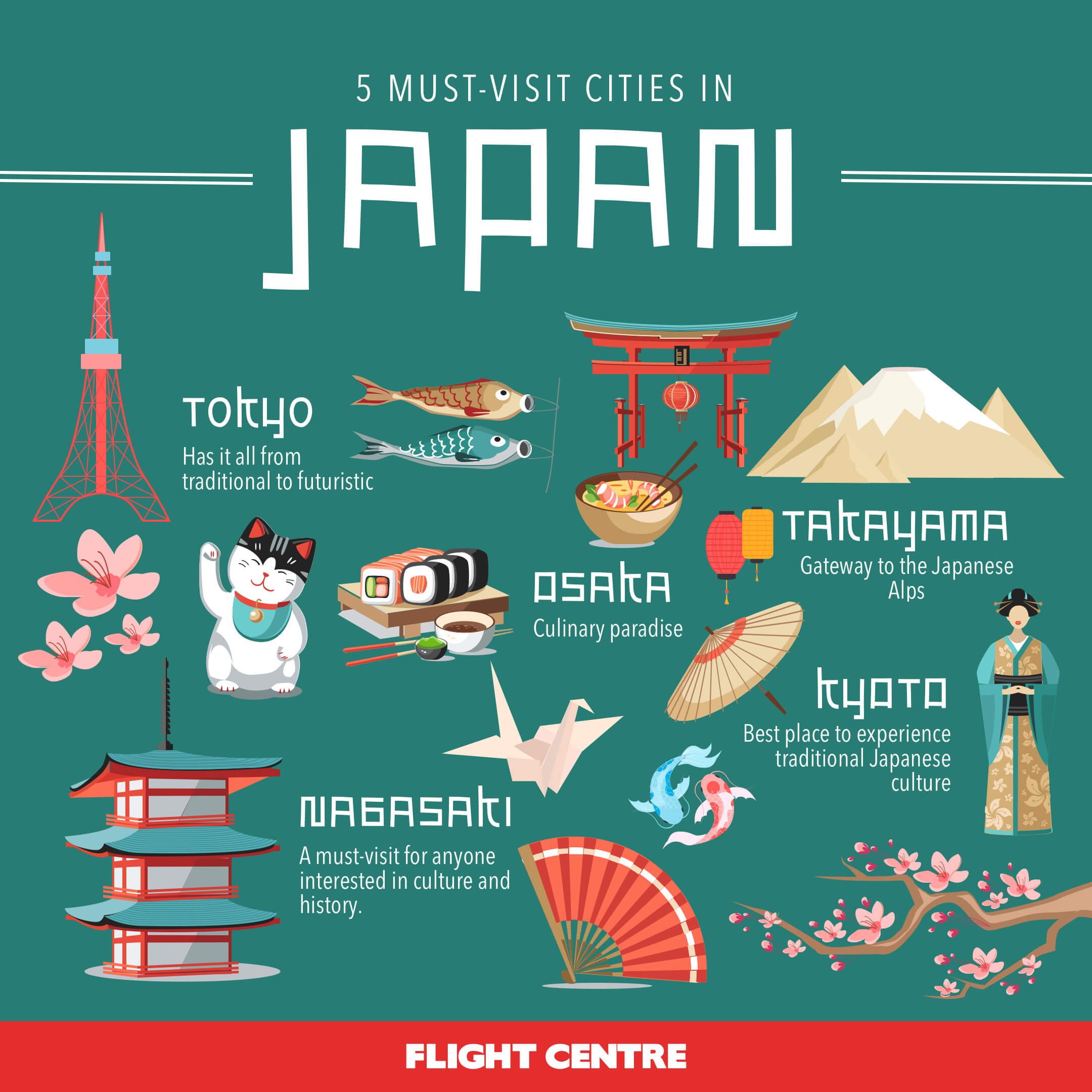 Tokyo
Tokyo truly has got it all – centuries-old shrines, traditional teahouses, incredible cuisine, world-class shopping, futuristic skyscrapers and more. You'll always have something to do or see – just don't forget to head to the Shibuya Intersection for the ultimate Japanese photo opportunity. Lit up by neon lights and futuristic advertising, this spot is instantly recognisable from movies and TV shows, making it the perfect place for a selfie.
Osaka
Welcome to the city known as Japan's kitchen. Osaka is considered a culinary paradise thanks to its abundance of street markets, world-class restaurants and foodie experiences. Incredible food isn't the only thing Osaka has going for it though. It's also home to Universal Studios Japan and the colourful Dotonbori entertainment district, making it the perfect destination for the young and young at heart.
Kyoto
No trip to Japan is complete without a trip to Kyoto, home to many of Japan's most popular landmarks such as the Golden Pavilion and the Fushimi Inari Taisha shrine. It's a quintessentially Japanese city, full of Zen gardens, Shinto shrines, charming teahouses, cherry blossom trees, and elegant geishas. Not only is it the best place to experience traditional Japanese culture, it's one of the most fascinating cities in the world, period.
Nagasaki
It may be known for its role in World War 2, but Nagasaki has a lot more to offer than historical significance. This thriving city has an interesting cosmopolitan flavour to it, from its Dutch-inspired windmills and canals to its Shippoku cuisine, a fusion of Japanese, Chinese and Western dishes. Beautiful and full of hidden gems, Nagasaki is a must-visit for anyone interested in culture and history.
Takayama
This charming, atmospheric town is the gateway to the Japanese Alps, famous for spectacular hiking trails, hot springs and traditional mountain villages. Often called Little Kyoto, Takayama offers many of the same attractions – Edo-era wooden houses, well-preserved temples and a strong artisanal tradition – in a more tranquil mountain setting.
---
---