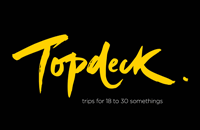 The Topdeck Experience
We think it's important before you make a decision to travel with us that you know what makes us tick. We refer to all our travel experiences as Trips not Tours. This is not just a play on words but an essential part of our culture. Sure, we will show you exotic destinations in comfort and with no hassles, but at all times we realise it is your holiday and everyone has different expectations. Rest assured that everyone at Topdeck will do everything possible to cater for all your wishes.
We also refer to our relevant Road Crew as "Trip Leaders" not "Tour Managers". Our Trip Leaders, are the best trained, are there to make things run smoothly and be the friend you never knew you had - no 'Managing' required. And as a friend they don't expect tips at the end of your trip either!
Where does Topdeck travel to?
Topdeck has one passion - giving 18-39 year olds the travel experience of a lifetime. And as we've been doing this since 1973 we know just a bit about how to do it! Extended trips & festivals in Europe, ski & sailing holidays, adventures in Egypt, Morocco, Jordan and Israel and NOW Australia and New Zealand: your choice of great holidays with like-minded travellers is huge! And, with all transport, accommodation and many meals taken care of, there's no hassle or stress for you. Instead, you can devote your energy to the enjoyable parts of travelling. Travel with Topdeck and Share the Experience!
So who travels with Topdeck?
Topdeck has a diverse range of travellers; all aged between 18-39 years old. Sharing your travelling experience with like minded people will be one of the best parts of your journey with Topdeck. Whether it's watching the sun set over the Swiss Alps or throwing some shapes on the dance floor, most things are better enjoyed with mates around! With over 50% of our passengers starting the trip alone, Topdeck is great for single travellers so you don't need to worry about being without some good fun company
What's Topdeck all about?
Our mission is to ensure our travellers enjoy the holiday of a lifetime. Our quality and attention to detail sets us apart from other operators and we're famous worldwide for our incredible value. We know it's the little things that count and so we go the extra mile to ensure we include more meals and activities so that we offer unbeatable value.
The freedom to see and do what you want!
Free time and lots of it! This sets us apart from the competition. Yes, our knowledgeable Trip Leaders will tell you about the fascinating histories of the places you visit and show you the main sights and attractions but giving you time to explore on your own is important. You might want to re-trace the steps of an Emperor's last journey to the Colosseum, read a paper in a café over an iced coffee, or practice your Italian on the locals - we all want different things. So, we give you as much free time as possible and then it's up to you!
Optional Excursions & fantastic experiences...
There's plenty more action to add to your Topdeck adventure and because not everyone's idea of a good time is jumping off a bridge with a cord attached to your ankle! We leave it with you to choose what you want to do and Topdeck will help you organise them.
Here's just a taste of what's available when you travel with Topdeck!
Gourmet Picnic beside the Eiffel Tower
Stay at our resort in the heart of Tuscany
Greek flotilla Sailing
Stay in a 12th century castle overlooking Rhine River
Vaporetto Ride on the Grand Canal, Venice
Stay at our Exclusive Swiss Mountain Hideaway at Mt Rigi
Tuscan Winery Tour and Dinner
Europe's best festivals including Oktoberfest and Running of the Bulls
Bike Tour around Amsterdam
Farewell Dinner in Amsterdam
Stay at the beautiful island hideaway of Pag in Croatia
Experience a beautiful trip in the Geiranger fjord of Norway
Excursions to the Egyptian Museum, Pyramids, Sphinx, Saqqara, Coptic churches and Khan El Khalili Market, Abu Simbel, Valley of the Kings, Karnak Temple and Luxor Temple
The experience of an Egyptian overnight stay in a desert camp
Overnight stays on board a Egyptian felucca sailboat
Guided tours with Egyptologist at all major cities
Scuba diving in Egypt
Horse riding in the Middle East
4x4 Jeep Excursion in the Middle East
Skyrail Rainforest Cableway Experience in Cairns
Whitsundays Sailing Adventure
Fraser Island
4x4 wheel driving on Fraser Island
Learn to Surf in Byron Bay
Overnight stay in an outback shearers quarters
Tours of Alice Springs
Sunrise at Kata Tjuta in the Northern Territory
Sunset at Uluru in the Northern Territory
Guided tours of Kings Canyon
Canoeing in Katherine Gorge
Crocodile Spotting Cruise on Yellow Water Billabong
Maori Marae Experience
Milford Sound Overnight Cruise
Sightseeing tours in all major cities
Escorted services of a fully trained Trip Leader and Driver
PLUS MORE!!!
Where you stay
From locally owned hotels and hostels in great locations with bags of character, to stunning campsites with great facilities; we have pounded the streets and countryside and used our wealth of knowledge to bring you the very best accommodation. Quality, location and value are the watch-words and we've watched them very carefully!
Getting Around
One of the great things about travelling with Topdeck is that all of the travelling and accommodation is taken care of. This means one thing - a very important thing - stress free travel for you.
Lugging a heavy pack to the train station, worrying about whether it is still in the luggage rack when you get to the other end, and then carrying it in 35 degrees heat to the hostel on the other side of town is a bit overrated in our opinion. How about sitting back and relaxing in an air-conditioned luxury coach, some chilled out tunes on the stereo and wondering about the more important things in life like, "if I come and live in the Swiss Alps will they have Vegemite?" or, "which is my favourite Italian wine?" It's a lot more fun our way, trust us!
Topdeck's Trip Styles
In Europe, Egypt, Morocco, Australia and New Zealand, Topdeck offer amazing trips and itineraries In Europe, we offer even more choices with EuroHotel, EuroClub, EuroCamping and Explorer trips. From passionate staff, local knowledge, great accommodation and fabulous food you will enjoy a holiday of a lifetime with Topdeck.
The Topdeck story
A young Aussie vet in 1973 working in England stumbled upon a paddock of retired London Double Decker buses. With just £400, a few bunk beds and a flash of inspiration, Topdeck was born!
Topdeck rapidly shook up the conventional travel industry, amassing over 90 of these 'Red Rattlers' and globetrotting everywhere from London to Kathmandu. While the original buses have long been retired, Topdeck has retained its pioneering spirit and evolved tremendously We now boast some of the most modern coaches, gobsmacking routes and awesome Trip Leaders, Drivers and 'On Road Chefs'. The pioneering spirit of Topdeck still remains today, setting the standards for the industry.
Are looking for unique holiday experiences? View our range of Adventures, Cruises, Family Holidays, Island Escapes, Short Breaks, Skiing, Tours, Travel for over 40s, Working Holidays at Flight Centre.
Are you looking for great holiday destinations? Flight Centre have holiday packages for Africa & The Middle East, Asia, Australia, Indian Ocean, New Zealand, North America, South America, South Pacific, UK & Europe.