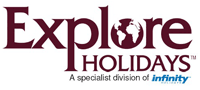 Explore Holidays
Dream. Discover. Explore.
Over almost 30 years, Explore Holidays has grown to become one of Australia's most respected specialist long haul travel suppliers, with a total commitment to quality, diversity and authenticity.
Explore Holidays joined the Flight Centre Limited family in February 2007 and has helped countless Australians enjoy the holiday of a lifetime to some of the world's greatest destinations.
Unrivalled Range
Explore Holidays specialises in independent travel to the UK and Europe, Arabia, Egypt, and Mexico and offers a diverse range of tempting holiday options that deliver authentic destination experiences.
At the heart of Explore Holidays is a belief that travel is so much more than simply getting from A to B. It's about new sights, new friends, new cuisine and memories. That's why Explore Holidays journeys don't just scratch the surface, but deliver real experiences.
Explore Holidays understands that travellers' specific needs vary from destination to destination, and offers a full product range including hotels, tours, sightseeing, special interest experiences, car hire, cruising, rail and, of course, great value airfares.
We Belong Together
Being owned and operated as a part of the Flight Centre Limited Group and operating as a specialist division of Infinity Holidays means we have a greater understanding of our Flight Centre partners and their clients than any other travel wholesaler.
We tailor how we work to service Flight Centre and their clients exclusively.
Specialist Destination Expertise
No one knows more about the UK, Europe, Arabian Peninsula, Egypt and Mexico than Explore Holidays. As such, our brochures bring to life a huge variety of accommodation styles from city and country hotels to B&Bs and unique accommodation like lodges, camps, self catering apartments, villas, cottages and castles.
This year, Explore Holidays will continue to add layers of richness to its destination experiences to meet the needs of Australian travellers who are increasingly demanding unique, authentic experiences in some of the world's most fascinating destinations.
Are looking for unique holiday experiences? View our range of Adventures, Cruises, Family Holidays, Island Escapes, Short Breaks, Skiing, Tours, Travel for over 40s, Working Holidays at Flight Centre.
Are you looking for great holiday destinations? Flight Centre have holiday packages for Africa & The Middle East, Asia, Australia, Indian Ocean, New Zealand, North America, South America, South Pacific, UK & Europe.