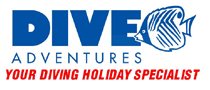 Dive Adventures
For over 20 years, Dive Adventures has been sending diving enthusiasts to the world's best diving destinations. Dive Adventures is Australia's leading dive travel specialist with offices based in Sydney and Melbourne. As all of our consultants are avid snorkelers and scuba divers, this enables us to provide a greater knowledge and understanding of what divers really want from their dive holiday.
Dive Adventures offers travelers complete value for money packages that include flights, accommodation, airport transfers, meals (if requested) and scuba diving in a pristine marine environment with geographical and cultural diversity along with expert advice on the type of diving conditions to expect on their holiday.
We also cater for adventurous water lovers in general by providing exotic and remote snorkeling and kayaking packages with opportunities to include a Discover Scuba course (Try Dive) for the uninitiated or a full Open Water dive course.
Dive Adventures will tailor-make holidays to suit each individual's diving preferences and level of experience. Whether you are a snorkeler, an open water novice diver, an experienced wreck diver, have a preference for reef or wall dives or are a macro photographer - we will recommend the best package for your requirements.
Travelers from Australia are lucky, as many of the world's best dive sites and eco friendly destinations are located in the Asia-Pacific region within easy reach from Australia. All of the destinations featured in our product range has been researched by us and only the most reputable and professional dive operators are selected.
Our destination range includes:
Antarctica
Australia
Christmas Island & Cocos (Keeling) Islands
Cook Islands
East Timor
Fiji
Indonesia
Malaysia - Borneo
Maldives
Micronesia (including Guam, Kosrae, Palau, Pohnpei, Saipan, Truk Lagoon, Yap)
Niue
Papua New Guinea
Philippines
Samoa
Solomon Islands
Sri Lanka
Tonga
Vanuatu
Some of the amazing experiences we arrange are:
Snorkeling with the humpback whales in Tonga or with the whale sharks at Ningaloo Reef in Western Australia
Diving with bull sharks and tiger sharks in Fiji or cage diving with the Great White Sharks in South Australia
Exploring the WWII wrecks of Truk Lagoon, Papua New Guinea or Santo, Vanuatu
Extreme cold water diving amongst the icebergs of Antarctica
Snorkel or dive at the world renown Sipadan Island in Borneo followed by a jungle experience with the orang-utans or a trek up Mt Kinabalu
Kayaking expeditions around the Solomon Islands
Dive Adventures caters for both FIT and group travel and can organise specialty packages if requested.
Are looking for unique holiday experiences? View our range of Adventures, Cruises, Family Holidays, Island Escapes, Short Breaks, Skiing, Tours, Travel for over 40s, Working Holidays at Flight Centre.
Are you looking for great holiday destinations? Flight Centre have holiday packages for Africa & The Middle East, Asia, Australia, Indian Ocean, New Zealand, North America, South America, South Pacific, UK & Europe.