All American Outdoors
from R 55,539* per person
---
Mother Nature fans, step right up. Boy, do we have a treat in store for you! Forget city slicking - this All-American Outdoors adventure is the stuff backpackers' dreams are made of. We're talking mountains. We're talking forests. We're talking canyons, geysers and more. Is that a moose? Probably! We're in the heart of the American countryside, after all. Breathe deep and taste that fresh air before we arrive in Vegas and San Fran for the grand finale. This is one for the history books.




Destination: United States
Travel Dates: From 23/06/2020 to 29/08/2020
Duration: 19 days
Company: Topdeck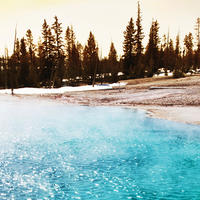 Call 0877 40 50 00 and
quote deal number 5492654
Inclusions
Space Needle, Seattle
Entry to Yellowstone National Park
Chuckwagon Dinner Show, Jackson Hole
Entry to Grand Teton National Park
Entry to Arches National Park
Navajo Jeep tour, Monument Valley
Entry to Grand Canyon National Park
Party bus, Las Vegas
Entry to Yosemite National Park
Driving tour of San Francisco

More Information
DAY 1 Seattle, Washington

Ready to see the REAL America? Then you're on the right trip! Meet up with your fellow nature-loving Topdeckers in Seattle and get to know each other over tonight's welcome dinner. We're all budding buddies here.
DAY 2 Seattle
Day two in Seattle and we've got a visit to the iconic Space Needle all lined up for you. Wanna do some optional kayaking? Your wish is our command. If you'd rather see the city that spawned grunge, Nirvana and Starbucks by foot, we suggest heading over to Pike Place Market or taking a selfie at the gum wall (Google it).
DAY 3 Seattle to Missoula, Montana
Next stop, Missoula: home of the Swimming Fish, the Peace Sign and the 'M'.
DAY 4 Missoula to Yellowstone Region, Wyoming
Get pumped: we're about to roll into our first national park! Can we get a hell, yeah? Rest up tonight. You're going to need all your energy for tomorrow's explore-athon.
DAY 5 Yellowstone National Park
Quick fact: Yellowstone not only packs canyons, mountains and forests, but it's also home to two thirds of the world's geysers. That's some serious shiz. Spend the day losing (and finding) yourself in this beautiful chunk of American countryside. Anyone for a round of spot the grizzly?
DAY 6 Yellowstone to Jackson Hole
Tear your eyes away from Yellowstone – we're off to Jackson Hole. One word: mountains! After a visit to Grand Teton National Park (two words: stunning lakes), prep your beer-swilling arm for the all-singing, all-dancing Chuckwagon Dinner Show.
DAY 7 Jackson Hole
On your second day in this lil' slice of paradise, you can choose between optional horseback riding, whitewater rafting and paragliding. Or maybe just try them all? Whatever you do, get outside and get exploring! That fresh mountain air isn't going to breathe itself.
DAY 8 Jackson Hole to Salt Lake City, Utah
Next up, we set our sights on Utah's fine-looking capital: Salt Lake City. After we've got our bearings on a driving tour, you're free to check out Temple Square, the Red Butte Arboretum and Hogle Zoo. Or, you could always just sit back and gaze at the city's breathtaking mountain backdrop. Up to you.
DAY 9 Salt Lake City to Arches National Park
We're rollin' onto Moab, the home of Arches National Park, today. But first: a pit stop at Park City. Nestled amid the craggy Wasatch Mountains, this place is (unsurprisingly) a skiing and snowboarding wonderland in the winter months. And in the summer? Well, there's ziplining, comet bobsledding and a thrill-seeking lil' option called the Alpine Coaster to get involved with.
DAY 10 Arches National Park
What will we see at Arches National Park? We'll give you one guess. That's right, this place has natural red stone archways for days – over 2,000 of them, in fact. Take a stroll around and soak up the otherworldly vibes. Top tip: the sunsets here are unreal.
DAY 11 Arches National Park to Grand Canyon Region, Arizona
Before we hit the Grand Canyon, there's just enough time to squeeze in a jeep tour of Monument Valley with a super knowledgeable Navajo guide. The sacred heartland of the Navajo people, this rugged landscape has acted as the backdrop to a ton of classic Western movies. Feeling starstruck yet?
DAY 12 Grand Canyon National Park
It's time to bring out the big guns. Get ready to make memories that last a lifetime as we get up close and personal with one of the seven natural wonders of the world. That's right, today's the day we crack on to the one, the only... Grand Canyon. Jaw-dropping heli-tour: optional. *Goosebumps*
DAY 13 Grand Canyon to Las Vegas, Nevada
Ready to get your soul set on fire by the Bright Light City? Yeah you are! It's time to go big. It's time to go YOLO. It's time for a Vegas party bus. Dress to impress and prepare to pop a fair few corks. Wanna keep the good times rolling? No worries - we'll hook you up with some optional nightclub entry passes. Best. Night. Ever.
DAY 14 Las Vegas
To help you shake off your inevitable post-night out hangover, we've got optional High Roller Observation Wheel rides, helicopter tours over The Strip and shooting range shenanigans. Aww yeah! Ain't nothing fixes the beer sweats like an adrenaline boost.
DAY 15 Las Vegas to Yosemite Region, California
Yosemite, we're coming for ya. Feeling tired after Vegas? Don't worry – we've got some major sights for sore eyes coming up. Settle down to a tasty group meal tonight and get pumped for another wholesome serving of Mother Nature's finest work tomorrow.
DAY 16 Yosemite National Park
Ready to lace up those hiking boots and let loose on Yosemite? Feel small and insignificant as you swing by giant sequoia trees (and we mean GIANT sequoia trees), the Sierra Nevada mountains and the breathtaking Bridalveil Fall. #Bliss
DAY 17 Yosemite to San Francisco
Hills. Cable cars. A layer of magical fog. They can only mean one thing: we've made it to San Francisco! Try not to leave your heart behind as we drive around to see Fisherman's Wharf, North Beach, Chinatown – and of course, the Golden Gate Bridge.
DAY 18 San Francisco
Wanna hire a bike and ride to Sausalito? Now's the time to do it! Wanna sample some of the city's famous clam chowder? Go right ahead! Wanna hike to the top of Twin Peaks and take in the view of Downtown San Fran? What's stopping you? You've got one full day left, so make it count. Tonight, there's the option to celebrate our final night together with an optional sunset catamaran cruise. Emosh.
DAY 19 San Francisco to Los Angeles
The City of Angels is where our epic jaunt around the all-American outdoors ends – but LA could be the perfect place to start a new adventure. Round up your fellow Topdeckers and get planning!
Terms and conditions
The following product terms and conditions apply in addition to our Booking Terms and Conditions (available on our website) and terms and conditions of the relevant travel service provider.
Prices quoted valid for sale until 20 October 2019 for travel during the period specified (if applicable) unless otherwise stated or sold out prior.
All prices are per person (unless otherwise stated), subject to availability and may be withdrawn or varied without notice. Accommodation (if included) is based on twin share unless otherwise stated.
Advertised price includes bonus nights and/or stated saving (if applicable).
Additional supplier conditions and travel restrictions may apply. Please enquire for further details.
Airfare (including internal flights) is not included unless otherwise stated and, if included, is economy class unless otherwise stated.
Components of the total price including local payments, "resort fees", "national park fees", "trip kitties" and food funds (if applicable) may be payable direct to the supplier on arrival or to your travel consultant prior to your departure. Where applicable, these payments are included in the total price quoted.
Gratuities are not included unless otherwise stated.
Prices shown are fully inclusive of taxes, levies and government charges current at the time of publication.
Additional levies, government charges & other applicable fees, including additional taxes, surcharges and visa fees specific to your departure date or flight routing, may apply and are beyond our control.
Seasonal surcharges and blackout dates may apply depending on date of travel.
Prices shown are for payments made by cash in store or by BPAY.
Payments made in store by credit card will incur a surcharge (see Booking Terms and Conditions for further details).
These prices are a guide to the best price and are subject to change without notice, due to matters outside our control, such as adverse currency fluctuations, fuel surcharges, taxes and airfare increases. Please enquire for further details..
Check out these other Tours
Call

0877 40 50 00

or email a Travel Expert to find out more