Victoria Fall Holidays
With gushing water flowing from the great Zambezi River into a boiling cauldron below, it's little wonder that Victoria Falls is revered as 'the smoke that thunders'.
Victoria Fall
Experience one of nature's most spectacular feats at Victoria Falls in Zimbabwe. This jaw-dropping phenomenon draws travellers from all over the world to marvel at the immense amount of water that gushes from the Zambezi River into the deep gorge below.
Walk across the Zambezi Footbridge through swirling clouds of mist to the sheer Knife Edge where you can marvel at the falls as it rages downwards into a cavernous abyss. Then walk down a steep track to the banks of the great Zambezi to see the huge whirlpool called the Boiling Pot. Adrenaline junkies can even indulge in white-water rafting, abseiling, river-boating, bungee jumping and more!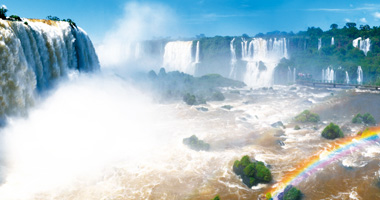 One of the most sensational experiences is the journey to Livingstone Island. Located in the middle of the Zambezi River at the top of the falls, Livingstone Island features a plaque marking the spot where David Livingstone first sighted the falls. Leap into the Devil's Pool, set directly on the edge of the falls, for an extraordinary view of the 100m drop below.
While best known for the falls, Victoria Falls is also the name of the town in Zimbabwe where the waterfall is located. And while the falls are certainly the main attraction, there are plenty of other fantastic things to see and do in the surrounding areas, both in Zimbabwe and neighbouring Zambia.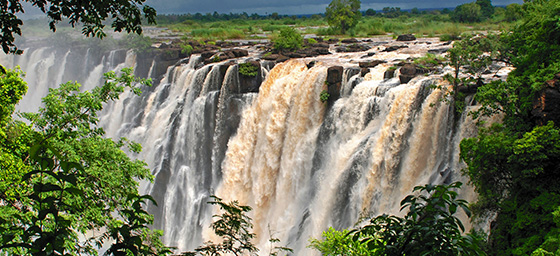 From the absolute wilderness of Mana Pools National Park and the ruins of Great Zimbabwe to fine dining in Harare, Zimbabwe offers something for everyone.
Not to be outdone, Zambia also boasts some of the continent's best wildlife parks. Fishing enthusiasts can also try their luck on the mighty Zambezi River with the hopes of landing a toothy tigerfish or giant vundu. Avid birders also flock to Zambia to glimpse its fabulous diversity of birds, specifically the Chaplin's barbet.
Experience one of the world's most magnificent sights by contacting our Flight Centre Travel Experts today!
Find out more, talk to a Travel Expert
Our consultants:
Can find packages exclusive to Flight Centre to save you money
May help find deals with your preferred airlines and hotels
Can suggest other ways to experience your holiday, such as a tour