Maximise Your Productivity in the Air and in Transit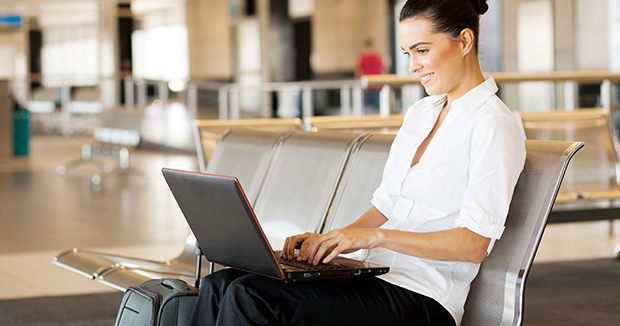 Larger airports around the globe provide business travellers with the technology, comfort, and means to stay in touch and up to date with the rest of the world, no matter where they are. Gone are the days of simply providing free coffee and a complimentary newspaper. The worlds busiest and best airports like Dubai International, London Heathrow and Hong Kong International, provide travellers, and especially business travellers, with modern and sophisticated business lounges, equipped with the amenities needed to be able to keep working while travelling across the globe. With these advancements catering for business travellers, and the fact that more and more airlines are starting to offer Wi-Fi on board their flights, your down time should be kept to a minimum.
Airlines with on board Wi-Fi
In South Africa and the rest of the continent you won't find too many airlines that offer Wi-Fi on board their planes. However, airlines in South Africa are investigating the costs, technology, and benefits of incorporating this service into their flights. If Wi-Fi is a necessity on your trip and you're flying locally, Mango Airlines is the only airline in South Africa which provides Wi-Fi on board its planes.
Although there seems to be a scramble for airlines to provide Wi-Fi on their flights, many airlines seem to be holding back a little, perhaps in anticipation of the success of this technology at 35 000ft in the air, and because of the local costs involved.
Other international airlines that have either started to incorporate Wi-Fi into their on board facilities or have started the planning process, include the likes of: Air Canada, Air China, Air France, American Airlines, British Airways, Egypt Air, Emirates, Etihad, Hong Kong Airlines, Lufthansa, Qatar, Thai Airways and Virgin America.
Top 3 international airports for business travellers
Airports around the world provide exceptional business lounge facilities, so take a look at what you'll find at 3 of the top International Airports for business travel.
Dubai International Airport

Dubai International Airport is a major business destination and at the airport, you can expect to find a business centre with meeting rooms at the Dubai International Hotel, located near Terminal 1 and Terminal 3. At the business centre you'll also find a secretarial service, internet access, lamination and binding, faxing and photocopying. If required, you can also make use of the conference facilities.

At Dubai International you can receive 60 minutes free Wi-Fi by simply choosing the networks: "DXB Free Wifi" or "DWC Free Wifi".

Hong Kong International Airport

At Hong Kong International Airport, just next to Terminal 2, you will find business and conference facilities that are world class, and cater specifically to the needs of  business travellers. The Airport World Trade Centre is designed to lease business spaces to travelling businessmen who need rooms for meetings and conferences.

Back in the airport, you will find various charging facilities throughout the airport for your laptop, tablet or other devices. Wi-Fi is available at most public areas, without registration being a requirement.

If you happen to fly into, or pass through Hong Kong International Airport, Cathay Pacific has launched their Pier Lounge, which has personal day suites for you to unwind, spend your layover working in peace, or enjoying the free access to digital newspapers and magazines provided by Cathay Pacific.

London Heathrow Airport

London's Heathrow Airport is one of the largest in the world and subsequently provides business travellers with modern and comfortable business lounges, whether you have airline access or not. It is possible to book into an airport lounge so that you can make the best use of your time during your layover or waiting for your return flight. If you need to hold a meeting, you can contact The Regus Express business lounge in Terminal 5 and book a meeting room by the hour. There is also no need to worry about staying connected, as Heathrow has Wireless broadband to make sure you can still catch up on e-mails or do some research while you wait for your next flight.

Modern business travel has been made effortless and convenient due to the on board facilities such as Wi-Fi, the possibility to use devices throughout the flight, and luxurious seating arrangements. The developments being seen in Airports around the world are designed to make your journey more efficient and more comfortable. Helsinki International Airport, for example, has introduced sleeping pods for passengers in transit, and digital media capabilities such as media stations and boarding gate-based wireless networks are increasing around the globe.

As a business traveller you can now make use of every second available to you, to ensure you stay connected and can make use of those hours you would have wasted in the past by waiting for your next flight.
Read More about these Business Destinations