Vietnam is a holiday dream. Whether you're after beautiful scenery, some relaxing beach time, bustling cities or the chance to explore a culture vastly different to our own, Vietnam has it. It's also one of the most affordable destinations for South Africans, which is why it's seeing such an uplift in tourism. If you're thinking about visiting for your next holiday, you might be struggling to narrow down the options. Where do you go, what do you do, and where should you splurge versus save? There's so much on offer that it can be hard to decide, but there are some things you just can't miss.
Halong Bay is the first absolute must-do for those travelling to Vietnam. It's often the priciest part of your whole tour, but it's worthwhile to spend the extra money and invest in a two-night trip through the bay rather than just one night. It's a good 4-hour drive from Hanoi to Halong Bay, so staying an extra night means you get to venture further into the bay, and have a better chance of some good weather. You've travelled all the way there, so make the most of it and spend some time relaxing and taking in the limestone towers that rise like giants out of emerald green waters. It truly is a sight to behold. On some cruises, you'll get to kayak or swim in the waters, have a freshly prepared fish braai on a small barge, and explore the nearby caves.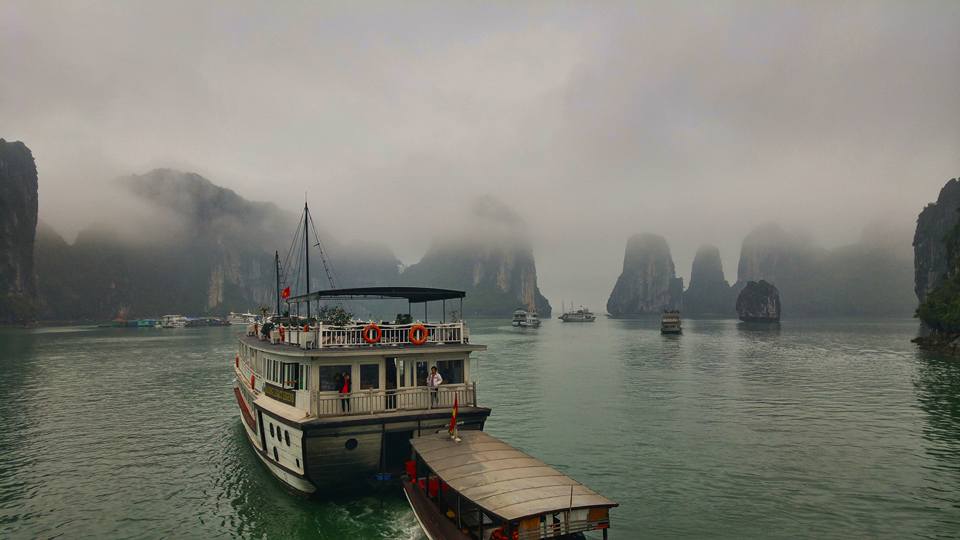 Once you're back on dry land, you'll definitely want to spend some time in Hanoi itself. It's the closest city to Halong, so it's easy to add in a night or two before you move on to your next destination. Though it isn't as big as the capital of Ho Chi Minh city, Hanoi is well-known for its thriving street food scene (whatever you do, make sure you try Bun Cha) as well as the many temples and lakes dotted across the city.
We're not saying you should cross Ho Chi Minh (formerly known as Saigon) off your list – but the two cities are over 1000kms apart, and many travellers decide to either stay in the more Northern parts of Vietnam or opt to go South, dictating which city they will visit. If you have time for both, a visit to Ho Chi Minh is heaven for those who want to immerse themselves in the history and culture of Vietnam. There are museums and memorials aplenty.
The two cities are strangely alike but yet still manage to be different. In Hanoi you'll find small boutique hotels, local street food, hole-in-the-wall bars serving cheap local beer and markets everywhere. Saigon has more of a Western influence and if you're into big hotels, upscale cocktail bars and shopping mall paradise, you'll fit right in. The traffic in both cities is notoriously bad and driving a scooter there is an act of blind faith and courage – try it if you dare!
Another city worth visiting is the UNESCO World Heritage Site Hoi An. The ancient town is like an Asian Venice, with canals cutting through the colourful, colonial-style buildings and the Japanese bridge arching over the water. It's also famed for its traditional riverside market, where you can sample delicious local food, buy fresh fruits and seafood and see locals going about their business. If you can, visit during the lantern festival to see thousands of paper lanterns floating along the water and lining the streets – it's Vietnam's own version of Thailand's full moon party.
While you're traversing the country from one end to the other, you might get thirsty. Did you know that Vietnam is the second-largest coffee producer in the world? It might surprise you, but Vietnamese coffee is exceptional. It's made by pouring hot water over ground coffee in a French drip filter on top of a cup. As a result, it's very strong and very dark. Typically, coffee in Vietnam is served with condensed milk due to the high cost of fresh dairy products. Ask for ca phe sua da if you want to try the best iced coffee of your life. Available all over Vietnam, it's perfect for taking a break on those hut, humid days. With all that walking around, you won't just be thirsty. You'll be working up an appetite too! There are a few dishes that you absolutely have to taste at least once while you're in Vietnam. After all, South East Asia is famed for its fresh, flavourful food and we promise you aren't going to find anything close to it once you're back home. So, our top five dishes that you just have to try in Vietnam? Bun Cha Hanoi, Pho, Banh Mi, Banh Xeo and Cao Lau. 
Other Travel Articles You Might Like...