So you've travelled from one continent to the next and you still haven't mastered the art of "travel packing"? The last thing you want when travelling is having your goods damaged.  We've put together a few simple tips to help make packing for travel less tedious.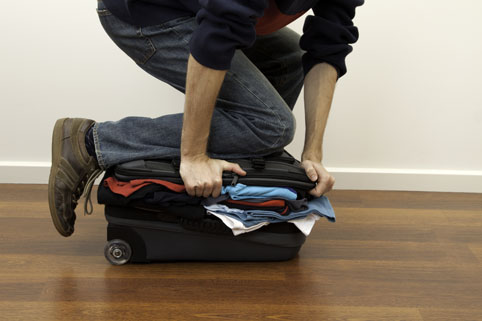 Are you a Roller? Or a Folder?

I'm sure most of you think rolling your clothes is best.  Rolling is great for saving space, less creasing and makes seeing your clothes a tad bit easier.  Hmmm and then there's folding, this is great if you're the type to pack outfits together such as a t-shirt with its shorts etc.  Folding is also great if you have plenty of time to pack and your clothes are easily recognizable when folded.  So do you "fold" when packing in a suitcase and "roll" in a back pack?
Let the Packing begin!

I suggest you lay everything on the bed – everything that you think you'll need.   Key notes (yes packing is serious business)
Pack plenty of clean underwear
 A laundry bag to separate all you dirty laundry from clean clothes will come in handy.
Love to read?  Then leave the hardcover books at home and take soft cover books to read, they're much lighter.
Pack clothes you love! This way deciding on what to wear – will be much easier
If you're travelling with a friend, decide on who packs which gadgets, i.e.:  If you pack the hairdryer they can pack the straightners – get it?
Liquids whilst Travelling

Unfortunately you can only have 100mls of liquids in your hand luggage.  Fear not, well known brands are available in that size too.  Collecting hotel toiletries will work to your advantage.  Hotel toiletries are miniature – therefore they work best when on those long haul flights,  they fit into your hand bag and are easy to dispose off, nice right?
With the air pressure whilst flying – this may cause some of your liquids to open.  So you can't be too careful with liquids.  I say – put your toiletry bag in a plastic bag.  The last thing you want is your roll-on or shampoo all over the contents in your suitcase.
Travel Luggage

Another thing to consider when travelling is the length of your trip.  Heading to Cape Town for a night? Then that big suitcase is not ideal.  A weekend back should do – this will also save you time at the airport.
If you're considering buying a new suitcase, steer away from black as majority of the average travelers opt for black travel luggage.  Black luggage is normally hard to identify on the airport carousel. If the colour black is your thing, then another option would be to have a luggage strap that is a different colour from your suitcase.
If you're going on a shopping trip, then best you pack light!  Packing a spare foldable bag will do you good – that way should you have extra purchases, then you'll have decent packaging for them.  When packing, keep in mind the luggage limit by all airlines.
Think we missed something? Feel free to share your post your tips in the comments section.
Happy Travels!