Travel Expo – Answering your Frequently Asked Questions
The Flight Centre Travel Group's Annual Travel Expo takes place on 11 & 12 February 2017. If you love travel, you can't afford to miss it.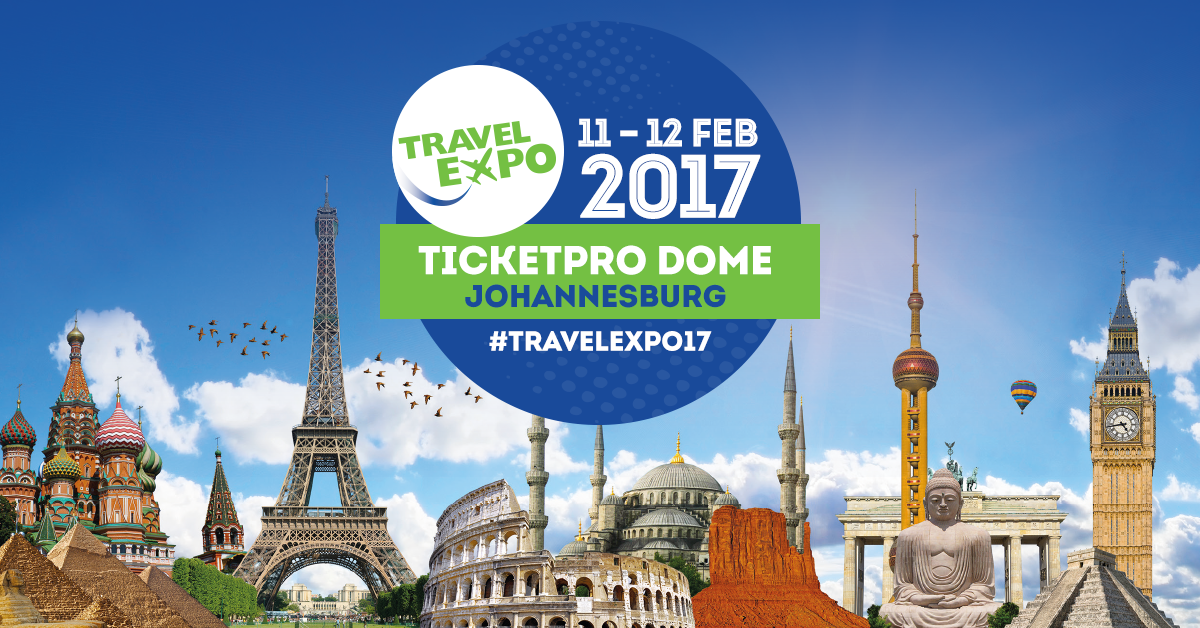 1. What is the Travel Expo?
The Travel Expo is an annual event that brings together the leading industry experts to showcase their products, answer your travel questions, offer you great deals, and advise you on all things travel. And it's FREE!
2. Where and when is the Travel Expo?
• The Travel Expo is taking place at the Ticketpro Dome in Johannesburg.
• It's happening on 11 & 12 February from 09:00 – 17:00, and 09:00 – 16:00 respectively.
3. Who should attend?
• Anyone who loves travel – whether you dream of seeing the world, or exploring our own beautiful country.
• The Travel Expo is a great family outing – with a free play area to keep tiny travellers entertained while you get your expo on.
• If you're looking for great holiday value, you can't afford to miss the Travel Expo.
4. What can I expect to see there?
• If you're looking for travel inspiration, you'll definitely find it here. With over 120 exhibitors bringing you their best deals, incredible specials, huge savings and exclusive offers, you'll have everything you need to plan your next big adventure. From cruise lines to airlines; hotels to resorts and adventure companies – there is something for every leg of your journey.
• Flight Centre Travel Group will be represented by 90 travel experts ready to bring you the best advice on foreign destinations, and to answer all your travel related questions, or to book your trip then and there.
• The goddess of do it yourself, Suzelle DIY, will also be performing live.
5. Are there any prizes or giveaways?
You stand a chance to win your share of over R650k in prizes such as flights, holidays, hotel stays, tours, cruises, and more. There are exciting competitions that you can enter at the Expo that could win you:
• A luxury trip to Zanzibar
• A trip for 2 to Disney World
• A trip to Mauritius, or
• A car!
And, if you register to receive more information about the Expo, you could win a trip for 2 to Thailand.
6. What kind of travel deals should I expect?
Besides the exciting prizes and giveaways, you can also expect some really big savings and special offers. With savings of up to 40% on beach breaks, buy-one-get-one-free tours, and up to 45% off airfares to name but a few, travel has never been more affordable!
7. Are there any tips or tricks for making the most of the Expo?
• Take some time to plan ahead of time. Think about the kind of trip you might be interested in, and perhaps create a shortlist of destinations. This will keep you from being completely overwhelmed by all the available options.
• It helps if you have your travel documents with you so that you can book those great holiday deals immediately.
• If you have an idea of when you'd like to travel, keep the dates handy.
• Make sure you know what your withdrawal limit or available credit is.
• If you have a preferred airline or travel service provider, go straight to their stand.
• Register ahead of time.
• Arrive early.
8. Why should I register for the Travel Expo?
Register to receive more info about the Travel Expo & travel deals on offer, PLUS stand a chance to WIN trip for two to Thailand! Click here to register!