Calling all travellers, explorers, adventurers and holiday makers! This weekend, the 6th and 7th of February, the much anticipated travel event of the year will be opening its doors at the TicketPro Dome at 09:00am, for two days only. The 2016 Travel Expo presented by Flight Centre will be showcasing incredible, not to be missed deals, competitions, massive savings and expert advice on all your travel arrangements and queries. You can even book your travel arrangements on the day and enjoy fantastic benefits. With Free Entry into the event and an exciting play area for the kids, why would you not want to attend?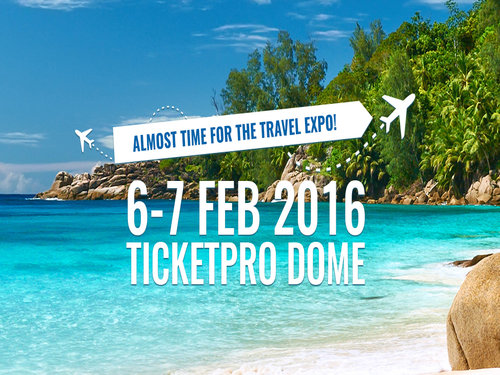 Who should attend
With the economic squeeze facing people around the world and South Africa, it's a smart move to take advantage of special deals and savings wherever possible. The Travel Expo gives the public an opportunity to speak to travel experts about the best way to travel to their dream destinations in 2016. Not only this, but you will find exceptional deals with massive savings on flights, cruises, hotels and more. There are loads of competitions available as well, and you never know, you may get a call on Sunday night announcing that you have just won an R80 000 holiday. If you intend on travelling, or would like to travel in 2016, then this event is most definitely one of the most important events you will attend this year.
What to expect at the Travel Expo
For the Travel Expo Weekend, Flight Centre have negotiated exclusive expo deals with a number of top airlines, cruise liners, resorts, hotels, tour and adventure companies and many more. Speak to leading industry experts who are willing and ready to answer all of your questions, as they showcase their products. You'll find over 100 exhibitors with their own special deals and you will be able to sit with any one of our 80 Flight Centre travel consultants to book your trip. You may also get lucky and win your share of R650k worth of travel prizes including flights, cruises, accommodation, tours and holidays.
Pre-register online for free entry and receive a sneak peek of exclusive deals PLUS stand a chance to win a holiday for two to Mauritius.
Travel Deals and Competitions
There are a number of prizes to be given away, as well as exclusive deals arranged specifically for this year's Travel Expo. Keep your eyes open for special deals and exceptional savings from these great travel operators:
Holiday Packages: Flight Centre Red Label Holidays, Club Med, United Europe, Holiday Factory, Air Holidays
Flights: Quantas, Emirates, British Airways
Hotels: Protea Hotels
Tours, On the Go Tours, Top Deck, Trafalgar, Contiki
Cruises: MSC Cruises, Cruises International, Development Promotions
When you visit the Travel Expo this weekend, you have a number of opportunities to win some fantastic prizes. In association with Lux Resorts and Hotels, The Travel Channel, Air Mauritius and Jacaranda, you could stand a chance to WIN a trip valued at R80 000. When you pre-register, you will also automatically be entered into a competition which could have you jetting off to Mauritius for 6 nights. Other competitions include the chance to win flights with Etihad and Emirates.
This weekend's Travel Expo is the travel event of the year, and the perfect opportunity to get all the information you may need for your travel requirements. Speak to over a hundred operators, discuss options with our Flight Centre Consultants, and find some inspiration for this year's adventures. Fun for the whole family, you don't want to miss this one! We look forward to seeing you at Travel Expo 2016.
Other Travel Articles You Might Like...