Jaipur, also known as "The Pink City", offers dozens of tucked away curiosities to last a lifetime! The most recent attraction is the Jal Mahal, a "Water Palace" that has been lovingly restored over the past six years and allows visitors to take boat trips to gardens of unparallelled beauty. Architecture, forts and the incredible festivals you can expect earn Jaipur a spot on the list.
Bariloche is surrounded by endless mountains and lakes, offering the contrasts of snow-capped mountains and lush forests as the perfect backdrop to any picture. Most excitingly, perhaps, is its famous artisanal chocolate (there's even Havana's Chocolate Museum and a chocolate festival in Easter). Craft beer, adventures and incredible tours are also what await.
New Orleans offers an entirely different appeal to the likes of other famous American cities such as New York City or the prestigious Washington DC, such as the opportunity to enjoy an eerie swamp tour, visit one of the best WWII museums in the world, and explore some of the most authentic jazz bars you'll ever experience. It's also home to some of the world's best comfort food and will surely give your Instagram feed some ammo for great food pictures.
Lima, the "City of Kings", serves up gorgeous architecture, incredible surf spots, a vibey nightlife and delicious Peruvian food. Home to two of the world's top ten restaurants and famed chef Virgilio Martínez, 2017's winner of the Chef's Choice Award (and therefore officially the best chef in the world), you can only imagine the delicious food you'll be able to enjoy in this gem. The nightlife is also a draw for anyone who enjoys a good time, especially when you're dancing the night away with the energetic Peruvians who sure know how to party.
Amsterdam is the perfect spot for history lovers. New Rijksmuseum , Anne Frank House, Van Gogh Museum, some of the world's most gorgeous 17th and 18th century architecture and much more are what await. Amsterdam is also famed for its legendary nightlife, the shopping opportunities for anyone after some retail therapy, and of course the picturesque bike-rides that have become somewhat of a cliche. For wary travellers, it is also in the top fifteen safest cities in the world to visit and offers countless free activities to enjoy.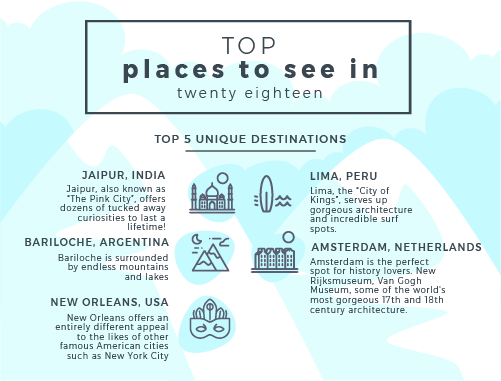 Other Travel Articles You Might Like...